Paper-based quality management systems have been a mainstay for life sciences organizations. A paper-based approach can be easy to stand up within an organization, and many assume it's an easy way to skip regulatory requirements for electronic systems.
While this can work for a period of time, paper simply doesn't scale.
Over the long term, paper-based systems bring much higher risk than electronic eQMS platforms. They're more time consuming and resource-intensive. They can become lost or damaged due to natural disasters, theft, tampering or human error. And they can become a barrier to communication and collaboration as your team expands globally.
The right time to switch to an eQMS is before paper becomes a barrier to productivity and compliance. You don't want to wait until your analog systems are clogging communications and putting your organization at risk of a failed audit.
So how can you successfully transition from a paper-based system to a digital one? Check out the following tips—and get this free guide to making the migration.
1. Ask yourself: What do I want to achieve?
An easy transition from a paper-based system to a digital one starts by establishing what you need and what your long-term business objectives are.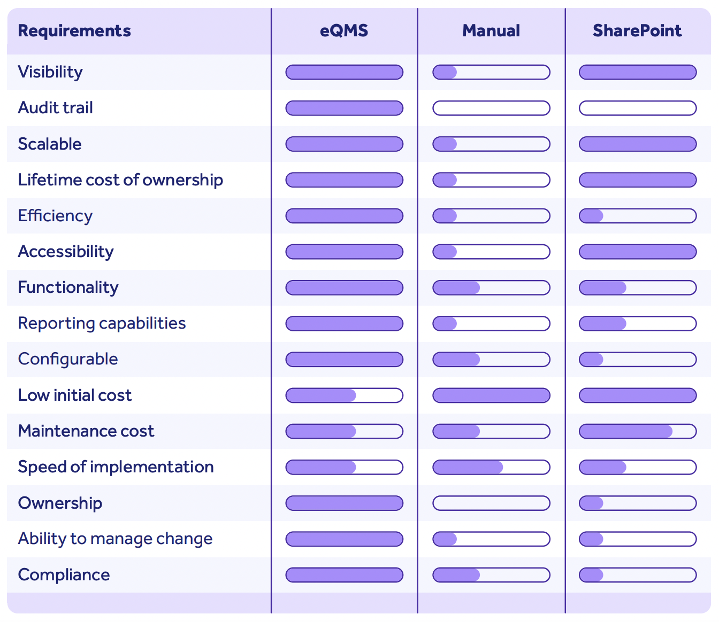 I've already mentioned that scalability is often a reason life sciences organizations turn to digital solutions.
Understanding exactly why your current system isn't working for you can help you evaluate software solutions. Some of those reasons may be:
No visibility on why decisions have been made
Reactive culture
Mistakes which led to high expense or damaged reputation
High cost of poor quality (COPQ)
Failed audit(s)
Bringing a new product to market
Compliance silos
Defining your needs is very important. If you have lots of compliance requirements, we recommend assembling a User Requirements Specification (URS) to help centralize and document your operational needs. This can be sent to a future shortlist of vendors to ensure you get the best possible solution for your business.
2. Find your migration champion
Your leadership team should identify at least one 'champion' or 'change agent' for your eQMS migration. They don't need to be a member of the senior leadership team, but they should have some influence and social capital within the business. Seniority, experience and emotional intelligence also help.
The quality manager is often the logical choice, but they're not the only option. Depending on the size of your organization, you may nominate one or more colleagues (or yourself!) to be an eQMS champion.
Above all, your champion needs the ability and willingness to become a subject matter expert on your new QMS software. This doesn't mean they need to be a "software person," but they should have the time and readiness to work closely with your new software partner throughout the migration phase.
The most successful quality-centric organizations create balanced support for the evolution to eQMS by winning the buy-in of the executive team and designating internal champions.
Executives cut the check for software subscription fees, designate resources, and work to create new policies.
Champions create engagement and awareness throughout the organization by making a case for change. Balanced support is necessary and can significantly impact your adoption process.
3. Prepare to overcome opposition
Even with an internal champion or champions, you'll probably run into at least some vocal opposition during the implementation process.
During large implementation projects, it's common to find one or two resistant employees in each department of the organization.
Users who are vocal about resistance are typically those afraid of change. Hone in on these users and spend one-on-one time getting to know their concerns. This will allow you to understand their reservations and address their resistance.
Remind resisters that the eQMS project is an opportunity for positive change. The goal of your project isn't to replace anyone's job with automation, but to eliminate frustrating inefficiencies and problems with your current paper-based system.
Listening actively to user concerns and inviting resisters to become active participants is an opportunity to resolve fears and discover more about how your employees work. It may take time and effort to convert resistant employees, but when you've convinced resisters, they can be highly effective champions (see tip #1!)
4. Don't just 'pave the cow path'
In software-speak, to 'pave the cow path' is to automate an existing business process without considering whether that process is even working in the first place. Paving the cow path may smooth over user resistance, but it's not going to maximize the benefit of your software investment in the long term.
True business process automation requires figuring out new ways of doing things, especially when transitioning from paper-based to eQMS systems.
Your software initiative is an opportunity to create better data flows between quality processes, even if it means adopting new ways of doing things for efficiency or transparency. In other words, don't try to replicate your current paper systems in the software. Keep it simple and take advantage of the opportunity to customize your new eQMS to your existing processes, but only when it makes sense.
Use the discovery process as an opportunity to uncover redundancies, weak spots, unnecessary complexity and areas of improvement. Then apply Qualio's intuitive user friendliness to bake those optimized processes into your day-to-day.
Moving to a paperless QMS can be painless
Making the jump from a paper-based system to software can be exciting. Stronger, smarter, more effective quality compliance management is just around the corner for your company. But if you've never tackled a paper migration journey before, you're probably a little bit nervous about potential risks — and that's perfectly reasonable.
While more and more life science businesses are understanding the very real benefits of electronic quality management, the journey to get there can seem complicated and daunting. At Qualio, we specialize in helping life science organizations ditch paper and spreadsheets in favor of a modern, powerful and cloud-based eQMS. And we've worked hard to refine the migration process for our clients to make it quick and painless.
Ready to make the switch? Get your comprehensive guide to transitioning from a paper-based approach to an eQMS here.
Who is Qualio?
Qualio is the #1 highest ranked quality management software (QMS) that unites your team, tools, and data. Designed to be easy and fast for life sciences companies (medical device, pharma, biotech, and contract organizations) who develop, produce and distribute life-saving products and services.
Hundreds of FDA, ISO, and GxP regulated Life Science companies in 80+ countries trust Qualio to bring their quality team, tools, processes, and data together in one easy-to-manage place. We help startup to scale-up companies achieve 100% FDA/ISO/GxP compliance in audits. Qualio automates the painful paperwork and processes required by regulators for 2x faster accreditation/approval. Work 5x faster than paper/traditional solutions to manage Document Control, Training, NCRs, CAPAs, Audits, Suppliers, Complaints and more.
Our customers feel content knowing they are 100% "audit ready" all the time. With industry experts on staff and customer service on call, we partner with you to implement strategy, prepare for audits, and convert manual processes to digital.
Book a personalized demo and see for yourself.