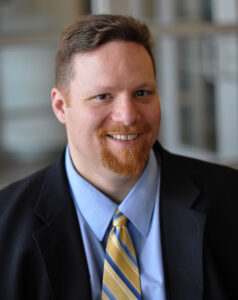 Keith is owner and Chief Executive Guru of a COUPLE of GURUS and has over 20 years in the field of IT. He even has certifications to technologies that no longer exist. His latest achievement is becoming a CMMC (Cybersecurity Maturity Model Certification) Registered Practitioner.
After a failed attempt at the age of 17 for trying to start a technology company, he conceived a brilliant idea for a fun company that would finally succeed to become a COUPLE of GURUS (officially born in 2002).
Keith is proud to support world-changing organizations.
Give us aCOUPLEofGURUS' elevator pitch.
We help world-changing organizations scale by aligning their technology to the vision of their organization to solve today's problems and meet tomorrow's goals. Along with technology planning, a COUPLE of GURUS offers managed IT services and managed security solutions to its clients.
We distinguish ourselves from other providers by utilizing a more personal and fun touch. Our team puts a strong emphasis on clear and open communication so we can best get to know our clients and their needs. Strong relationships lead to successful partnerships, and we love nothing more than growing and having fun alongside our clients.
What is one thing the Medical Alley community might be unaware of about aCOUPLEofGURUS that you think would be good to know?
We invented our own coffee. We call it Guru Brew and it took 6 months to create. If you want to learn more, let's have a cup of coffee! If you would like to know what coffee perfection tastes like, let me know and I'll send you a bag (seriously, I'll do it).
How did the COVID-19 pandemic change aCOUPLEofGURUS for the long term?
With the shift of working from home for pretty much every organization at the beginning of COVID, we decided that going forward we are going to have a hybrid work environment. We have since reimagined and reconfigured our office space to be more like a co-working space for when engineers do come to work at the office. The pandemic has also enabled us to serve clients on a national level.
What are the big milestones to come in the next few years for aCOUPLEofGURUS?
Culture has always been a top priority at aCOUPLEofGURUS. We love Family and Fun and Continuous Improvement. Our culture enabled us to seamlessly navigate COVID. Almost by accident, we created an E-myth culture, which has opened our eyes to the opportunities that culture can provide for growth. We're going to set initiatives that focus on culture.

Another big milestone is embracing my inner-Guru, growing in my ability to really impact the world.
What does leadership look like to you?
Leadership is recognizing your value and influence. There are so many people who don't realize the sphere of influence that they have, whether positive or negative. To me, leadership looks like helping others succeed, discovering the potential in people, empowering people to make decisions. Leadership is figuring out how to best serve those around you, instead of yourself. I love discovering the potential in people. It's so much fun when they see it.
What is the best advice you have received in your career? What is the worst?
The best advice I have received is to "Pursue your passion." It makes working feel a lot less like work.

The worst I ever received was to borrow money in order to grow without having a plan of how to actually grow, and running that plan by someone who's been there before.
What have been the most rewarding moments in your career?
Having employees thank me for the impact that I have had on them has been very rewarding. Also when clients share their Wildy Happy moments with us. We love to share those moments with the team, and it helps them recognize the impact that they are having. We actually had a client once literally jumping up and down because she was so Wildy Happy. It doesn't get more rewarding than that!
What is one personal goal for the upcoming year?
If I could only complete one goal, it would be to complete my private pilot's certificate. If I'm allowed two goals, the next one would be to bench press 315 pounds!
How do you relax / decompress?
The way I decompress is by learning and building things. I'm currently learning to fly and when I'm in the plane, my mind is focused on the task at hand (and not on everything else in life). I've previously taught myself things like woodworking/construction, fishing, electronics, and the art of barbequing, to name a few.
What do you enjoy most about the Medical Alley community?
Frank Jaskulke. Seriously, just Frank. If you haven't met Frank, you seriously need to grab some Guru Brew and have a cup of coffee with him.

That aside, we love how engaged and supportive the community is of each other. We love how passionate Medical Alley is about solving the unsolvable and helping new startups to achieve success through their Starts program.

Medical Alley embodies our shared vision of supporting world-changing organizations.