Trust in digital Healthcare experiences – what dominates, the treatment or the patient?
When Healthcare digital experiences become part of the treatment, therapy, or diagnosis, especially with the changes brought on by the pandemic, "prescribing" apps no longer becomes a simple endeavor. Some doctors encourage prescribing or recommending digital apps for their treatment. Even some "medical app stores" allow a patient to choose solutions that a payer provides.
Yet, when companies or entities build these digital healthcare apps, many take a standard user experience (UX) approach, which may look effective, but fall short in terms of benefits to the patient. Even so, compared with consumer, social media, and other industries, healthcare digital experiences (UX) might still be "catching up". However, its end goal is bigger — an experience that's more sophisticated and potentially life-changing than what's offered in other industries.
The Decision: Prescriptions Health apps, highly recommended health apps, or patient-selected apps.
At first glance a health app is a health app — but there are striking differences in outcomes, responsibility, and expectations.
"Prescription Apps." These are, generally, directly part of a digital therapy- for example, compliance as part of the pharmaceutical or medicine that is monitored and controlled via a medical practitioner. The therapy is designed and created within the entire context of the treatment. However, many fall short because of the compliance drop off – mostly due to poor understanding of the patient's needs and context during the course of the treatment, especially in unstated behaviors and needs, as something referenced during The Hooked Model and other behavioral frameworks.
"Highly recommended health apps." These still come through the strong recommendation of a practitioner, but aren't directly tied to the provider of the therapy or diagnosis. They may be under regulatory categories, but in essence, they have an effectiveness that comes from a company (typically a digital health care startup) that meets a specific need. Moreover, it has a trust level and authority that comes from the practitioner as they are kept through the loops.
"Patient Selected health apps." These are selected by patients based on their perceived health needs. Yes, they may feel empowered, but the trust lies in the company that makes the apps, or offers the platform. Is there someone guaranteeing their effectiveness AND appropriateness? It's difficult. If a major health care payer offers a suite of apps, they might be appropriate, but the question remains whether a patient feels confident they want to own their own treatment.
Much detail can be divined from each of these categories but the strategy for the patient, and the disease that is being addressed is crucial….as well as the digital experience. How the digital app lands in the user's digital device affects the trust, authority, context, and design of the experience: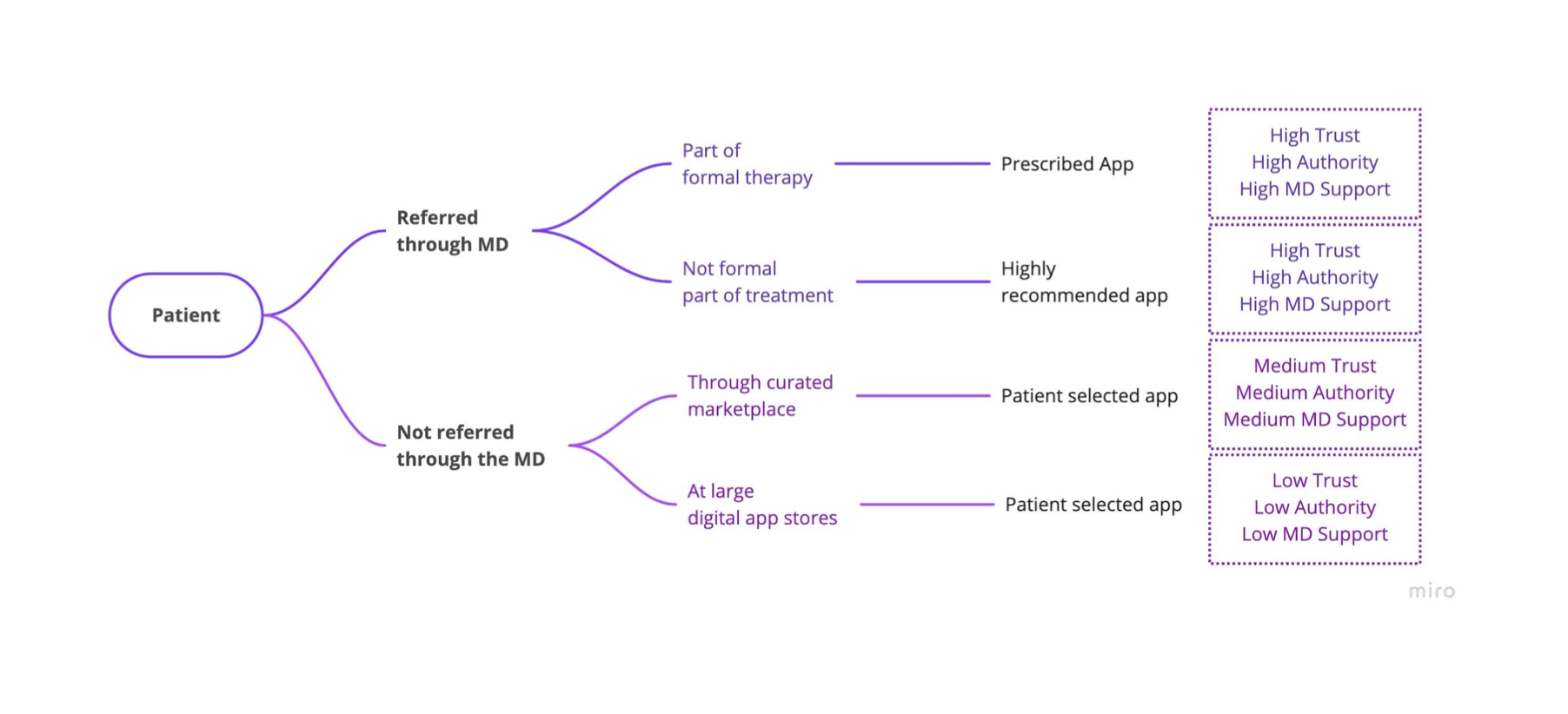 Healthcare UX doesn't work until multiple, complex factors find alignment— education, patient data extraction, clinical input, compliance — these all have to work together to improve outcomes, reduce costs, and keep patients and providers happy. Until recently, too many products and solutions have essentially fumbled around in the dark, copying and pasting from the past instead of reaching forward and following patient and provider needs.
This is why movements like patient consumerization and initiatives around the provider experience can be so valuable in informing product design and a UX that truly centers the human experience. The potential benefit is huge: Providers can leverage technology to support patient accountability and in turn improve outcomes, enhance quality of care, and even optimize reimbursement under value-based care relationships.
Today, the line between tech and the clinical experience has blurred — UX doesn't just support the patient and provider experience. It is the patient and provider experience, and that experience relies heavily on UX design. Organizations looking to leverage UX to center human users should use these three guidelines to move design toward a vision of tomorrow's healthcare experience.
Two dynamics drive the effectiveness of patient apps: The Trust in the app and laying out meaningful experiences.
1. Trust Your Patients and Providers (They want to trust you!)
While healthcare UX design might pick up a few tips from consumer electronics or streaming services, one thing stands out — "shared decision making" is incredibly valuable in healthcare settings Consider HealthIT.gov's focus on the concept.
This model that trusts patients and providers, and shepherds them into supporting better outcomes should inform design decisions. These decisions should be reflected in a UX that aligns patient and provider experience with expectations to improve compliance and adherence. On a practical level, this can look like:
User-centric design
Understandable data
Fluid and navigable knowledge libraries
Appropriate data visualizations
User-considerate self-diagnostics
Human-centered predictive analytics
This approach to the healthcare UX invites both patients and providers into ownership of the care process. It also helps guard against tech interruption of workflows and communications that need to be as seamless as possible. It additionally supports product enhancements down the road. This dynamic is particularly important for complex solutions — for example, patient-focused neurotechnology and deep brain stimulation solutions that support clinicians in providing precision therapy that produces major quality of life improvements for people with neuro-psychological illnesses.
2. Presenting the Right data, visualizations, and experience to the patient.
The world has only seen a fraction of what technology can do in healthcare. At the same time, that potential won't be realized if people — both patients and providers — don't stay at the center of development. This is especially true for UX design.
However, just because a company can throw a ton of data and visuals to a patient, doesn't mean it improves compliance. Poorly structured data, relevance, or simply not anticipating the right patient behaviors can tank compliance, no matter how well-intentioned the app is.
On the patient side, we've recently seen just how challenging this can be. The COVID-19 pandemic threw patients into remote care scenarios, forcing them to navigate a web of telehealth apps, virtual waiting rooms, and at-home care scenarios. The pressure for digital health adoption was pushed into overdrive, but there were multiple bright spots that illustrated what it looks like when tech doesn't get in the way. Virtual waiting room functionality, for example, leveraged texting and simulated queue experiences to meet patients where they were and keep the experience as familiar as possible.
To keep this trend going, providers and companies will need to operationalize data to continue to demonstrate value, to facilitate education of a patient population that's newly enthusiastic about healthcare technology, and to ride this inertia to support further patient empowerment.
On the provider side, things can get a bit more complex. Clinician burnout is at an all-time high. A recent study found that 80.5% of clinicians are impacted by burnout, with some developers even creating EHR solutions that address the issue. While this is a step in the right direction and away from the EHR that "detracts from their professional satisfaction", there's still a long way to go. To develop products and a UX that support clinicians, technology has to go beyond just providing data. It has to help clinicians access and compare information to support their decisions, and this has to happen in a way that integrates with existing health systems while still moving toward a clinician-friendly UX.
Examples: Trust in action
For any organization interested in taking these steps, there is a wealth of guidance available, likely aligned with the specific use cases you'd like to explore. At HTEC, we've been fortunate to partner with amazing organizations in supporting accelerated digital transformation, helping them create the solutions and products that make up the digital business models that are aligned with the very specific needs of the healthcare vertical.
Prevention (Humeds: Cardiac Arrhythmias)
A beautiful illustration of the potential to use technology to connect physicians and patients in the shortest possible time, this complete telehealth solution enables comfortable ECG recording as well as quick, automatic and precise diagnosis of cardiac arrhythmia based on the novel AI algorithms. The benefit is arrhythmias that are identified by the physician in less time, shortening patient time to treatment, possibly even minimizing risk of death.
Elder Care (Aloe Care Health Smart Platform)
This solution does an amazing job of connecting not just patients and providers, but also family and the patients broader care community. The app and voice-activated devices provide its users with 24/7 voice-powered emergency response to support both inside and outside the home, earning it multiple accolades and supporting funding goals.
Maternity (The Marani Maternal ECG Device)
The maternal patient experience stands out because at least one patient involved isn't able to offer their input on the experience. This wearable device connects patient, baby, and caregiver through sensors. These sensors harvest AI-processed data that flows to phones in real time, supporting maternal and fetal monitoring and diagnosis. Clinicians are able to access a non-invasive, cost effective solution that supports early interventions to avoid unwanted outcomes and costly hospitalizations.
In healthcare, tech is most effective when hardware and software gets out of the way. We're headed into a time of connected medical devices, user-centric platforms, and user experiences that won't only meet this goal, but that will help bring the healthcare experience up to the level its patients and providers deserve.
About HTEC

HTEC Group specializes in consulting, product development, digital platform engineering, and digital and product design. The company is headquartered in San Francisco, with a regional hub opening soon in Minneapolis and development centers in South Eastern Europe.
HTEC Group delivers products by bringing together leading technology experts, creative thinkers, business consultants and over 700 engineers skilled in product design and development, hardware and firmware engineering, data science, artificial intelligence, and scalable cloud platforms to deliver technology excellence to our clients, who are looking to accelerate their businesses through digitalization, modernization of legacy systems and the development of new products and services. By leveraging next-generation technologies and deep industry knowledge, our highly-skilled teams provide solutions across Healthcare and MedTech.
If you share the ambition to create the best digital products and services for patients and providers that current technology allows, are interested in an idea exchange, or have a challenge for us to solve, reach us via email at office-mi@htecgroup.com.