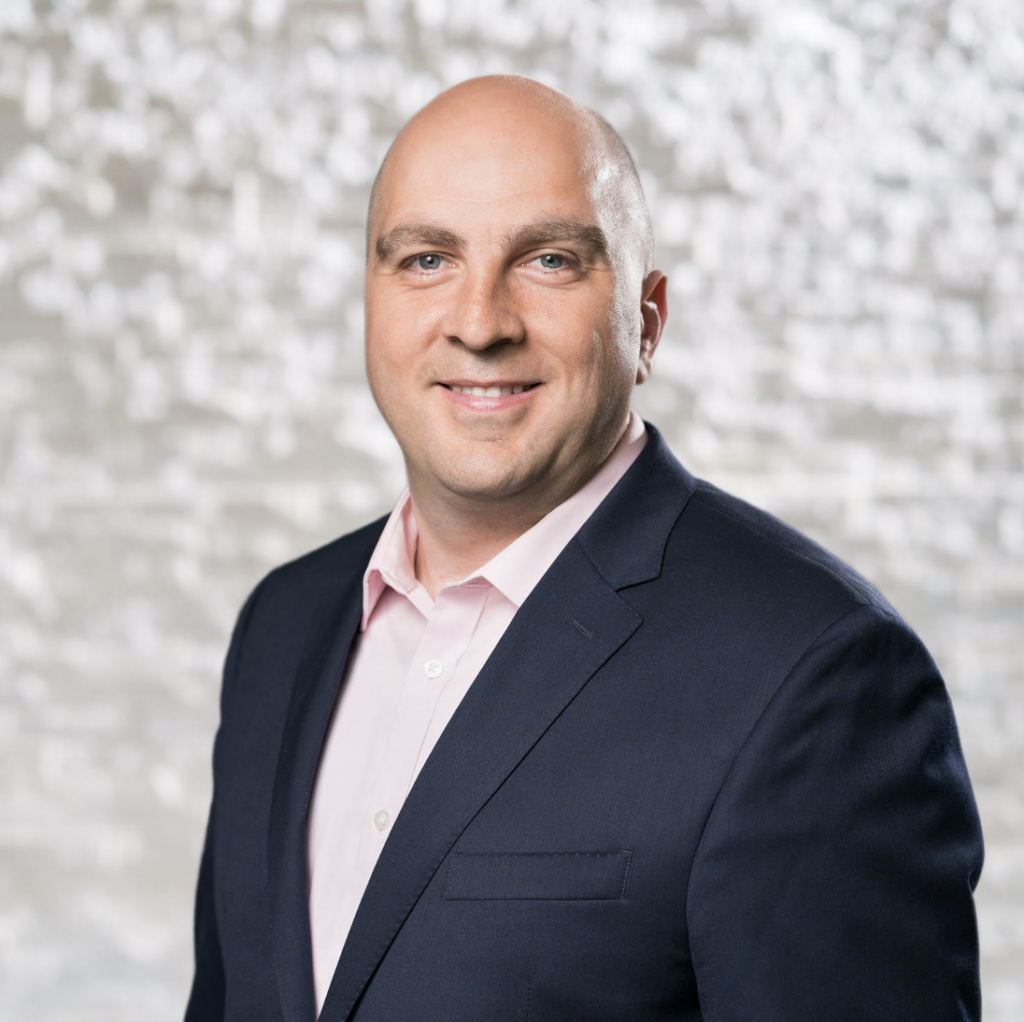 Grady Hannah is a medical device executive and software entrepreneur who spent 15 years in Silicon Valley, working primarily in the real-time simulation and video game space. Upon returning to Minnesota, Grady led Business Development for Pushpin, a GIS and advanced graphics company, helping to facilitate a successful exit to Nearmap. Grady has been full-time CEO of NightWare since 2017, has led it through clinical trials and regulatory approval, and is now leading commercialization efforts into the DoD, VA, and Medicare populations. Grady grew up in Saint Paul and attended Cretin-Derham Hall high school and Macalester College.
Could you explain NightWare in brief?
NightWare is a breakthrough medical device that addresses PTSD (post-traumatic stress disorder.) It's the first digital therapeutic device given breakthrough status by the FDA to address PTSD. In essence, NightWare uses the built-in sensors on the AppleWatch to upload a user's personal sleep data to our platform so that it can begin to recognize when a patient is having a nightmare. With this data in hand, NightWare is able to intervene – with increasing intensity – in the patient's sleep without waking them up. The result is better, nightmare-free, sleep, which leads to better mental health, decreased indices of depression and suicidality. It's a real game changer that could impact the 1.3 million Americans diagnosed annually with nightmare disorder.
What led you to found NightWare?
For me it's about helping veterans which have among the highest indices of nightmare disorder, and the many other populations that suffer from PTSD. The impacts on these folks and their families can be quite severe. So many problems can stem from not getting restful sleep, and when I ran across this opportunity to help these heroes and their families who have already sacrificed so much with a new med-device technology, it wasn't something I could really pass up. Yes, we are running a company, but more importantly, we are changing and saving the lives of those who have given so much to our country.
How did COVID-19 impact you and your company?
The pandemic compelled NightWare to submit for FDA clearance earlier than we would have; the risk paid off because not much later the pandemic forced a moratorium on all clinical trials, which would have stopped us in our tracks. Early submission was only possible because we had already received breakthrough status designation. In some respects, there definitely was some nail-biting, but it really propelled our business forward.
How did getting breakthrough status lead to a change in the trajectory of your company?
The FDA has been a great partner. We had strong support and engagement from the FDA, so we knew we had a reasonable chance that we would be approved once we submitted.
What are some of the big milestones coming up in the next few years for NightWare?
Oh, there are quite a few things we have in the hopper. The first is that NightWare is adding two more trial sites to continue our randomized, clinical trials. Secondly, we are partnering with a number of key veterans service organizations throughout the country as well as working towards coverage with the VA (Veteran's Affairs), the DoD (Department of Defense), and Medicare. I'm talking 2021 goals here. On top of that, we're also fundraising. We have a major Series B we are looking to finalize with some institutional investors over the course of 2021.
How do you balance leading a startup with your everyday life?
As a founder and entrepreneur, there's definitely a need to be able to manage and gauge anxiety. Although there are plenty of books about startups and life as an entrepreneur, there isn't one written for your company. You have to find a great team, be honest with yourself about your relative strengths and where you need support and hire wisely. Then you need to guide that team with vision, humility, and compassion. In a startup, you have to manage the ups and downs. Your team, your investors, your partners – everyone is counting on you to be the steady hand amid a sea of risk and uncertainty. In a standard job, you look at risk as something to be avoided at just about any cost. In startup life, you have to live with risk. You have to live with uncertainty. It's a very different mentality.
You spent quite a few years in the Bay Area working in the gaming industry. How has that impacted your approach to running a startup in the medtech industry?
The video game industry is one of those rare sectors where there's an above-average tolerance for risk-taking. You are constantly innovating – your competitive standing depends on it. The risk there is not innovating. For me, I think a lot of that mentality spilled over into my entry into the start-up world – especially in healthcare.
What's one thing people get wrong about startup life?
I suppose the general public watches TV shows like Silicon Valley or Start-Up and thinks that it is very Wild West. In the case of NightWare, we are very disciplined and process-driven. It's about making moves in the present that are aligned with long-term objectives. I should also add that although start-ups are generally very technology-intensive, and that programmers and computer engineers are paramount, in the end, a start-up is very much a creative endeavor. Lots of people with great ideas say, "Hey I'm not a coder. I don't know Python. I could never do a start-up." That's just not true.
What is the best advice you have received in your career?
Be wary of chasing shiny objects. Focus on the long-game.
What is one personal goal for the upcoming year?
I am committed to continuing to hone my emotional connection with Veterans and their families – the people that we are trying to serve.
How do you relax or decompress?
I love to get out camping. On a day-to-day basis, I work out and go to the steam room.
What do you most enjoy about the Medical Alley community?
Medical Alley has an extremely deep and accessible institutional knowledge base here. There are quite a few people who have been down the path you are on before and want to help you succeed too. I consider Minnesota a sleeping giant of entrepreneurial startup culture. There is such a deep culture of innovation in Minnesota. I am so glad that we are building this company here.