The pandemic threw a spotlight on our collective emotional well-being, as well as the role employers have in supporting their employees' mental and behavioral health.
AiRCare is a St. Paul-based company that partners with employers to make measurable improvements in well-being using proactive strategies. To learn more about behavioral health, we invited two of AiRCare's leaders, Jaclyn Wainwright, CEO, and Andrew Wainwright, founder and chief growth officer. This husband-and-wife team shared their insights and passion for helping others with Medical Alley's VP of intelligence, Frank Jaskulke.
"We are in the business of making help available to people who need it when they need it," asserted Jaclyn Wainwright.
Proactive Approach to Well-Being, Driven by Impatience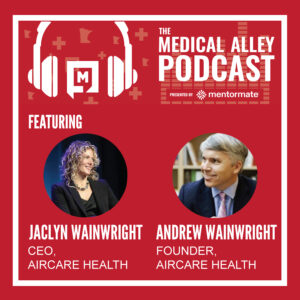 "When we began the shop in 2002," explained Andrew, "I worked for an individual who'd hired me a few years before and he was in the business of helping families. He pointed out to me very clearly that it's tough to get help."
"We were born out of this need that families and individuals had," continued Jaclyn, "and it's what we fell in love with: helping people put together a solution that they had been unable to find on their own. It's a very human service."
AiRCare focuses on meeting these needs more proactively to reduce the time individuals and families spend suffering or seeking treatment, leveraging research and technology.
"The average time that passes from first onset of symptoms until somebody seeks treatment is about 11 years," said Jaclyn. "This is not okay with us."
AiRCare witnesses how coordinating the right treatment plan and the right professional can help someone live a totally different life.
"We are, if one thing, really impatient. It's not okay with me that there are people out there suffering in silence," said Jaclyn.
Jaclyn and Andrew are driven by the belief that we only have so many days — not one should be wasted.
Staying Well, Together
Prior to the pandemic, the World Health Organization estimated that behavioral health conditions cause the greatest burden of disease, greater than any other single health category. Without a doubt, the pandemic has impacted our mental, emotional and physical well-being in so many ways, including adding tremendous stress on providers.
Yet, the AiRCare team recognizes a positive effect of the pandemic: it has also made it easier for us to talk about mental health. We are more able to recognize when those around us, as well as ourselves, need help. More importantly, we're more likely to ask for help. We've grown to recognize that, in so many ways, all of us humans are the same and need to collaborate to be well.
"I think that people feel very okay with raising their hand and saying, 'I am stressed. I'm tired, I'm exhausted. I'm nervous. I'm frightened, I'm alone,'" detailed Andrew.
Jaclyn continued, "It's our mental health moment, right? Mental health has always been this other thing that maybe isn't appropriate to talk about at work. And the pandemic has made it not only appropriate, but necessary to have that conversation."
The Other Eleven
"When we talk about behavioral health, many times, we think about the far end of the spectrum," asserted Andrew. This includes psychiatric and/or substance use conditions.
AiRCare helps those with less critical or emergent conditions that continue to impact one's life. To further raise awareness of the help available to anyone and everyone who struggles at some point, Andrew and Jaclyn launched a podcast called "The Other Eleven."
"The idea was to talk about not the one in 12 people that will raise their hand and ask for help, but the other 11, the people that we are set up to serve — the ones that we're really in existence because of," explained Andrew.
Their open-dialogue podcast serves as a creative and highly personal outlet for this team to raise awareness, connect individuals with AiRCare's services and spread their impatience for faster, more effective care.
---
Medical Alley companies and individual members, including AiRCare, are innovating improvements to mental and behavioral health. Drawing on decades of success, AiRCare continues to evolve, always centering empathy, by harnessing technology and the most recent research. Frank Jaskulke and the Medical Alley Association thank Jaclyn and Andrew Wainwright for sharing their story and insights with us, including their perspectives on how the pandemic has changed our collective approach to behavioral health.