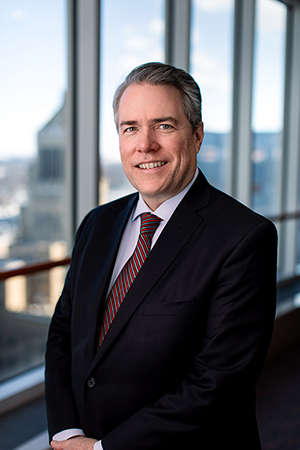 James (Jim) A. Rogers III serves as Chief Business Development Officer for Mayo Clinic's Department of Business Development and Interim Senior Administrator for Strategy. 
In his role, Jim oversees Mayo Clinic's Department of Business Development – the institution's front door for partnering with industry to fill capability gaps through an array of avenues to include invention patenting, technology licensing and commercialization, start-up formation, strategic collaborations, venture investing, acquisitions, etc. Jim facilitates the group's charge of proactively enabling Mayo Clinic's strategic priorities and generating revenue to reinvest back into the three-shield mission comprised of Practice, Education and Research.
Jim is secretary of the Business Development Committee for the Mayo Clinic Board of Trustees, and he serves on the Mayo Clinic Administrative Team, Mayo Clinic Administrative Team Executive Committee, Administrative Operations Coordinating Group, Mayo Clinic Shared Services, and the investment committee of Mayo Clinic's $100M Venture and Growth Fund. He also serves on several external boards, including Medical Alley Association, Rochester Area Economic Development, Inc., Lourdes Foundation, and Merchants Bank.
Before joining Mayo Clinic, Jim worked at Dorsey & Whitney, LLP and 3M Company. He is a graduate of the University of Iowa and University of Iowa College of Law where he earned his B.S. in biology and his J.D. with high distinction.
Give us Mayo Clinic's elevator pitch.
Since its founding over 150 years ago as the world's first integrated multi-specialty group medical practice, Mayo Clinic has been a team-based not-for-profit organization that provides hope and healing to millions of people in need.
The Department of Business Development, the area of the institution I represent, is Mayo Clinic's front door to business – from technology commercialization to strategic partnerships – catalyzing innovation to shape the future of health care for the benefit of patients worldwide.
What is one thing the Medical Alley community might be unaware of about Mayo Clinic that you think would be good to know?
It is difficult to describe the care at Mayo Clinic, until you have actually experienced it firsthand. And hopefully, you and your family have not had to do so. However, if you do have the need, the focus on you and solving your medical need comes through in everything we do.
How have the last few years changed Mayo Clinic for the long term?
The pandemic validated and accelerated the need for the transformation of health care.
We are moving away from traditional thinking, particularly giving the headwinds we are seeing – workforce shortages, increasing pressure on margins, demographic changes, etc. This in part involves moving away from a purely pipeline model to that of a platform. This will allow us to massively scale and unlock the ever-increasing potential empowered by the marriage of technology and data. Connections and collaborations enabled by platform thinking allows us to move at the speed of the changes occurring in the industry.
What are the big milestones to come in the next few years for Mayo Clinic?
As our platform business model continues to grow and scale, we will continue to look for likeminded partners and collaborators from across the health care sector. Milestones will include true integration of virtual health, automation, machine learning and artificial intelligence and the like into the clinical practice.
Mayo is having an active hand in spearheading unique collaborations and innovative technologies within new industries – biomanufacturing, radiopharmaceuticals, cell and gene therapy, digital pathology, augmented reality / virtual reality, care at home, community paramedicine and bioelectronics.
What does leadership look like to you?
First and foremost, true leadership is values-based. At Mayo Clinic, values guide and inform our practice. Our fundamental values are respect, integrity, compassion, healing, teamwork, innovation, excellence and stewardship.
Good leaders lead from the front; You wouldn't ask your staff to do something you wouldn't do.  They empower their staff while at the same time ensuring accountability individually and across their respective teams.   
What is the best advice you have received in your career? What is the worst?
The worst advice was when I was considering a new career (3M at the time) and had been advised to not go that route. Had I taken that advice, I wouldn't be the employee I am today. I learned many life lessons and developed incredible skillsets in me time at the company.
The best advice I received is to not take things personally. This is difficult but if we allow it to occur, it will hold you back. I have seen it happen time and time again. Take criticism at face value, learn from it and control what you can control.
What have been the most rewarding moments in your career?
By far a stand-out moment in my career was being a member of Mayo's litigation team in the 2012 U.S. Supreme Court case Mayo Clinic v. Prometheus in which Prometheus was seeking to patent a law of nature. Mayo Clinic was sued under patents we believed were invalid because laws of nature are ineligible subject matter for patents. Mayo prevailed 9-0.
I have also thoroughly enjoyed working with and building a variety of teams. There are few things more rewarding than helping to build a high-functioning team.
What is one personal goal for the upcoming year?
Working on my core, and it needs a lot of work!
How do you relax / decompress?
Tennis, reading, outdoors.
What do you enjoy most about the Medical Alley community?
I love that everybody leans in to solve problems together. Not all regions are as fortunate as we are in this regard. It is a remarkable community.