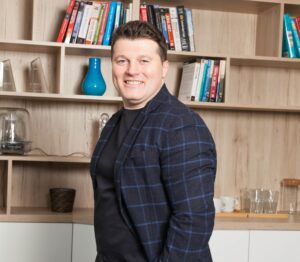 Dusan Kosic is a co-founder and the President at HTEC Group. He is responsible for the company's corporate organization and development, while also spearheading its M&A activities. Before joining HTEC as a partner in 2010, Dusan was a Foreign Direct Investment Advisor at the Serbian Government and a fund manager at the Innovation Fund in Serbia. Dusan graduated from Saint John's University in Minnesota, where he became a member of the Board of Trustees in 2017, making him the youngest board member in the University's 160+ year history. Dusan holds an EMBA from Cotrugli Business School, and he has invested in a dozen technology startups through HTEC Ventures. As a leader, he is a true believer in people's capacity to grow and his main objective is to create an environment that allows each individual in the organization to develop their full potential.
Give us HTEC Group's elevator pitch.
HTEC Group is an innovation and technology development company that joins forces with organizations looking to leverage technology that will speed up business transformations, accelerate new product launches, and scale. Although HTEC Group caters to a diverse clientele, our expertise in implementing digital solutions for the MedTech and healthcare industry is what excites us the most about Medical Alley and Minnesota. HTEC's ability to support digital transformation, productize innovation, and accelerate ventures has led to an average of 50% growth year over year since our inception, bringing together leading technology experts, creative thinkers, business consultants, and over 750 engineers. We are in Minnesota to help clients build an ecosystem that sits on the frontier of health innovation. We add significant value by helping companies realize and materialize visions that will make a positive impact on the world.
As a leader, how has your role changed during COVID-19?
Not much changed in my daily routine as we are operating at full speed and under an extremely ambitious plan. However, I had to level up my determination and vision in navigating choppy waters, as COVID made the global market more turbulent. Employees needed to see even more action approaching the market crisis; we did not want to get caught hiding in the shadows until the danger passed. More frequent, transparent, and actionable discussions took place, aligning us all to fearlessly and proactively support our clients. Together with my partners, we decided that we would not slow down to preserve our bottom line. We instead doubled down and pushed forward even harder by using hard times to show our true character by strengthening our partnerships on the global market. Our relationships with clients grew tremendously as well; tough times require large amounts of trust, and we ensured we were there for clients when they needed us.
How have you pivoted your company to address the needs that have arisen since the onset of COVID-19?
At the beginning of the COVID-19 era, most businesses and business leaders were a bit stunned — no one knew how the situation would unwind and which direction the market would take. This uncertainty naturally resulted in our partners and clients slowing down the decision-making process to wait for more clarity. Facing a very discouraging end of Q1 and a very gloomy Q2 in 2020, we decided to move proactively; we used our strong position and optimistic approach to support our clients in entirely new ways. As most of the boards were expecting operational leaders to tighten their expenses, resulting in businesses slowing down and falling behind the digitization and technology development curve, we came to them almost as an antidote. We kept providing them with necessary and strategic technology development services while adjusting to their financial pain points, bearing some of the risks on our shoulders. We understood that the world would not stop, and all of the trust and support provided to our partners in early 2020 would be pivotal for our business.
The risk and commitment we undertook resulted in substantial organic growth in the second half of the year and built deep relationships with our clients as we navigated the majority of these choppy months together. Some industries were hit harder than others, but we remain optimistic about their future. Even though some groups have propelled our growth in previous years and are doing so this year, we remain as devoted as ever to showing empathy and finding ways to support our partners from heavily hit industries.
What are the big milestones to come in the next few years for HTEC Group?
On the HealthTech side, we are adding exciting capacity in the product solutions space, helping both product design and product development recovery, and launch skills complementary to our expanding deep tech skills across the healthcare domain. We see a need for smart product strategies to help our partners avoid common mistakes that delay launches, overlook true user or patient needs, or create unnecessary risks later.
From a wider lens, understanding our full potential as well as our clear market value proposition is vitally important. We hope to gain recognition as a partner of choice for technology and digital product development, especially in the MedTech and TeleHealth industry.
What does leadership look like to you?
To me, leadership consists of different values considered differently in specific situations. In short, it is the ability to positively influence others. Leadership for me has evolved in the last ten years as company development has reached new stages. In the beginning, it was all about doing as much as possible operationally and creating the best results. We were leading by hustling our way through — going from Europe to the USA to Asia in less than 48 hours, or driving from Belgrade to Berlin and back (approx. 1600 miles) for a highly unlikely prospect while sleeping a few hours on the side of the road. Nowadays, my role has shifted to motivating the best possible talent to join our vision, and create an environment where they can reach their full potential.
I have learned that leadership is leading by example, leadership is empowering others, leadership is being a champion of the season rather than winning any single game, and leadership is where (in my opinion) "fake it until you make it" doesn't work.
What is the best advice you have received in your career? What is the worst?
Two in particular stand out among the rest. One of the best pieces of advice I ever received is always to challenge the status quo. The second is to be truly present in whatever environment, be it having a joyful time with family or taking part in business activities.
On the other side, the worst advice I've received had to do with being in the middle — being average and not taking too much risk, but also not being at the end of the line. Putting all the focus only on risk leveraging and not on desired aspirations.
What have been the most rewarding moments in your career?
One of the most rewarding parts of my career is being surrounded by some of the brightest people on the planet and learning from them every day. They are smart, well-educated, and they are forward thinkers and optimists. The world of opportunities is open for them, and they are not afraid to challenge any operational decisions and/or strategic vision. Their expectations are high — answering those expectations is what ultimately drives my personal development forward and results in the biggest professional reward.
What is one personal goal for the upcoming year?
We are intensively developing our footprint in Minneapolis. As a Johnnie (St. John's University – class of '07), I plan to relocate for a year or two to Minneapolis with my family. I want to show them Minnesota, and the people I came to know and love when I experienced it firsthand during my college days.
How do you relax/decompress?
I love all kinds of sports: gym, basketball, tennis, running, cycling — anything that keeps me active. Every time I devote some time to sports, I get a recharge. Not to sound cliché, but the biggest stress for me is not what I do for business; I am fueling HTEC's success and enjoy every step of the way. The hardest part is juggling between the emotional needs of my family and my own need to spend time with them. As a father of three (7.5, 5, and 1.5 – no easy task!) and husband to my lovely wife Maja, every time I need to tell them I'll stay late, or that I am almost done, or just one more thing bears a heavy burden. Dedicating time to them, being present, and understanding the true meaning of wealth in those moments gives me peace.
What do you enjoy most about the Medical Alley community?
I am so impressed with the diverse set of companies that address patient and industry needs from all angles. I see the ecosystem's potential synergies helping lead HealthTech innovation across the entire patient / clinical value chain. When you add the special mindset of being in the Minneapolis area, now is a great time to be at this growth stage.