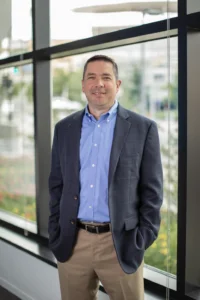 Chris McClain is the Senior Vice President of Sales and Business Development for Be The Match BioTherapies®. He leads the Sales and Business Development team.
His team engages with cell and gene therapy companies developing innovative, life-saving therapies that can leverage the cell sourcing, cell therapy supply chain, research support and outcomes tracking capabilities of the National Marrow Donor Program®/Be The Match®.
Before joining Be The Match BioTherapies, Chris was co-Founder of Nora Therapeutics, Inc., a venture-backed biopharmaceutical company developing novel therapies in areas of significant unmet medical need in reproductive health. While at Nora Therapeutics, Chris and his team raised more than $50 million in venture capital to fund pre-clinical and clinical development of Nora's lead asset and build out a world-class executive team.
Give us Be The Match BioTherapies's elevator pitch.
Be The Match BioTherapies is a premier supplier of services to the emerging cell and gene therapy field, leveraging Be The Match's multi-billion dollar investment in infrastructure to support the sourcing and delivery of life saving cell therapies.
What is one thing the Medical Alley community might be unaware of about Be The Match BioTherapies that you think would be good to know?
Be The Match BioTherapies was launched six years ago and has now contracted to deliver services to over fifty (50) cell and gene therapy developers.
How have the last few years changed Be The Match BioTherapies for the long term?
The biotech market, of which cell and gene therapy is a part, has struggled the last twenty four months with a difficult financing environment but continues to grow globally with well over a thousand organizations around the world engaged in bringing this new therapeutic modality to market.
What are the big milestones to come in the next few years for Be The Match BioTherapies?
Be The Match BioTherapies will have positively impacted the lives of many thousands of patients suffering from cancers, autoimmune diseases, and genetic disorders over the coming few years.
What does leadership look like to you?
Leadership is providing vision, holding to that vision, supporting team members, setting clear and achievable goals and then rewarding team members when they have achieved or exceeded those goals.
What is the best advice you have received in your career? What is the worst?
Best advice: seek out an industry that you love and work will be something you can look forward to. Worst advice: taking notes is a waste of time.
What have been the most rewarding moments in your career?
Helping to build Be The Match BioTherapies from scratch starting in 2015/6. Building and financing my own biotech company, Nora Therapeutics, before that.
What is one personal goal for the upcoming year?
Continue to grow my skill set.
How do you relax/decompress?
I love racquet sports, especially squash and tennis.
What do you enjoy most about the Medical Alley community?
It's a welcoming and successful group, reflecting the strong business ethos of the state of Minnesota.