Chad Robran is the President & CEO for Bone Foam, Inc. a globally recognized medical device leader serving patient positioning needs in hospitals, clinics, and surgery centers throughout the world. Bone Foam's mission is to be the unequivocal best in patient positioning by innovating products that save time, save money, and serve patient/provider safety.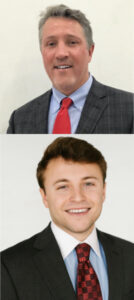 Chad has over 25 years of experience with a demonstrated history working in the medical device, pharmaceutical, and hospital & health care industries. Prior to starting Bone Foam, Chad served in Trauma Manager positions at Zimmer Biomet and Smith & Nephew and drove efforts that resulted in increased growth, employee engagement and surgeon satisfaction.
Peter Cole is the Vice President of Corporate Strategy and Head of R&D for Bone Foam, Inc. where he works collaboratively with the executive leadership team, Medical Advisory Board, and Board of Directors to define organizational strategy and execute on its mission to be the unequivocal best in patient positioning by innovating products that save time, save money, and serve patient/provider safety.
For more than 10 years, Peter has been dedicated to improving the healthcare system for both patients and clinicians through his experiences in a variety of clinical settings, including positions in medical device, hospital administration, and academia. Peter is a proud "Double Cane," having received his Bachelor's Degree in Biology and Masters in Health Administration from the University of Miami. He has co-invented 16 commercialized medical devices and co-authored six publications on Orthopedics and Global Health topics. Peter currently co-leads the planning and construction of a clinical campus for a surgical nonprofit (Scalpel At The Cross) his family founded in the Peruvian Amazon, culminating a 15-year history in which their foundation has delivered over $8.1 Million of healthcare to underserved populations.
Give us Bone Foam's elevator pitch.
Chad: 13 years ago I was covering a trauma case as a rep for Zimmer when a surgeon brought in a positioner that he laid on the table, and just like that I was intrigued by how fast the patient's legs were ready for the case. I had seen this particular surgery done a hundred times and always had to wait for the staff to set up blankets and towels to get the extremity ready for surgery. When this foam positioner was brought in and placed on the legs of the patient, we saved 15 minutes of set-up time.
I was impacted on the value it brought to the operating room and from that point on I believed that positioning and set-up was underserved, and that more focus and innovation need to be applied to patient positioning and set-up. Fast forward 13 years, Bone Foam is now an industry leader innovating positioning solutions around an expansive list of surgical procedures and rehabilitation indications. Three pillars define Bone Foam's mission: To be the unequivocal best in patient positioning by innovating solutions that save time, save money, and serve patient/provider safety. Our product portfolio includes solutions for Orthopedic Trauma, Spine, Arthroplasty, Hand, Shoulder & Elbow, Anesthesiology and Pulmonology, among other specialties. Bone Foam is currently in more than 5,000 hospitals throughout the U.S. and globally.
Peter: Today, everything in healthcare is centered around the Quadruple Aim. At Bone Foam, we apply the same principles to patient positioning by developing solutions that improve costs, efficiency, outcomes, and patient/provider experience. We know the cost to treat a single pressure sore can exceed $150,000, that operating room time is valued well over $60 per minute, and that patient and provider experience is at the center of quality care. Meanwhile, when you observe legacy positioning standards in the hospital setting, there are clear inefficiencies that undermine the quality of healthcare delivery. Whether in Orthopaedics, Spine, Anesthesia, or otherwise, every Bone Foam product is designed to optimize value in healthcare delivery.
As a leader, how has your role changed during COVID-19?
Chad: Well before the onset of COVID-19, we highlighted teamwork, unity and innovation as core corporate qualities. COVID-19 shed a light on who we are as a company. On the front end of the crisis, Bone Foam leadership decided to do everything within our capacity to keep our team intact. That, in turn, bolstered an already strong culture and cultivated an environment where, more than ever before, every member would roll up their sleeves and make agile decisions that were largely responsible for keeping us afloat during the crisis.
Peter: As an industry leader, our role always changes with the emerging demands of our patients and providers. In an era largely defined by supply chain bottlenecks, Bone Foam benefitted from having close relationships with both our suppliers and our medical providers, allowing us the ability to create solutions for those on the front lines during the crisis and bridge the proverbial silo between suppliers and end users. We have always had the ability to innovate, but doing so in the COVID-19 era required us to listen and act more than ever before.
How have you pivoted your company to address the needs that have risen since the onset of COVID-19?
Peter: By innovating expediently, around emerging needs, and on a shoestring budget. Since the onset of COVID-19, we have been diligent to continuously identify and develop solutions around the pressing needs of our patients and providers. As COVID-19 stifled the elective surgery landscape and hospitals endured PPE shortages, Bone Foam pivoted into manufacturing face shields and supplying requests from our existing account base. We also expanded our product offering to include more disposable product options to address heightened concerns around cross-contamination. Perhaps our most significant innovation during the crisis was born from mounting evidence that proning COVID-19 patients in the ICU optimizes pulmonary mechanics and saves lives. Within a month of identifying the need for a simple positioning device that reduces the likelihood of pressure injury and accommodates an endotracheal tube for COVID-19 patients, Bone Foam launched Prone Foam to optimize proning protocol. None of this would have been possible without intently listening to and co-laboring with our allies on the front lines. In so doing, Bone Foam not only developed a novel portfolio that served over 30,000 people fighting COVID-19, but those solutions were largely responsible for sustaining our business through the crisis.
What does leadership look like to you?
Chad: Leadership for me is motivating the team around a passion and common goal to believe in the product and mission we serve. Empowering the team to find confidence in their work and be independent thinkers to come up with solutions to patient positioning problems.
What are the big milestones to come in the next few years for Bone Foam?
Chad/Peter: There are so many. Our primary milestones are implementation of an employee stock program, implematation of Quality Management Systems, ISO and CE updates, targeted innovations in new specialties and subspecialties, and expansion of our distribution force both nationally and internationally. Over the next few years we will experience tremendous growth and need to manage and expand operations, logistics, and financial stewardship while still listening to our customers and responding quickly to their needs.
What is the best advice you have received in your career? What is the worst?
Chad: Best advice I have received in my career is believe in yourself and take risks. Also, appreciate all the employees and treat them with the same respect and remember that it takes a family and community to a achieve success. Worst advice I have received…I really can't come up with one. I think even bad advice has a role. Bad advice gets you to think and forces you to confirm that you are doing things right. Maybe one piece of bad advice that someone gave me once was that to be successful as a business owner, you need to focus on the business 24 hours a day. I think this is a wrong approach, as it is important to have decompression time away from the business, like hobbies, family and friends. Get your mind completely away from business thoughts so that you can come back to work refreshed with clear vision. I try to do this daily with my hobbies of sports and coaching. I belive this balance helps with burnout and mental fatique.
What have been the most rewarding moments in your career?
Chad: Just listening to customer feedback and comments on how Bone Foam's products are helping them do their job. Hearing comments from customers that say, "I wish I would have thought of this idea," or "Thank you for helping me with my patient positioning needs," or "I see Bone Foam everywhere in my hospital." I also enjoy reading comments on social media platforms from nurses and staff on how they love Bone Foam.
What is one personal goal for the upcoming year?
Chad: To go on a long family vacation.
How do you relax / decompress?
Chad: Hunting, coaching youth sports, getting involved in local community activities like the city festival.
What do you enjoy most about the Medical Alley community?
Peter: Minnesota is a mecca of healthcare technology, innovation, and organization, and Medical Alley is the microcosm representing that leadership community. By equipping corporations both large and small with a wealth of expertise and resources bundled into a membership, Medical Alley affords its members unparalleled access to means they otherwise would not have. Being a part of the Medical Alley community is being a part of a greater purpose to transform healthcare in the global epicenter of healthcare.

Welcome to Medical Alley Association's For The Record interview series! Join us as we sit down with innovators in the delivery, payment, technology, and policy industries, giving us – and in turn, you – access to diverse perspectives on how healthcare is changing and what lies ahead.
Medical Alley is the global epicenter of health innovation and care; For The Record, is meant to share insights and spark discussion. If you have a perspective on the future of healthcare, feel free to share it by reaching out to Jamie Oyen, Marketing Manager at joyen@medicalalley.org