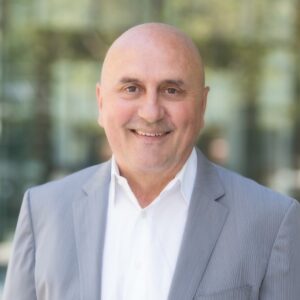 Branislav Vajdic, PhD, is an entrepreneur in the medical device and technology industries. He is the CEO and Founder of HeartBeam, Inc., a company he founded in 2016. A prolific inventor, he is the author of 19 patents. 
After completing his PhD program in electrical engineering at the University of Minnesota, he joined Intel Corporation where he was a co-inventor of flash memory and subsequently lead all generations of Pentium design for the company.
While working for Intel, he invested in a company in the cardiovascular space. As he learned more about it, he became interested in how the heart performs as "an electrical device" and became deeply interested in solving the problem of determining if a patient's chest pain symptoms are a heart attack or indigestion. This led to his founding HeartBeam, Inc.
Give us HeartBeam's elevator pitch.
HeartBeam is a cardiac technology company that has developed the first and only 3D vector electrocardiogram (VECG) platform for heart attack detection anytime, anywhere that will redefine the way cardiovascular patients are diagnosed and managed.
What lead you to found HeartBeam?
My father, a famous surgeon in Europe, experienced chest pain one afternoon. Like many people and despite his medical background, he didn't realize that his symptoms were cardiac-related. Unfortunately, he suffered a heart attack and died. Heart disease is still the number one cause of death worldwide. Looking at the nature of heart disease, time is of the essence, particularly in the case of a heart attack. 
How did your time at Intel prepare you to start a healthcare company?
My background has a lot of technology development in it. Inventing flash memory and developing the subsequent Pentium chip technologies, along with working with a world-class team of prolific medical device inventors, has enabled me to conceive our 3D vector electrograms that we've designed. 
How have the last few years changed HeartBeam for the long term?
There have been many achievements in the past few years: we started with a concept, progressed to a prototype, and completed proof-of-concept studies. We took the company public on Nasdaq (BEAT is our symbol). We hired highly experienced leadership and commercial teams with extensive start-up and healthcare backgrounds. And, we submitted our first product to the FDA for 510k clearance, anticipated in Q1 2023.
What are the big milestones to come in the next few years for HeartBeam?
The biggest upcoming milestone is FDA clearance of our initial platform technology, HeartBeam AIMI™ software for use in the acute care setting, followed by FDA clearance of HeartBeam AIMIGo™, our first device for patient use anytime, anywhere outside of the medical care setting. Once we receive FDA clearance of each solution, we will begin commercialization of each technology. Additionally, we have a number of patents, some granted and some pending, that will enable us to continue to make a significant impact in the market.
What does leadership look like to you?
Leading by example! There is no good leader without trust, and trust is earned by doing exactly what you are asking others to do.
What is the best advice you have received in your career? What is the worst?
Best: I learned a great deal from Andy Gove, CEO at Intel Corporation. One of his famous sayings was "only the paranoid survive." What he meant by that is that you must be super vigilant in technology and look at who is behind and approaching you. You must run and make progress as fast as you can.
Worst: Initially, my colleague and I were told that flash memory wasn't important and that we should focus on product improvements. We persisted in our idea after-hours, leading to a monumental shift in the computer science and consumer electronics industries. 
What have been the most rewarding moments in your career?
It's gratifying to see the impact that the invention of flash memory has had on all technology, not just computers. I'm looking forward to seeing that same impact of the HeartBeam technology on cardiovascular care and outcomes in the very near future.
What is one personal goal for the upcoming year?
I devoted most of my time and energy over the past 7 years to HeartBeam. It has become such an integral part of my life that I am not sure that I can easily separate my personal and professional goals. In addition to realizing my goal of helping many cardiovascular patients and healthcare professionals to benefit from our technology, I would love to be able to spend more relaxing, quality time with my family.