MAA Day at the Capitol
It's already here – 2021 Virtual Medical Alley Day at the Capitol! Plans are nearly finalized for our day at the state Capitol, so be sure to register for this members-only opportunity by Monday, March 1!
While this year's events will look a bit different, our team is looking forward to connecting our members with elected officials to share their successes and innovations. Please visit our website or click the graphic below if you want to participate in our Day at the Capitol.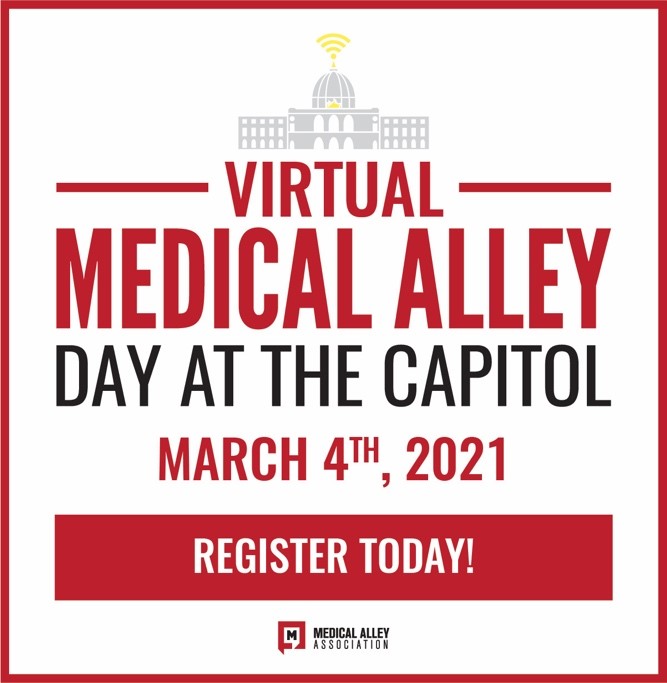 Minnesota Telehealth Act
Senator Julie Rosen and Representative Kelly Morrison introduced the Minnesota Telehealth Act this week (S.F. 1160/H.F. 1412). This bipartisan legislation updates the 2015 telehealth legislation to reflect the current level of utilization due to the COVID-19 pandemic. Our Vice President of Strategic Growth and Policy, Bobby Patrick VI, provided testimony at the bill's first Senate hearing.
Our association focused its testimony on a few key components of the bill:
Updating the definition of originating site – ensuring patients can receive care where and when they need it.
Defining telemonitoring and including clarity of coverage for telemonitoring.
Amending the definition of telehealth in statute to provide flexibility in what is considered telehealth.
Telehealth is a major piece of legislation being considered this session. Legislators understand that the statute needs updating to reflect how far telehealth has progressed over the past five years – not to mention the last 12 months – since the original legislation was signed into law. Although there are varying opinions on the minutia of the bill, stakeholders are collaborating to iron out the language as it continues to move through the process. Our members have provided invaluable insight and technical assistance already, and we are eager to bring this legislation to fruition thanks to their guidance.
February Forecast
We're talking about the budget, not the weather! Tomorrow, Friday, February 26, the February Budget and Economic Forecast will be released. This highly anticipated release will give a fuller budgetary picture for the state of Minnesota as well as an ongoing economic outlook for the state and country; this will be a critical resource for the legislature as they work to pass a balanced budget.
In November, we saw an improved outlook for the state's bottom line. Minnesota Management and Budget confirmed that what was once a $2.4 billion budget deficit for the FY 2020-21 biennium (projected in May) became a $636 million budget surplus in the November Forecast. Although the surplus was modest, and the outlook isn't rosy in the tails (FY 2022-23), this was positive news.
Often the November Budget and Economic Forecast is a more conservative prediction than the February Forecast. Should this hold true, the news tomorrow from the state's budget agency should provide even more positive economic news for Minnesota. If the forecast projects a positive balance for the state's bottom line, that is good news for economic recovery.
A positive balance also means that the legislature will have the flexibility to spend on programs that continue to help our state recover from the effects of the pandemic. Another option for legislators and the administration would be to conform to certain federal tax provisions that have significant costs, like Paycheck Protection Program loan conformity. With a positive budgetary balance there would also be opportunities to fund programs like the Angel Tax Credit that are essential to our association's members.
MAA Member Companies Share their Stories
Our association had the opportunity to testify in the Senate Health and Human Services Finance and Policy Committee on Monday, February 8. The presentation focused on how Medical Alley Association member companies innovated and led the fight against COVID-19. Four member companies shared their stories:
Bio-Techne – Dr. Greta Wegner – Senior Director for the ELISA business unit
Zipnosis – Dr. Lisa Ide – Chief Medical Officer
Breathe99 – Max Bock-Aronson – Co-Founder & CEO
Vyriad – Dr. Stephen Russell, President & CEO
If you get a chance, watch our members' presentations here.
Taxes, Taxes, Taxes
The House heard H.F. 501 earlier this month, which remained in committee for possible inclusion in a larger budget bill later in session. Laid over means that the bill did not pass out of committee, rather, the committee held onto the bill so that it can be added to a larger budget bill at the end of session. This is the companion bill to S.F. 263, providing conformity to several federal acts that amended the internal revenue code, including the Paycheck Protection Program loans. Our association provided written testimony in support of H.F. 501. Since both the House and Senate laid this bill over in committee, it appears it will be considered in an omnibus tax bill later this session.
The Governor's tax proposal was also heard in both chambers this week. Our team testified in both hearings, sharing concerns regarding the bill's general approach as well as some specific provisions that harm competition and innovation.
If you have an interest, Medical Alley Association's testimony can be seen here.
Here are a few key points from our testimony:
MAA is grateful for the inclusion of $7 million for the Angel Tax Credit.
We have general concern that the bill inhibits, rather than advances, Medical Alley's global leadership in health innovation and care.
Modification to the data center provision is a major concern of our members, specifically modifying this tax incentive retroactively.
For additional detail on the bill, please see this summary from the Department of Revenue.
A Focus on Maternal Health
Maternal health issues have long needed to be addressed, having only been exacerbated by the pandemic, which is why our association has made it a policy priority this session, both at the state and federal level. Our State Policy and Advocacy Director, Lilly Melander, had the opportunity to testify on H.F. 521, which takes a strong first step in addressing these needs by extending Medical Assistance coverage for a woman for one year after giving birth.
To view our testimony on this legislation, click here.
To read MAA's news release on the subject, follow this link.
We look forward to continuing conversations around maternal health with our members and with elected officials in St. Paul.
Where Are We with Vaccines?
Our team and association members have been part of an ongoing dialogue with Governor Walz's Administration to better understand the state's plan for the next phase of the COVID-19 vaccine roll-out and identify opportunities where our members can help administer shots as quickly as possible. These conversations have been positive and we appreciate the administration's willingness to engage with us on this important issue. We will provide additional details in the coming weeks as the next steps for vaccine access become available, so stay tuned.
Minnesota has surpassed one million administered COVID-19 vaccinations, and the rollout continues to gain momentum. To help the ramp up, the state launched a new tool called the Vaccine Connector, which helps an individual find out when, where, and how they can receive the COVID-19 vaccine.
You can access the Vaccine Connector here: https://mn.gov/covid19/vaccine/connector/index.jsp
Looking Ahead
The first legislative deadline is just two weeks away, meaning all policy bills – in the House or Senate – must be heard in its committee of jurisdiction on or before March 12. This first deadline signals the beginning of the end-of-session push. Any legislation that has a chance to pass this session, either on its own or as part of a larger budget bill, will be heard before first deadline. We will be watching priority bills in the coming weeks, including the Angel Tax Credit, broadband funding, the Minnesota Telehealth Act, and much more.
Once the February Forecast is released, you can expect legislative caucuses to begin submitting budget proposals en masse. The forecast will influence the legislature's ability to spend. It is likely that Democrats in the House and Senate will support the Governor's tax proposal and perhaps much of his budget proposal as well. Senate Republicans will likely stick to their commitment of not raising taxes, especially if the budget forecast shows a surplus. These positions are shaping the final negotiation showdown between the House, Senate, and Governor later this spring.