Minnesota's Sixth Special Session
Minnesota lawmakers returned for their historic sixth special session yesterday, Thursday, November 12, which marks the most special sessions called in a calendar year. During session, the legislature voted to extend the peacetime emergency classification, allowing Governor Walz to maintain his emergency powers — the longest extension in Minnesota history — to combat the COVID-19 pandemic. Lastly, but most surprisingly, David Tomassoni, a DFL Senator representing the Iron Range, was appointed by the GOP to serve as President of the Senate through the end of this year. This was likely done to ensure a smoother transition should the President of the Senate be tapped for Lieutenant Governor, as we saw when Representative-elect Fischbach served simultaneously as 49th Lieutenant Governor and President of the Senate.
In related news, the Governor has implemented new restrictions in an attempt to stymie the coronavirus spread, which has seen a record increase in cases over the last few weeks. Here are the key points: 
Executive Order 20-96: Restricting Social Gatherings, Celebrations, and the Hours and Operations of Bars, Restaurants, and Venues to Prevent Further Spread of COVID-19 

Social Gatherings: 

10-person limit on outdoor and indoor social gatherings and are restricted to three households or less, including your own. 
Receptions for weddings, funerals, and similar events that take place indoors are limited to 50 people until December 11. After, the limit decreases to 25. 
Events listed above may not occur between 10 p.m. and 4 a.m. 

Bars and Restaurants: 

Bar counter service will be closed for seating and service in all establishments besides those that only have counter service. In counter service only establishments, patrons can line up (with masks) and then return to their tables. 
All bars and restaurants must end dine-in service between 10 p.m. and 4 a.m. 
2020 Election Insights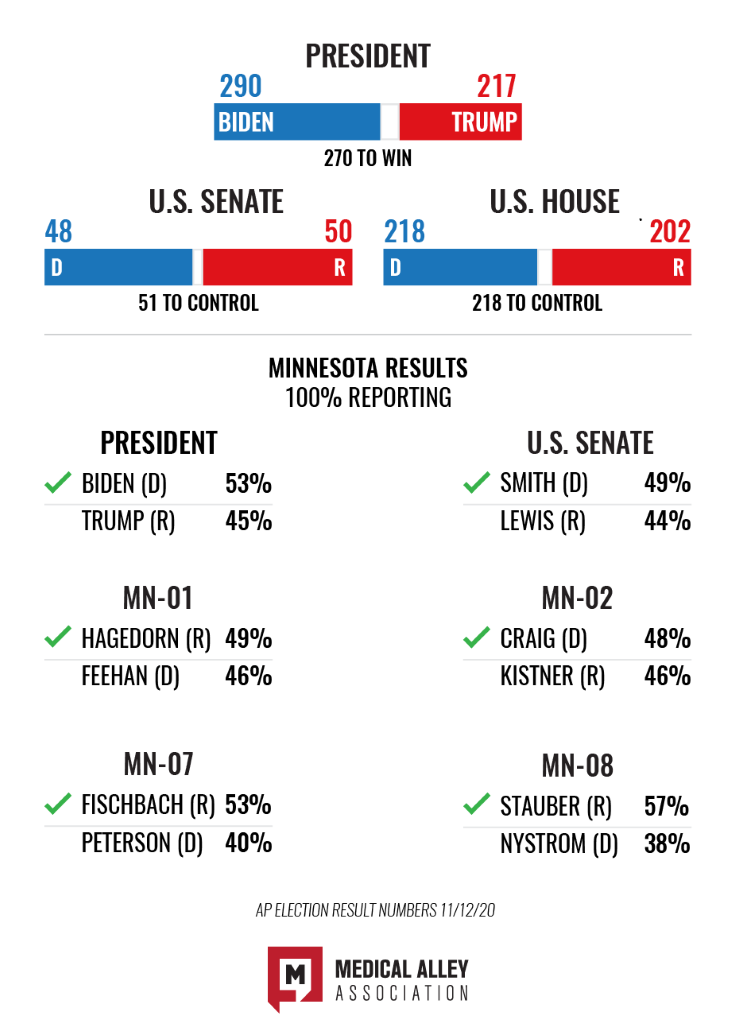 Electoral Analysis 
Minnesota continues its reign as the only state in the country with split control of its legislature. High hopes did not translate into votes for the Senate DFL, as the GOP retained their majority in the Minnesota Senate. Despite losing nearly a half-dozen seats — much to their surprise — the DFL held control in the Minnesota House of Representatives.
This is the first time Senate Republicans have retained a majority following an election since reinstating partisan elections in 1974. That said, the loss of one seat puts them back where they were for the entire 2017-18 session – with a one seat majority.
We also saw regional trends from 2018 persist. Republicans continue their dominance of Greater Minnesota, having won multiple House seats and an additional Senate seat from the DFL, albeit losing one Senate seat in St. Cloud. Of note are the House Republicans who won significant ground in the Iron Range, narrowly losing a race in a traditional DFL stronghold.  
Suburban Minnesota continues to shift to the left. Democrats picked up two metro Senate seats, losing one in the Lakeville area, and holding all but two of the suburban House seats they gained in 2018. But perhaps all is not lost for Republicans in the suburbs. Three DFL incumbents won their reelections by less than 350 votes, one by only 99 votes. Meanwhile, just outside of Rochester, both the House and Senate DFL came within striking distance, nearly flipping one House seat (shy 350 votes) and two Senate seats.
This was the final election on this set of legislative maps. Due to the census, new maps will be drawn and set for the 2022 election, bringing changes that will significantly shape the outlook for control of both chambers for the next decade.  
Impact on Committee Leadership
Minnesota Senate
Because Republicans have maintained control of the Senate, we expect key GOP senators to have an easy transition into leadership roles with minimal movement among chairs. While the MAA team will continue fostering the positive relationships we have with GOP senators, the association will also look to strengthen partnerships with key DFL senators, focusing on those who represent areas with concentrations of MAA members.
Minnesota House
Although the DFL have maintained control of the House, we can expect a significant shuffling of chairs due to retirement and electoral defeats. Committees in need of new chairs are:
Agriculture and Food Finance and Policy
Commerce
Energy and Climate Finance and Policy
Environment and Natural Resources Finance and Policy
Jobs and Economic Development Finance and Policy
Judiciary Finance and Civil Law
Ways and Means
Of those, Ways and Means, Jobs and Economic Development, and Commerce most directly impact MAA and our members. Accordingly, gavel changes could also affect leadership in HHS Finance, HHS Policy, and Higher Education Finance and Policy. As the legislature prepares for what is likely a largely virtual session, another strong possibility is that committees are consolidated, reducing the total number and therefore easing pressure on legislators to serve on a high number of committees.
No matter the outcome, the Medical Alley Association will continue efforts to build a broad, bi-partisan coalition of support for association initiatives and the work of our members. 
Impact on 2021 Legislative Session
In the upcoming 2021 session, we anticipate the GOP Senate will have little appetite for new spending or tax increases – though both are areas that Governor Walz and the DFL-controlled House will seek to force movement. Other issues likely to receive significant attention include: the COVID-19 response, gun control, inequities amongst underserved and marginalized communities, and healthcare costs, including reinsurance and further efforts at price transparency. 
Among the many challenges this legislature faces, the biggest will be rectifying Minnesota's over $4 billion deficit in the upcoming two-year budget. To accomplish this feat, as difficult as it will be, they undoubtedly must look at cutting programs.
Another looming issue is the new district maps for the State House, State Senate, and Congressional districts, which would be in effect for the next ten years. Using the upcoming census information, the responsibility to draw them typically falls to the legislature, though given their foreseen gridlock, it is likely the Minnesota Supreme Court will draw the maps for the third time in a row. 
In case you missed it: The Centers for Medicare and Medicaid Services (CMS) recently closed its comment period for the Medicare Coverage of Innovative Technologies (MCIT) program. Click here to read MAA's feedback on the proposed rule.