2021 is not as fresh a start as most new years. The COVID-19 pandemic continues to permeate every aspect of life, but the legislative process must continue, and the Minnesota Legislature has taken measures to adjust. Voting, hearings, and general business will be conducted virtually, for the most part. While the House has gone fully virtual, the Senate has chosen a hybrid model with operational details still to come. This will be an interesting hurdle to overcome as the state legislature faces another year of being the only divided government in the country.
Although the Minnesota Senate remains in Republican control, their majority is slim. With two long-time DFL senators forming their own independent caucus, the balance of power is now 34 (GOP) – 31 (DFL) – 2 (IND). This will be an extremely interesting and critical dynamic to watch. Similarly, the House remains in DFL control, though Republicans picked up several seats. The balance of power in the Minnesota House of Representatives is now 70 (DFL) – 64 (GOP).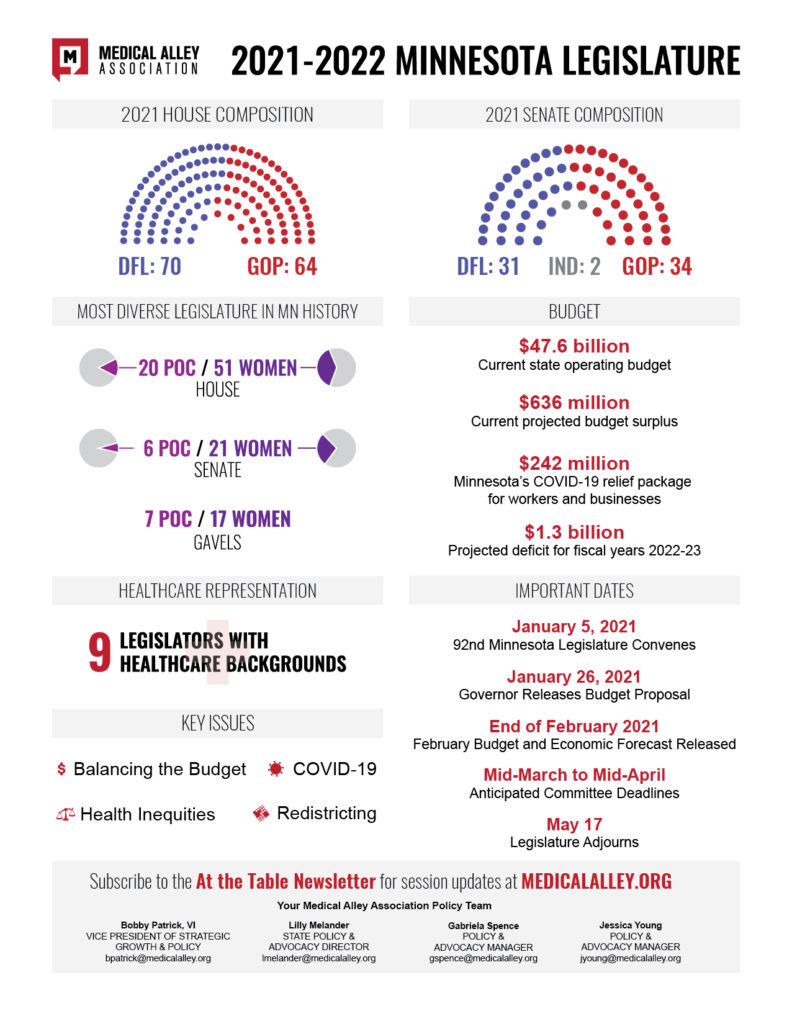 The 2021 legislative session kicks off today with a significant amount to accomplish. Couple the ongoing pandemic with a divided legislature and there will surely be plenty to watch over the next five months. Our Medical Alley Association team looks forward to engaging virtually this session, elevating the work of our members and reporting on impactful policy. Keep reading for our priority predictions for the coming year. Additionally, we will be publishing Medical Alley Association's 2021 State Legislative Agenda in the next few weeks that will be shared with state policymakers – keep a look out!
Balancing the Budget
The primary task before the legislature this session will be balancing the state's roughly $47 billion budget. A balanced two-year budget must be agreed upon, passed by the legislature, and signed by Governor Walz before session adjourns. This will be a difficult task with yet another divided legislature and a more challenging financial situation due to the economic impact of the pandemic.
In December, Minnesota Management and Budget released the November Budget and Economic Forecast. Expectations for this forecast were grim given the economic devastation from COVID-19 and the negative forecast from May. However, it provided much more positive news, instead reporting a $636 million budget surplus. The next in-depth look at the state's financial situation comes in February, with the release of the February Budget and Economic Forecast. This will include the most updated fiscal information, serving as a critical information source for the legislature as they build and balance a state budget for the next two fiscal years (FY 2022-2023).
Continued Response to COVID-19
COVID-19 and the state's continued response will be a focal point of the 2021 legislative session. From the onset of the pandemic, the legislature and administration have been working to help people and industries in need through efforts like grants for small business and support for critical workers. Moving forward, elected officials will likely want to get an understanding of how infections are being handled in long-term care facilities, how telehealth services can be leveraged more, and identify the evolving needs for hospitals and other critical care sectors. We will continue to connect our members with administrative and legislative representatives, allowing them to weigh in on and shape the strategy to combat COVID-19.
Healthcare
Healthcare will continue to be a hot button issue at the State Capitol this year. COVID-19 has put an incredible strain on Minnesota's hospitals, long-term care facilities, clinics, and critical care workers. We anticipate each body to have its own unique proposal to tackle the issues that continue to affect these essential industries and institutions.
Telehealth policy is a priority for our association as it continues to be a critical component of providing quality care during this pandemic. Our team has been integral in discussions regarding telehealth policy at both the state and federal level. In October, we released a Minnesota state-focused telehealth policy framework and have been collaborating with other organizations on this and related topics, like continued broadband expansion. As session progresses, we will continue to provide leadership on this important issue and advocate for improvements to Minnesota's telehealth laws, as well as be a resource for lawmakers as they consider potential policy changes in this area.  
Another important piece of the healthcare discussion this session will be addressing health equity. The COVID-19 pandemic exposed and exacerbated already existing disparities in access to care and health outcomes for underserved and minority communities. The House and Senate, as well as Governor Walz, have indicated they want to take a serious look at addressing these disparities – though their approaches are likely to be somewhat different. Our team will be engaging policymakers from both parties on this issue, connecting them to the work being done by our members, and identifying opportunities for partnerships to eliminate health inequities.
Jobs and the Economy
One major question the legislature will be addressing this session is how Minnesota and its economy will rebound after the COVID-19 pandemic. It is assumed that the bottom line of the budget this year will be thin, meaning the legislature will need to make difficult spending decisions. Many industries and organizations that have been financially harmed by the pandemic will likely go to the legislature for assistance. There will undoubtedly be more need than there are available resources. The main task in front of the legislature will be to provide financial aid to industries and organizations in need without putting additional financial strain on the state budget.
Our association has several policy priorities in this area – including an extension of the Angel Tax Credit Program and expanding access and availability of the Research and Development credit. We will also be looking to eliminate hidden disincentives for healthcare startups to locate in Minnesota and continue making Minnesota's overall business environment more welcoming to investment from existing and relocating organizations.  
Redistricting
With the 2020 census nearly complete, Congressional Reapportionment will take place. This process dictates how many seats each state has in the United States House of Representatives and is determined based on population. Once this is complete, the Minnesota Legislature will have an opportunity to redraw legislative districts, reconfiguring congressional, state senate, and state house districts. 
Both the Minnesota House and Senate have created committees dedicated to this specific task. The process of drawing and approving new legislative maps follows the same process as a traditional bill. New maps will have to be agreed upon by both legislative bodies and signed by the Governor. If the legislature is unable to accomplish this task or the Governor vetoes the bill, the courts may impose a redistricting plan. It is important to note that in the most recent redistricting years, the courts have ended up drawing the redistricting plans. Given the balance of power in the current legislature, agreement on a legislative redistricting plan seems unlikely.
It is assumed that Minnesota will end up losing one of its eight congressional seats this year, bringing its delegation down to seven. An important development to watch will be which portions of current districts end up being shifted to others. Depending on where these new lines are drawn, portions of historically Republican districts could be drawn into historically Democrat districts and vice versa. We will be closely observing the redistricting process as it will likely affect member companies and relationships they have with their elected officials.
Additional Issues to Watch
There will be no shortage of issues to watch at the Capitol this session. A few others we think will rise to the top of the list are: government reform and accountability, legalization of marijuana, public safety and police accountability, affordable housing and education, childcare affordability and availability.
MAA Has You Covered!
The legislative process can be confusing, which may only increase with an added virtual element. We are eager to help our members navigate this year's legislative session, so please continue to use our team as a resource. We look forward to working together in advancing Medical Alley as The Global Epicenter of Health Innovation and Care™.