Medicare
---
MINNEAPOLIS, Nov. 29, 2018 /PRNewswire/ — Bright Health, an insurance company that provides exclusive Care Partner Health Plans for everyday individuals at competitive prices, today announced it has raised $200 million in an oversubscribed Series C funding round. The financing includes two new investors, Declaration Partners and Meritech Capital, as well as existing investors Bessemer Venture Partners, Cross Creek Advisors, Flare Capital, Greenspring Associates, Greycroft Partners, New Enterprise Associates (NEA), Redpoint Ventures, and Town Hall Ventures.
Since early 2016, Bright Health has raised more than $440 million in three rounds of equity financing in pursuit of its vision of ushering in the next generation of healthcare through its proven Care Partner Health Plan model, delivering efficiency, predictability and cost savings to members. The Series C funding will grow the company's balance sheet and support ongoing expansion into new markets at a pace expected to exceed Bright Health's growth in 2019.
"Bright Health has continued to execute at a fast pace towards our goal of disrupting the old health care model that places insurers at odds with providers," said Bob Sheehy, Chief Executive Officer of Bright Health. "With our recently announced expansion, we will triple our geographic footprint in 2019. And Bright Health's current high re-enrollment rate shows that consumers are ready for this improved healthcare experience – especially when it is priced competitively. We are honored to welcome these long-term investors to the Bright Health community as we look forward to what's ahead for the company. We are just getting started."
"As a growth investment fund, Meritech is looking for opportunities to invest in fast growing sector leaders whose potential to use technology will enhance the customer experience of large populations," said Craig Sherman, Managing Director at Meritech Capital Partners. "Not only has Bright Health proved this is possible with its above average re-enrollment rates, but the data infrastructure that they are building has the potential to produce better health outcomes for millions of hardworking Americans and disrupt health insurance – and healthcare – as we have come to know and accept it."
Another new investor contributing fresh capital is Declaration Partners. Andrew Goldfarb of Declaration said, "Bright Health's differentiated model solves long-standing issues in healthcare and, most importantly, delivers high quality, integrated and affordable care to its growing membership. We are excited to support Bright Health through this next phase of the company's growth."
Mohamad Makhzoumi, General Partner and head of healthcare services and healthcare IT investing at NEA said, "I remain awestruck by the achievements that Bright Health has made since the Company's Series A financing in 2016. Bright Health is the entrant with the best chance of upsetting the staid status quo of the managed care industry. This financing positions the Company well to capitalize on its transformational medical cost management results. We are thrilled to continue partnering with Bob and the entire Bright Health team."
Launched in 2016, Bright Health's innovative Care Partner Health Plan Model works exclusively with one health system per market to offer superior, integrated care that removes the friction that has traditionally existed between payers and providers. This relationship allows for coordination of services and administration to optimize consumer and patient experience.
Offering both Individual and Family Plans (IFP) and Medicare Advantage (MA) plans, Bright Health can support consumers from childhood through retirement, allowing them to build lifelong relationships with their providers who in turn are invested in their long-term health outcomes.
About Bright Health
Bright Health provides quality health insurance for everyday individuals at competitive prices. Through its exclusive Care Partner Health Plans in local communities, Bright Health is reshaping how people and providers achieve better health together by making healthcare simpler, more affordable and personal. Bright Health currently offers a range of individual, family and Medicare Advantage plans in Alabama, Arizona, Colorado, New York City, Ohio and Tennessee via its website, call center, broker partners and through government websites as well as public health insurance exchanges. Bright Health co-founders include Bob Sheehy, former CEO of UnitedHealthcare; Kyle Rolfing, co-founder and former CEO of Definity Health and RedBrick Health; and Tom Valdivia, MD, MS, former chief health consumer officer of Definity Health. Learn more at www.brighthealthplan.com.
SOURCE Bright Health
---
This week, the University of Minnesota and the Medical Alley Association had the privilege of hosting the U.S. Department of Health & Human Services (HHS) for Health Care Startup Day Minnesota. The event took place on University of Minnesota's campus and drew the largest crowd HHS had seen for one of these events to date. It was the sixth stop on HHS' two-year tour around the country to meet healthcare entrepreneurs and local startups. HHS Startup Day was a great opportunity to showcase the innovative working being done in Minnesota and build stronger relationships with these agencies.
Minnesota was an obvious choice to host Startup Day as it is uniquely positioned with a vibrant community in the health innovation and care industry that is Medical Alley. The event provided opportunity for folks to interact, engage, and learn about the variety of work HHS does. Many healthcare companies are not sufficiently aware of all the relevant funding, regulatory, and collaborative opportunities from HHS.
The event featured a wide array of speakers. Ed Simcox, Chief Technology Officer (CTO) at HHS, addressed how partnering with innovative companies is the way that HHS will be able to bend the cost curse of healthcare and help improve treatment outcomes. Congressman Erik Paulsen, who has been a strong supporter of investments in research at the National Institutes of Health (NIH) with the goal of improving our regulatory processes so new and groundbreaking treatments can be developed, continued to lead the charge to repeal the medical device tax to increase job growth and innovation. Jonathan Pearce, CEO of Zipnosis, described for the audience the pathway of a company from startup to growth. Other speakers included key leaders from the Center for Medicare and Medicaid Services (CMS) and the Food and Drug Administration (FDA) discussing FDA approval, reimbursement issues, proposed regulations, and how to access federal funding programs in Minnesota. Medical Alley Association President & CEO, Shaye Mandle led a panel discussion on the future of healthcare innovation featuring Jodi Hubler, Managing Director, Lemhi Ventures; Ping Yeh, CEO & Co-Founder, StemoniX, Inc.; John Brownlee, CEO, vidscrip; Dan Knights, CEO, CoreBiome. The event closed with a "Walleye Tank," a series of businesses pitches from local healthcare startups.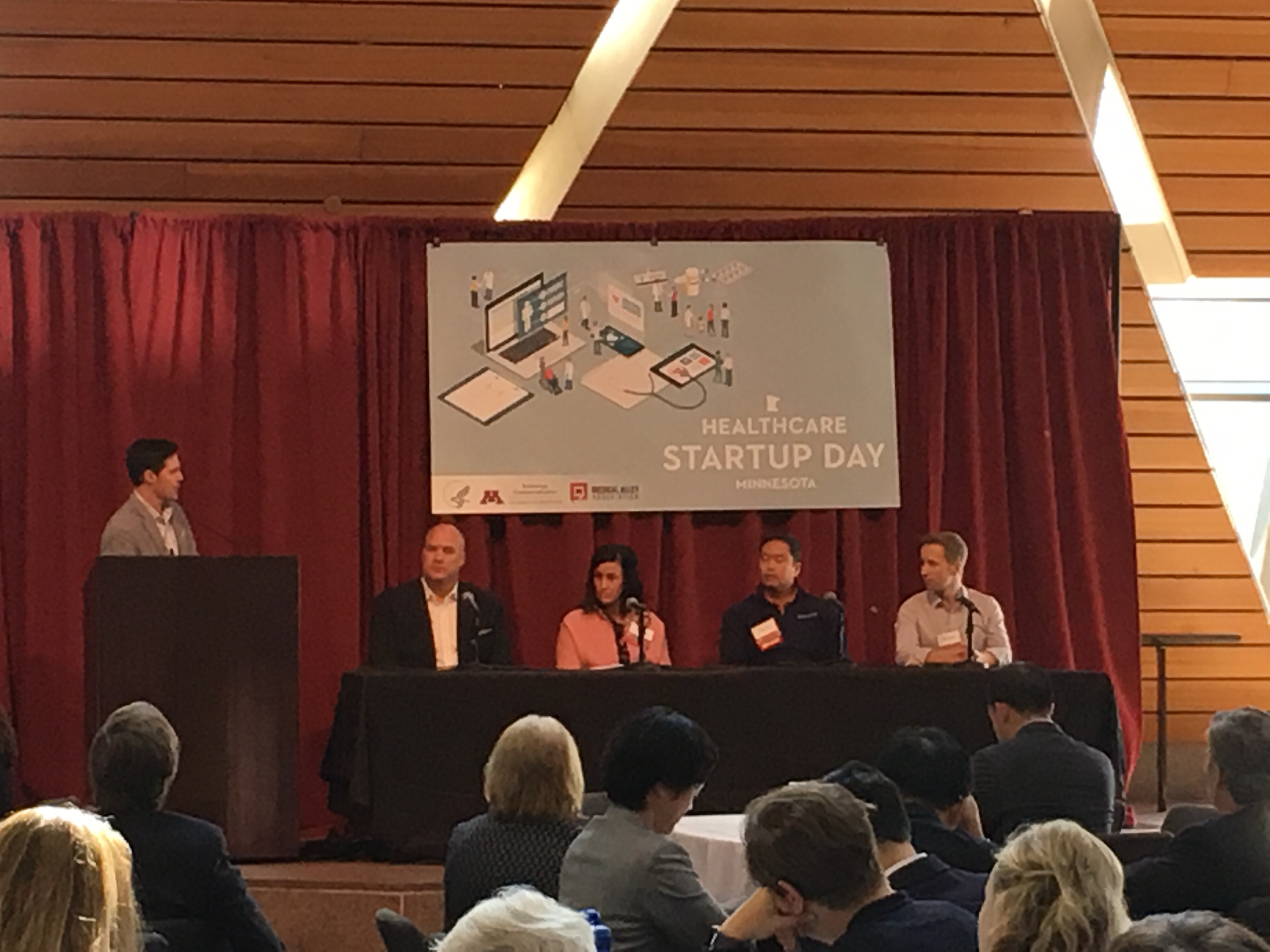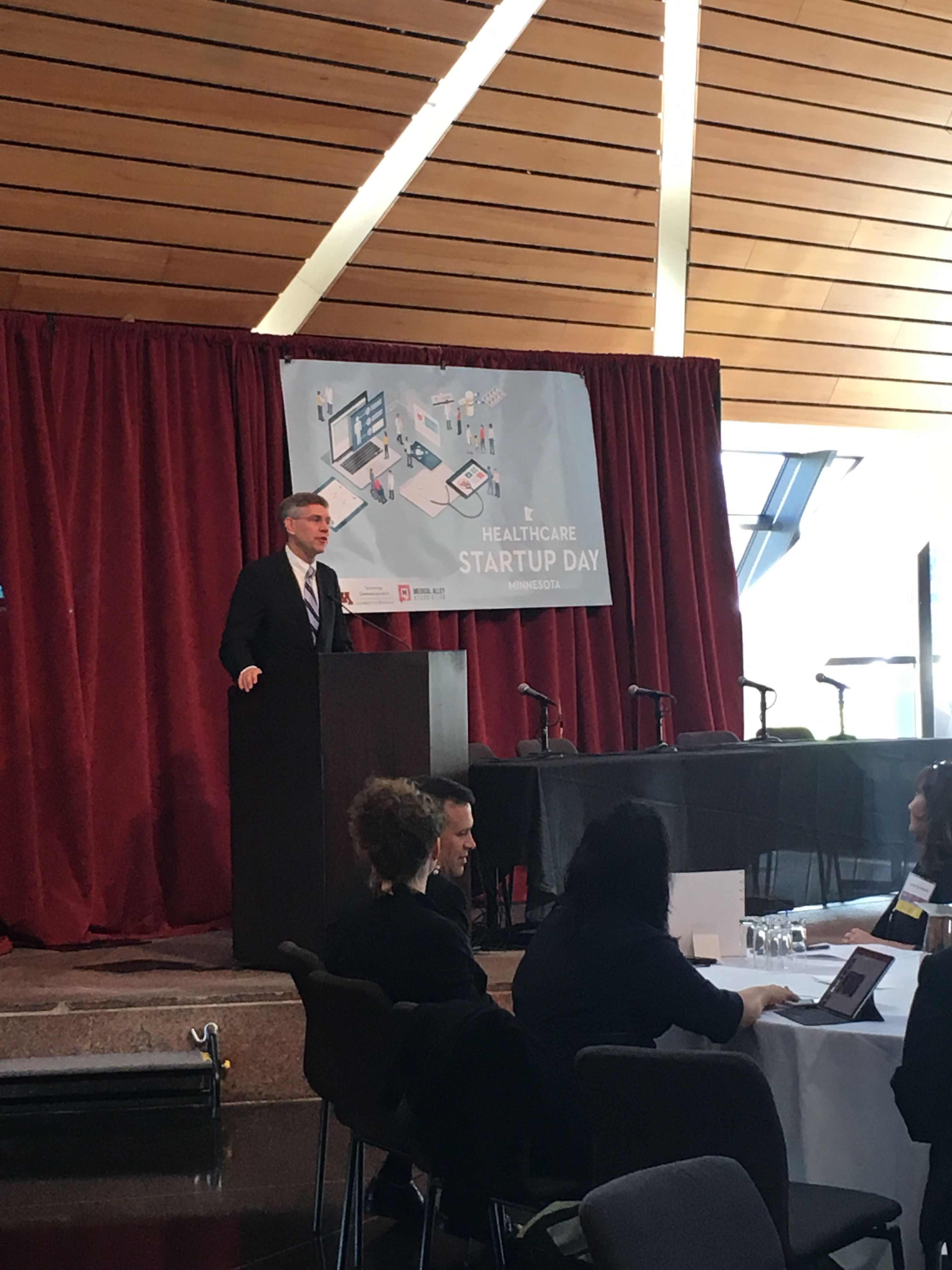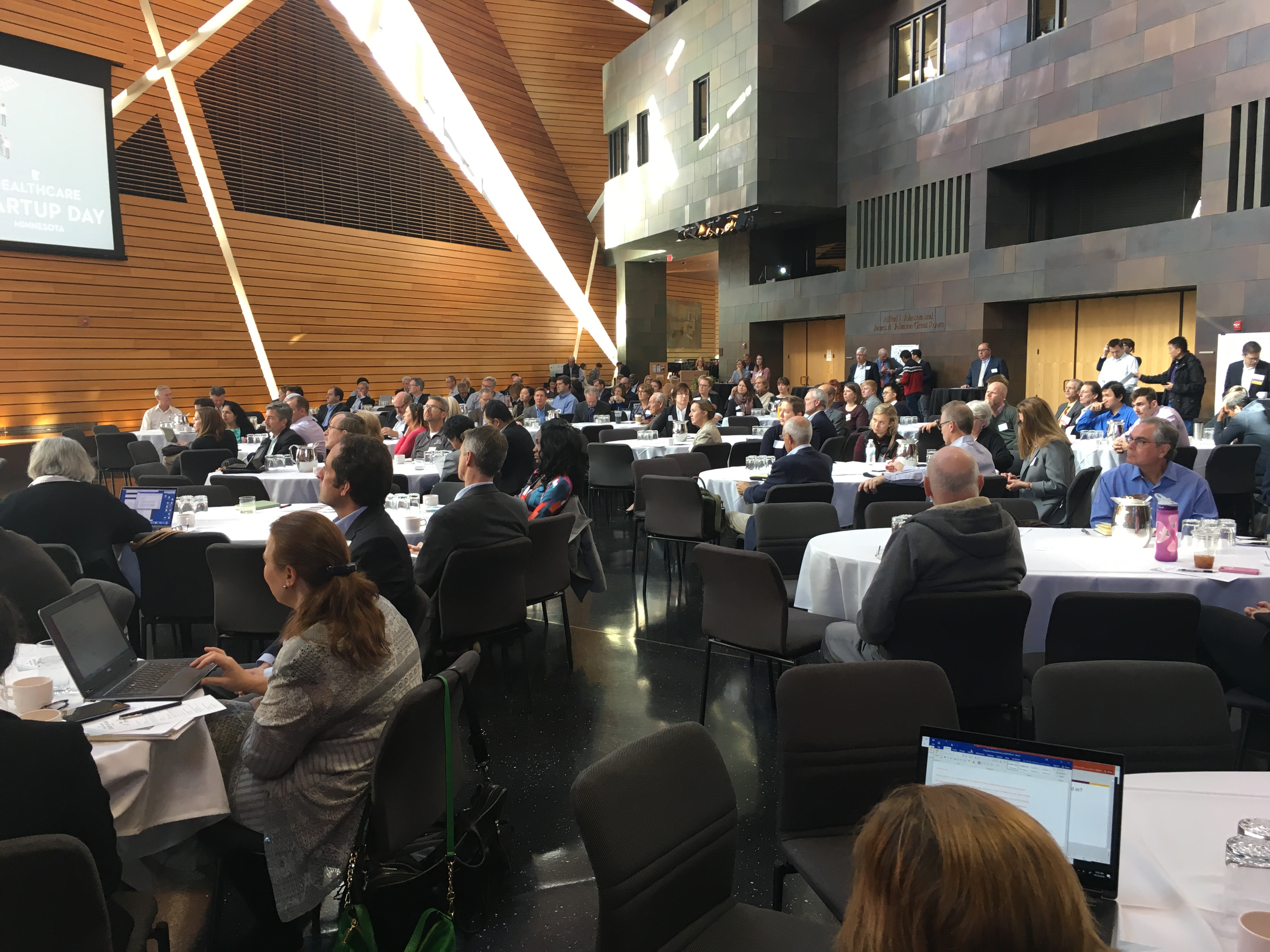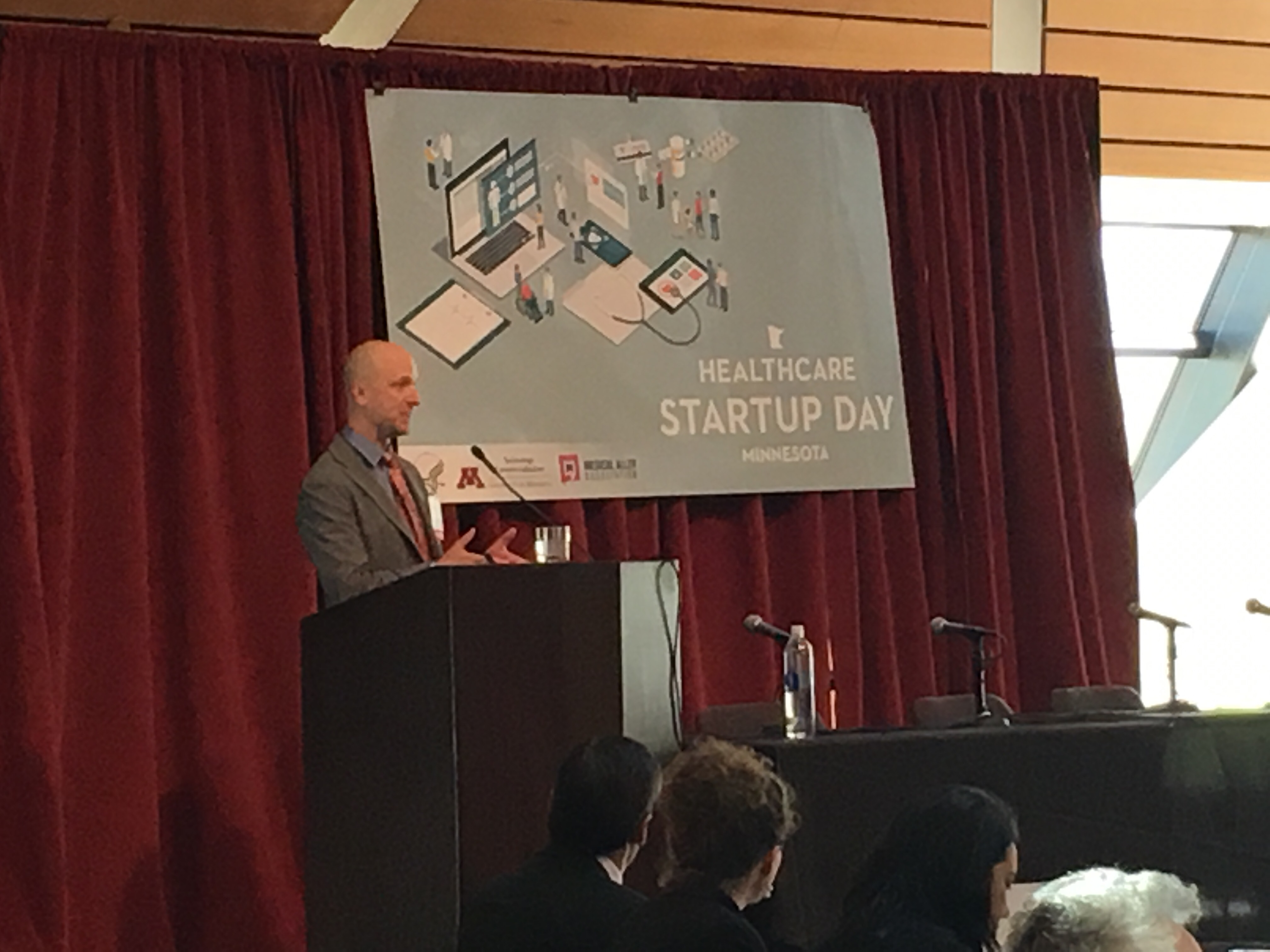 HHS Startup Day was a great event bringing light to the incredible healthcare work being done here in Minnesota. Thank you to the U.S. Department of Health and Human Services, the University of Minnesota and all the local entrepreneurs and industry leaders for making Healthcare Startup Day Minnesota a huge success!
---
MAA Meets with  Gubernatorial Candidate Walz, Tours Ecolab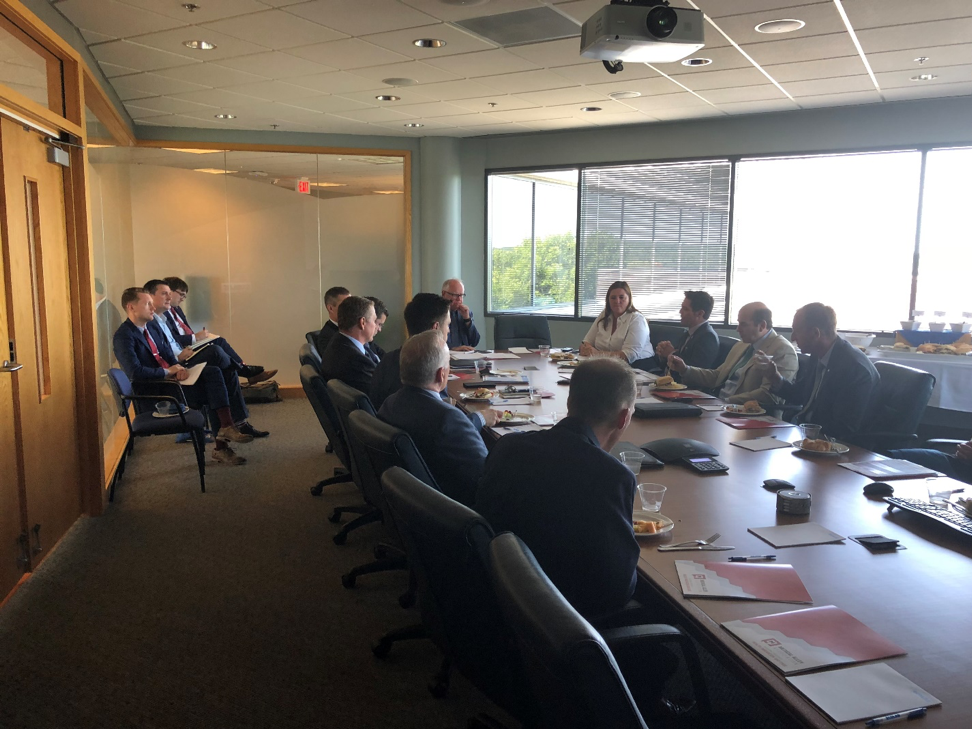 The Medical Alley Association, led by its Board of Directors and executives from all sectors of the Medical Alley healthcare community, had the opportunity to sit down with DFL gubernatorial candidate, Congressman Tim Walz, to discuss the recent release of Medical Alley Association's working group report, "Realizing the Vision: Medical Alley is the Global Epicenter of Health Innovation and Care." The report is a blueprint identifies ways to for the public and privates sectors to work together and bring the knowledge, expertise, and experience from across healthcare to help address key public policy challenges. Thank you Congressman Walz for meeting with MAA Board members and discussing how we can work together to cement Medical Alley as the global epicenter of health innovation and care!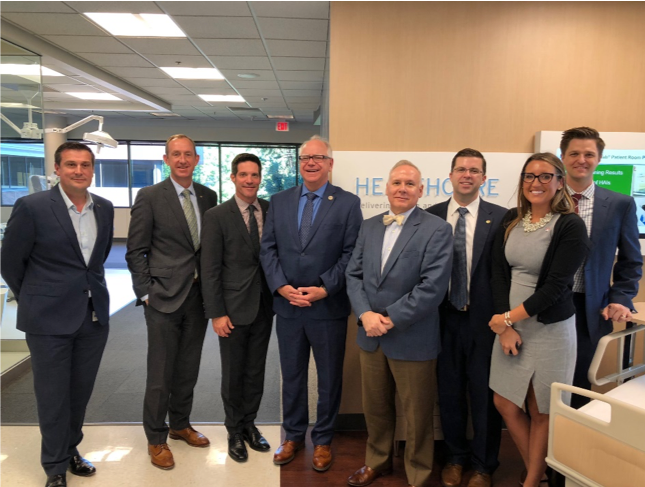 Earlier this month Ecolab hosted Medical Alley Association and Minnesota Gubernatorial Candidate Congressman Tim Walz for a meeting and tour of their R&D Facility in Eagan. The tour focused on Ecolab's Healthcare & Life Science division that serves hospitals, long term care providers, personal care & cosmetics and pharmaceutical markets. This division develops and delivers infection prevention solutions that improve cleanliness and operational efficiency, enabling the focus to remain on delivering quality patient care to improve outcomes. Thank you to Medical Alley Association Board Member and Ecolab's Senior VP & General Manager of Global Healthcare Division, Paul Chaffin, and Ecolab's VP of Research and Development, Pedro Van Hoecke, for showing us EcoLab's innovative work that helps protect the places people eat, sleep, work, play and heal.
At a gubernatorial forum in mid-September, Congressman Walz noted the important role Medical Alley and the companies here play in attracting talent to Minnesota and growing our economy. You can see a section of his remarks in the video below;
HHS Announces Workgroup on Healthcare Innovation & Investment
This past summer HHS put forward a Request for Information (RFI) soliciting comments on a proposed workgroup to facilitate high-level dialogue between HHS leadership and those focused on investing and innovating in the healthcare industry. Medical Alley Association submitted a response to this RFI with a number of suggestions on how to structure the workgroup and the needed geographic/life-cycle balance, among others. You can read our full comment here.
Earlier this week, HHS announced what the next steps are for this workgroup. They are creating the "Deputy Secretary's Innovation & Investment Summit (DSIIS)". This will be a yearlong collaboration between healthcare investment & innovation professionals and HHS personnel. This group will meet quarterly to "discuss the innovation and investment landscape within the healthcare sector, emerging opportunities, and the government's role in facilitating more investment and accelerated innovation."
The DSIIS is designed to "produce high-level discussions between HHS and private sector innovators that will advance the mission of HHS to enhance and protect the health and well-being of all Americans." Participants will provide their individual perspectives on a range of issues related to healthcare innovation and investment.
The full press release, which details selection criteria for perspective participants and how to submit recommendations, is here.
Medical Alley Association will keep you updated as this process continues and will be closely monitoring this workgroup's activities.
MAA Weighs in on Proposals from FCC & CMS
In early September, Medical Alley Association submitted formal comments in response to Requests for Information (RFI) from two different federal agencies.
The first of these was to the Federal Communications Commission (FCC). They asked for thoughts on an effort to create a "Connected Care Pilot Program" designed to support the delivery of telehealth to low-income Americans. The early outline of this program indicates it would award $100 million worth of grants with the purpose of increasing the access and use of telehealth in rural, remote, and low-income areas. MAA focused its comments on innovative work being done in the telehealth and home monitoring areas in Medical Alley and why Minnesota would be an ideal grant recipient. Read the full comment here.
The second comment touched on a portion of Center on Medicare & Medicaid Services' (CMS) proposed revisions to the Medicare Program, specifically regarding the modernization of Medicare Physician Payments for services furnished via telehealth. MAA's comments revolved around the continuous development of health technology, ensuring that any new regulations are 'future-proof' and that reimbursements need to reflect the provider's commitment to telehealth by their investment in, and maintenance of, needed infrastructure. Read the full comment here.
October 15th Is Healthcare Startup Day Minnesota
Minnesota is proud to host the U.S. Department of Health and Human Services on their multi-city tour to connect with local healthcare startup entrepreneurs. Representatives from the Food & Drug Administration (FDA), Centers for Medicare and Medicaid Services (CMS), National Institutes of Health (NIH), and other departments are excited to share insights on collaborating with their agencies and learn how they can support Minnesota startups.
The University of Minnesota, Medical Alley Association, and Minnesota High Tech Association have planned an engaging day of speakers, panels, and business plan presentations to support the healthcare ecosystem and showcase Minnesota's innovation.
Register for FREE
---
---