Medibio is headquartered in Australia with strong ties to Medical Alley. As a mental health technology company, Medibio is working to advance artificial intelligence technology to identify mental illness biomarkers and patterns, specifically for depression.
To learn more about this exciting research and enterprise, Medical Alley invited Claude Solitaro, managing director of Medibio, to share his vision with Frank Jaskulke, vice president of intelligence at Medical Alley.
"Essentially, we're looking at converting what currently are subjective methods, subjectivity, into objectivity when it comes to mental illness," explained Claude.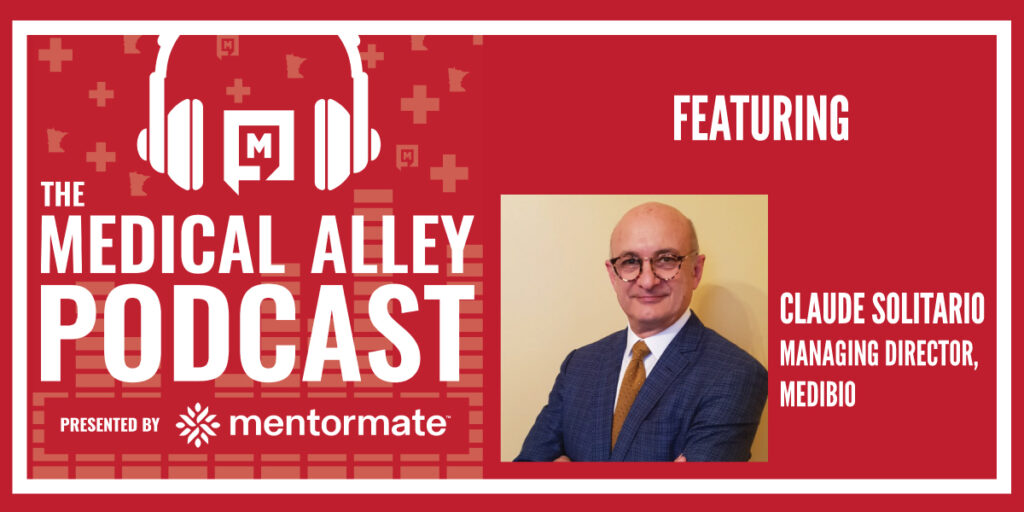 "The problem with subjective methods is that they depend heavily on the skill of the clinician and the candor of the patient, which, in turn, leads to variable outcomes. This may also lead to misdiagnosis that, in turn, presents itself with inadequate or inappropriate treatment," he described.
The potential impact for more objective markers for mental illness is enormous. "Within 24 hours you will be able to have an assessment," asserted Claude. "We would never believe that we would replace a clinician's diagnosis. What we aim to do is give the clinician the best possible objective data upon which she can make a diagnosis."
The basic principle of the research is that mental illness disrupts the central nervous system. This disruption can be identified by looking at your heart rate and heart rate variability.
A Global Reach for Mental Wellness
Claude is based in Australia with employees throughout the globe. "We don't limit ourselves to international borders," explained Claude, "but … our main focus is the U.S., not only because it's a large market here, but also because our first product is going through FDA processes. You know, if we're successful in achieving FDA approval, then other regulatory regimes around the world tend to follow suit. So our main focus from a developmental point of view and a commercial point of view is the USA."
The company has two business units: one clinical and one non-clinical. The clinical unit is focusing on identifying depression in patients that undergo a sleep study because they have a sleep condition. "Now our product is going through the FDA as we speak. In fact, we've had a pre-submission with the FDA to agree on endpoints for the final validation trial of what we call MEB001, which is our set of algorithms or software that identifies depression in patients who undergo sleep study. So that's very exciting for us. It's a big market," enthused Claude.
The non-clinical business unit developed two products. One is an app for consumers to measure stress levels and help with management. The other is a similar app designed for corporations to offer to their employees. The corporation receives de-identified data illuminating them to the mental wellness of their workforce.
"It's a very unique product and we are very proud of it," Claude said. "If I can give one example back in Australia. There's a large, global accounting firm there that's using it now. We can tell … which one of their offices around the country are shaping up better or worse than other offices. So with our product, we can provide them with data and allow them to make better decisions as to how they target those programs."
The Pandemic Highlighted the Importance of Mental Wellness
Claude described that the pandemic heightened general interest in the entire mental wellness industry, including Medibio. He sees tremendous commercial potential in advancing and innovating mental healthcare, as well as an incalculable potential for improving lives, productivity and social well-being.
"The commercial side of the business, if we're successful, will be very, very rewarding. But what's more rewarding for me at least, is that I can say that I've done something to, in a small way, to help make people's lives better," he explained.[1] "And we all know how depression affects not only the patient, but the people around them: their friends and family. And it can be devastating."
Claude believes that Medibio's work can improve lives by shortening the time needed to make a diagnosis, as well as contributing to more accurate diagnoses and, therefore, more appropriate and effective treatment.
"Our methods will allow that to happen, you know," continued Claude. "[With] our objective method, you can baseline a patient one day, treat them and then monitor them again to see if the treatment is working."
A New Phase for Medibio
In addition to achieving regulatory approval for its depression test, Medibio is also focused on developing new go-to-market strategies for both of its apps to expand market penetration.
In addition, the company is in a new, exciting phase. "After many, many years of research … We are at the tail end of the process now and only months away from the validation trial. So we are very excited," Claude exclaimed. "It's a great time to be involved with Medibio, either as a shareholder or an industry participant."
---
Medical Alley companies, including Medibio, and individual members are innovating advancements for mental healthcare. Frank Jaskulke and the Medical Alley Association thank Claude Solitaro for sharing his story, insights and vision for the future with us.