People Incorporated was founded in 1969 in St. Paul, Minnesota. Since then, the organization has grown in size and outreach, innovating many of the state's advancements in mental healthcare along the way. Its programs support those experiencing homelessness, intervene during crises and treat co-occurring mental illnesses and substance use. 
To learn more about mental wellness and recent advancements in mental healthcare, we invited Jill Wiedemann-West, CEO, to share her insights and compassionate approach with Medical Alley's VP of intelligence, Frank Jaskulke.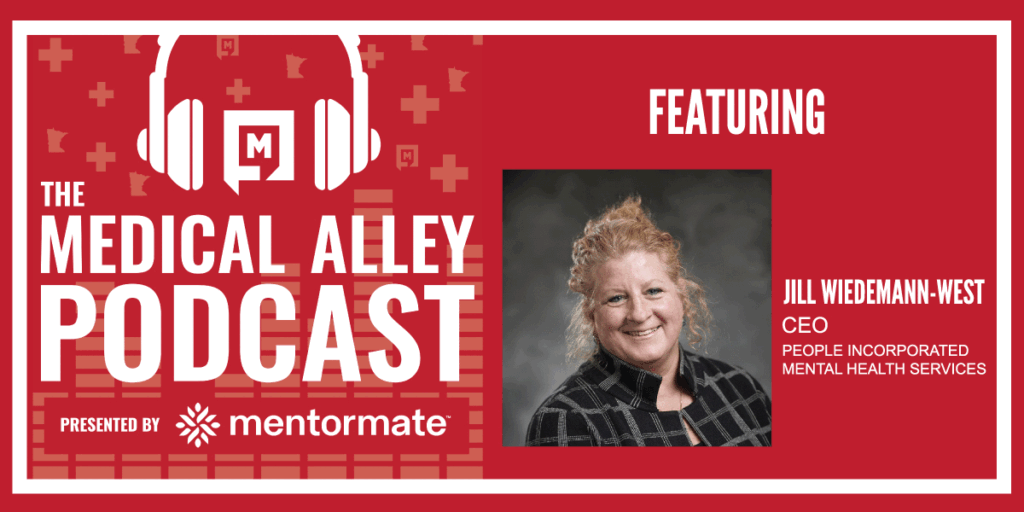 "Harry Maghakian was a pastor of a community down in St. Paul," explained Jill. "And he just noticed these gentlemen standing outside of his church on a regular basis that didn't seem to have a place to go … he invited them in and it really birthed what is today an organization that is committed to serving the community's most vulnerable people with mental health, chemical health and co-occurring health services."
Today, People Incorporated runs over 60 programs to serve over 12,000 clients annually. "None of our folks really come to us with just one issue," enthused Jill. "They come to us the same way we all come to each other, which is as complex humans, having lots and lots of needs and issues."
How Mental Wellness Needs Changed in 2020
The pandemic presented all of us with uncertainty and changes. Some of us struggled more than others. Some of us had more resources than others.
"Mental wellness is a spectrum. And, you know, the folks that we serve are on a part of the spectrum where they are definitely disabled to some level by the illness that they have, whereas a lot of us … were able to function and get through. We had some support. One of those things, honestly, which is a very big challenge for most individuals that live with mental health issues is isolation," said Jill.
"What we've seen is the need for services; the need for care has just become overwhelming in the last two years. And for a lot of these folks, you know, they're far less managed in their illness than they were in 2019 because of some of the challenges and barriers that 2020 and 2021 presented. So it's been challenging for these folks," she continued.
Telemedicine for Mental Wellness
The time, according to Jill, has been ideal to evaluate and adjust care to meet changing needs, as well as reframe what we think of as health and healthcare as a society. "I think the fact that we could pivot the way that we did as a society so rapidly really says a lot for how much more resilient and agile we are as a function in healthcare than we even imagined we were," [1] asserted Jill.
Jill shared her insights about how expanding telemedicine has benefited many, as well as introduced new challenges. "It's gotta be a blend," she shared. "When you're living with a disabling mental health condition, you know, we want you to get care. And if that care is best delivered virtually because of symptoms that you have, then that's great. But then we still have to find ways in your treatment plan to make sure that you aren't so isolated, that you're actually creating new symptoms over time."
Jill emphasized the need for collective conversation and collaboration. "You know, we continue to have a challenge in our system where you might be going to the ED because you think you're having a heart attack when in fact it's anxiety or panic. If we can really be connected in terms of the mental health community and the physical health community to knowing, okay, then these are the three things we do after we've ruled out that it's a heart attack. If we as a community could learn to come together, there's amazing things in Minnesota for mental wellness. We really have built, really, the beginnings of an extraordinary system here. If we could all come together and find ways to work more closely, I think it would be a game changer for the citizens of Minnesota," she said.
Collaboration With Local Law Enforcement
People Incorporated is promoting greater connection by collaborating with local law enforcement to bring mental health services to those who need them. "We actually had an embedded social worker in with the St. Paul Police Department since 2019. So we took a leap of faith on that program," Jill explained.
Since 2019, both People Incorporated and the St. Paul Police Department are impressed with the results and are making plans to expand. "It's been incredibly successful," she enthused. "And two years ago we added another social worker in St. Paul that is focusing a little bit more on the homeless and the folks that have chemical health issues. A lot of the police departments in the metro area really jumped into this. And then most recently Coon Rapids and Blaine said, 'We're gonna find money for this. Are you all in? Let's do this together." And we did."
Current Workforce Concerns 
Despite making tremendous strides and successful pivots throughout the pandemic, Jill shared her concerns about the state of healthcare's workforce.
"I think in healthcare in particular, we're in a real crisis with the workforce. That creates a lot of mental health–related issues for the people that are already here, because not only are you trying to hire people, you're trying to fill shifts, you're trying to meet the clients' needs, but you're trying to do it with a half, or maybe even less than half, in some cases, of maybe what you need, what you really need to do the work," she detailed.
In the coming months and years, People Incorporated will focus on supporting its workforce so that they can continue to grow and find ways to serve the people of Minnesota that need mental health services. In addition, the organization will leverage data to more deeply understand how to "build a better and more sustainable system."
---
Medical Alley companies, including People Incorporated, and individual members are innovating advancements to mental health for Minnesota and beyond. Drawing on decades of success, People Incorporated continues its mission of making integrated mental health services available to all. Frank Jaskulke and the Medical Alley Association thank Jill Wiedemann-West for sharing her story and insights with us.