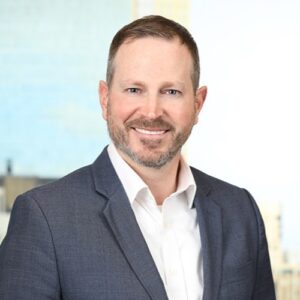 Mike Gietl is a Healthcare Industry Executive with J.P. Morgan in Minneapolis, MN. Mike leads the Life Sciences and Healthcare Services Commercial Banking team across the Midwest and Canada. The focus of the team is to provide innovative financial products and networking to start-up through small cap companies in the healthcare space. Mike's team specifically focuses on companies in the medical device, pharmaceutical, biotech, tools and diagnostic, specialty contract manufacturing and contract research spaces, as well as healthcare IT and specialty healthcare services companies.
Mike's 20+ years of experience at J.P. Morgan includes structuring and implementing wide ranging credit transactions and managing relationships with a range of life science, healthcare and manufacturing companies.
Mike currently serves on the Board of Directors of University Enterprise Labs in St. Paul, Minnesota and is a member of J.P. Morgan's Minnesota Market Leadership Team.
Mike received a B.B.A. in Finance, Investments, and Banking from the University of Wisconsin – Madison.
Give us J.P. Morgan's elevator pitch.
J.P. Morgan is dedicated to supporting early innovation across the healthcare ecosystem in Minnesota and beyond. Our dedicated Life Science and Healthcare Banking team located in Minneapolis has been an integral piece of the ecosystem for several years. In addition to providing a world class treasury management platform tailored specifically to innovation economy companies, our experienced team understands the nuances of the FDA, the importance of reimbursement, and the time and investment it takes to grow a company from a R&D clinical or minimally viable product business to a commercialized sales organization. The financial solutions, global resources and vast network of connections that J.P. Morgan can bring to early-stage companies are unmatched. We are proud to sponsor Medical Alley Starts and help founder's dreams become reality and build their futures.
Why did J.P. Morgan decide to become a sponsor of Medical Alley Starts?
The J.P. Morgan Life Science and Healthcare Banking team has been a member of Medical Alley for a number of years and has seen firsthand what can happen when the ecosystem comes together to support early stage-businesses with investment capital, regulatory and reimbursement advice, engineering and lab space, and financial services. There is a significant amount of value J.P. Morgan brings to start-ups in Medical Alley that go beyond traditional banking products and we are proud to be part of this exciting endeavor.
Why do you like working with startups?
Start-up entrepreneurs bring ideas to life, but they face many difficult decisions throughout their life cycle journey. J.P. Morgan can help make these financial decisions easier. From dedicated local bankers and service support, to a treasury platform that can grow and scale with you, start-ups can see state-of-the-art financial technology work for them knowing their payments will be made on time and efficiently, and their banking team is deeply embedded in the healthcare ecosystem.
What advice would you give to entrepreneurs in the startup community?
Recognize your strengths and weaknesses upfront, particularly on the fundraising side. This is the single most important function in an early-stage business. Be succinct in your elevator pitch and be brief in your pitch deck. Don't get discouraged. Start-up founders will go through many more "no's" before getting to yes.
What is one personal goal for the upcoming year?
Continue to educate the healthcare space around the importance of a strong banking partner that continuously goes above and beyond while providing exceptional service to the start-up community.
How do you relax/decompress?
In summer, golfing and getting out on the St. Croix River with my family. In winter, snowboarding and skiing with my family at Afton Alps and hopefully getting out West to do the same!
What do you enjoy most about the Medical Alley community?
The Medical Alley community is by far the most tight-knit ecosystem in the Midwest. From Medtronic to 3M, to United Healthcare and Mayo Clinic, Medical Alley is a fertile ground to build start-up companies in the healthcare space. The infrastructure is built, there is a deep bench of strong executives, and there is collaboration across the ecosystem that drives companies to stay nimble while creating cutting-edge lifesaving technologies.