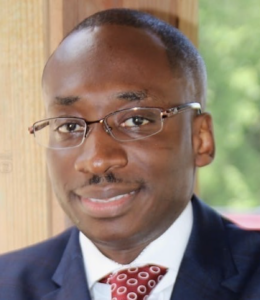 Joseph K. Oppong has nearly two decades of experience serving as a strategic business consultant to many Fortune 500 companies. As a Consulting Partner at EY, Joseph has extensive experience in helping companies align and drive strategic, financial, operational and compliance priorities. He works largely with healthcare providers and payers, advising executives on organizational design, governance structures, operating models and technical capabilities to improve performance, enable growth and reduce costs.
Joseph is an inclusive leader who serves on the firm's global social equity taskforce and as the partner sponsor for the Minneapolis Ethnicity Professional Network. He has served as a member of the EY Americas Consulting People Advisory Committee and the Advisory Advancing Black and Latino Executives. Joseph holds a BA in economics from Grinnell College and a MS in accounting from the University of Virginia. He is a Minnesota licensed CPA and a Certified Medical Practice Executive with the American College of Medical Practice Executives.
Give us Ernst & Young's elevator pitch.
EY exists to build a better working world and build trust in the capital markets. Enabled by data and technology, diverse EY teams in over 150 countries work across assurance, consulting, law, strategy, tax and transactions to help clients grow, transform and operate.
EY's Health Sciences and Wellness practice encompasses 34,000 professionals worldwide who serve clients across the industry, from biopharma and life sciences companies to healthcare systems, providers and payers to support our clients' pursuit to improve access to care, health outcomes and ultimately build a better working world.
What are the big milestones to come in the next for years for EY?
As an organization, our ambition is to create long-term value for clients, people and society serving as a trusted partner. We seek to achieve this goal through continued focus on our people and clients. Over the next several years we will continue to support our clients to solve their biggest challenges while we work to foster inclusive economic growth.
What does diversity, equity and inclusion mean to EY?
Diversity and inclusiveness are not "nice to haves." They are business imperatives. We believe that diverse perspectives, combined with an inclusive culture, drive better decision-making, create stronger teams, stimulate innovation, increase organizational agility and strengthen resilience to disruption.
It is more important than ever for organizations to create an environment where employees feel like they belong while also celebrating and recognizing uniqueness. It is fundamental to building an inclusive environment where all may thrive and relationships and innovation flourish.
Why is diversity, equity and inclusion a priority for EY?
As a global organization, EY prioritizes diversity and inclusiveness as key to how we operate and our potential to deliver for clients. Including varying points of view in decision-making, operations and actions is fundamental to establishing long-term value for EY people, as well as long-term client, social and financial value. This helps us to fulfill the EY purpose of Building a Better Working World and enables all our people to have exceptional experiences.
What progress in the diversity, equity and inclusion space have you seen for EY?
We have been on our D&I journey for decades and continually work to build a more inclusive workplace. In the 1990s, we established several professional networks for our people, and in the early 2000s introduced gender identity non-discrimination policies and began offering domestic partner benefits. In recent years, we joined the White House Pay Equity Pledge, opened several EY Neurodiversity Centers of Excellence and achieved top awards on our D&I policies. Most recently, EY released commitments to anti-racism in the US and published our first-ever DEI transparency report in our effort to continually drive progress.
EY has invested in the Twin Cities community for 100+ years. In the last year, we made a significant contribution to help bridge the digital divide, demanded for police reform and justice with the Minnesota Business Partnership after the George Floyd tragedy, launched the Entrepreneur Access Network program supporting black and Latinx entrepreneurs and increased our funding to leading social and racial equity organizations.
We're also focused on supporting our communities and clients with DEI and Health Equity insights and tools. I'm encouraged by what we can accomplish when we work together to understand and take action to create inclusive and equitable environments.
What is the best advice you have received in your career? The worst?
Best: You are as good as your team. Spend time coaching, developing and providing them an inspiring future vision.
Worst: The need to prove myself.
What have been the most rewarding moments in your career?
Winning a new client or project and creating new opportunities for my team; the joy and reaction of the team is always very rewarding.
What is one personal goal for the upcoming year?
Get better at my golf game.
How do you relax/decompress?
Play the keyboard.
What do you enjoy most about the Medical Alley community?
The perspectives I get from listening and hearing other executives and the broad insights from various topics and discussions. I'm proud to be a member of this innovative group that is working together to improve health access, experiences and outcomes for our local and global communities.

Welcome to Medical Alley Association's For The Record interview series! Join us as we sit down with innovators in the delivery, payment, technology, and policy industries, giving us – and in turn, you – access to diverse perspectives on how healthcare is changing and what lies ahead.
Medical Alley is the global epicenter of health innovation and care; For The Record, is meant to share insights and spark discussion. If you have a perspective on the future of healthcare, feel free to share it by reaching out to Jamie Oyen, Marketing Manager at joyen@medicalalley.org