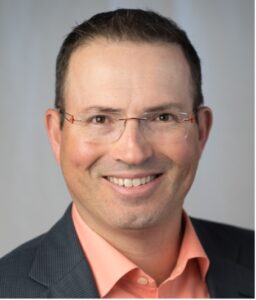 Bob Freytag is a founding partner of Introworks, a launching agency with more than 25 years of global product launch and branding experience. Bob oversees all critical operation of the company including sales, marketing, account service and finance. Freytag is heavily involved with developing strategic partnerships and new customer acquisition.
Freytag has served on the board of directors for The CEO Roundtable since November 2016, is the former President of The Sales and Marketing Executives of Mpls/St. Paul (SME) organization, and a committee member for St. Jude Children's Research Hospital for the past 20 years.
Bob earned his BA from Iowa State University. He lives in Eden Prairie, Minnesota, with his wife Kathryn and their two boys, Bob enjoys spending time with his family, traveling and golfing.
Give us Introworks' elevator pitch.
At Introworks, we launch products, services and brands that impact health, wellbeing and the world we live in. Clients come to us because of our ability to simplify complex concepts and change conversations to help their companies win in tough market situations.
What is one thing the Medical Alley community might be unaware of about Introworks that you think would be good to know?
Introworks acquired its first medtech customer in 1993. The company was called Aequitron Medical and Jim Hickey was the CEO. That's where our passion for the industry started. Aequitron was acquired by Nellcor Puritan Bennett, then Mallinckrodt, then Tyco Healthcare. Throughout it all, Introworks was retained as the marketing partner. Since 1993, we've launched hundreds of products and worked with over 75 different medtech companies. February 2022 marks 30 years since Mike McMillan and I launched our firm, and it's been an amazing journey.
What are the most critical steps companies need to take when launching?
There are six critical steps all companies should follow to increase their odds of success.
Establish a launch leadership team. This is the group that guides the launch through commercialization and builds momentum internally.
Define your success metrics. I can't tell you how many times we get involved with a company, ask them how they define success, and they never align on it. If we're not all rowing in the same direction, we're not going to go anywhere.
Define and follow a launch process. Most companies have a defined product development process, but very few have a documented launch process. If it's not documented, you won't follow it – or improve it.
Begin early. This is no reason a medtech company should be rushed at the end to develop the messaging and assets needed to launch. If you want to win, start early.
Include customer insight. Don't assume you know what the customer thinks. The best products are developed based on customer needs and the best marketing should be based on their feedback.
Launch internally first. Be sure everyone inside your company (and key distributors) are onboard. Build the momentum and excitement early so you'll have enthusiastic champions out in the world.
What's the one thing, a med-tech company can do to improve its next launch?
Get customer insight. I touched on this in the previous question but it's worth digging into. So many times, we see companies work with their customers to test a product concept. They work with them to improve product design and functionality. But when it comes to marketing and messaging, they think they know what their customers think. Or they all have access to the same market research and take it at face value. All too often we see companies using the same generic messaging. So, they end up communicating ideas they like internally, versus getting out into the real world and understanding what really motivates their audience. Always remember, emotions drive motivations, and motivations drive behavior. It's too easy to be biased by our internal beliefs and we are continuously surprised by which messages test the best.
How did the COVID-19 pandemic change Introworks for the long term?
The pandemic proved that we are nimble, adaptable, resilient and can produce work anywhere. Our office is transitioning into a place for collaboration, team building and socializing. And we've really needed to think hard about our culture. How do you build relationships and integrate people into your company while keeping the flexibility people want? It's both challenging and exciting.
What are the big milestones to come in the next few years for Introworks?
Guide our customers through whatever digital pivot they need to make so they continue to build strong connections with their audiences and stay relevant.
Adapt and thrive in the new working environment.
Write the definitive book on launching.
What does leadership look like to you?
Leadership is helping others achieve more than they believe they can. Great leaders make us feel better about who we are when we're around them. They focus on the person in front of them and make it all about that person, not themselves. They promote a culture of attraction and inclusion. At the end of the day, they create an environment where every employee feels privileged to work.
What is the best advice you have received in your career? What is the worst?
"Never believe the headlines." It's never as good as they say and it's never as bad as you think—it's always somewhere in between. Do whatever you need to do to uncover the truth. This is something I've followed my entire career.Don't go making a decision based on the loudest voice. Get the data, know what the reality is, then act. Knee jerk reactions usually lead to bad outcomes.
I can't think of a specific bad piece of advice, but when I hear, "I'll know it when I see it," this is a project that's not heading in a good direction.
What have been the most rewarding moments in your career?
My greatest reward is working with some of the most amazing and talented people in the business. Every day we need to come up with something great—a new idea no one has ever thought about—and deliver it in a compelling and unique way. Every time we do that, it is extremely rewarding.
What is one personal goal for the upcoming year?
After a year and a half of the global pandemic, it's figuring out the best way forward with our working environment. This seems like it should be simple, but with all the complexities of maintaining a great culture, work/life balance etc., it's not easy to sort out and affects everyone differently.
How do you relax / decompress?
Traveling with my wife and kids is at the top of the list. It's never boring, always active and always an adventure. Just to give you a little glimpse, we went on a tented safari for our honeymoon. I'm also an avid golfer and enjoy a competitive round with friends. I'm always good for a press or two.
What do you enjoy most about the Medical Alley community?
This is an industry that demands excellence from everyone who works in it. The Medical Alley community is full of brilliant people who shape the future, and every day we get to work them. We may not be the ones inventing life saving products, but we have the privilege of telling the stories. We get to see first-hand how people's lives are changed and how cool is that!