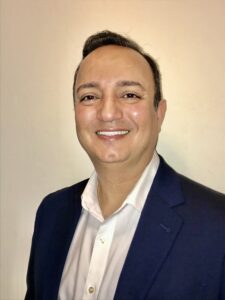 Badi Ebrahimifard is chief technology officer and vice president of engineering for TE Medical. He is responsible for setting the overall technical direction for the Medical business unit, owning the technology roadmaps and providing leadership to the global medical engineering organization. Appointed to the role in May 2021, Badi has an extensive background in the design and development of complex systems and software, and more than 20 years of product, process and organizational development experience in the medical device, life science and biotechnology industries.
Give us TE Connectivity's elevator pitch.
TE Connectivity is a global industrial technology leader creating a safer, sustainable, productive and connected future. Our broad range of connectivity and sensor solutions, proven in the harshest environments, enable advancements in transportation, industrial applications, medical technology, energy, data communications and the home. With approximately 80,000 employees, including more than 7,500 engineers, working alongside customers in approximately 140 countries, TE ensures that every connection counts.
The mission of our Medical business is to be the partner of choice to customers building medical devices that save lives. We work with the world's leading medical technology brands, and we specialize in designing and manufacturing medical devices for interventional, surgical, imaging and sensor applications. Partnering with our customers, we advance medicine for the benefit of people of all ages around the world.
What is one thing the Medical Alley community might be unaware of about TE Connectivity that you think would be good to know? 
Today, we are witnessing two exciting developments in the MedTech space: the normalizing of established minimally invasive procedures such as Percutaneous Coronary Intervention (PCI) and the emergence of new minimally invasive applications.
TE Connectivity is a critical contributor to the trend in minimally invasive procedures. In fact, every minute, 120 patients are treated with a medical device containing TE technology and two-thirds of TAVR procedures contain TE technology. We are proud to partner with our customers to pioneer in this moment through a number of technologies, making a safer, minimally invasive future a reality.
The Medical Alley community likely knows of TE's expertise in the medical device industry, but they may be surprised to learn TE is the world's leading provider of connectivity and sensor solutions for a number of industries – ranging from automotive to aerospace to home appliances.
How did the COVID-19 pandemic change TE Connectivity for the long term?
COVID-19 has created challenges for every company. At TE, our main priority throughout the pandemic has been the health and safety of our employees. Fortunately, we were able to prioritize our employees' safety while demonstrating strong execution with our customers. Our engineering, customer service, and other teams adapted well to remote and online work to ensure innovation didn't stop. And because of our operational resilience as a global manufacturing leader, we were able to serve our customers in a way that a lot of other suppliers were not. We have certainly had to adapt to changes during this time and be more flexible and creative, but we feel very good about our strategy as a company, and the pandemic hasn't changed that.
The COVID-19 pandemic has also taught us that we are in a critically short supply of rapid detection and diagnostic capabilities, including solutions that can be self-administered at home. Now, we have the power to radically change the practice, speed, and accessibility of complex molecular testing for a variety of diseases. TE has invested in building a portfolio of in vitro diagnostics to play a crucial role in enabling earlier detection of disease, and in turn, allowing for earlier preventative action.
What are the big milestones to come in the next few years for TE Connectivity? 
TE has strategically positioned our portfolio around key trends – whether it's minimally invasive medical technology or electric vehicles or cloud computing – where our engineering expertise and manufacturing strength allow us to innovate and serve our customers around the world. We are excited about our leadership positions in the markets we serve and the opportunities we have ahead of us as a company.
The future of medicine will be realized by advanced technologies that remove human risk and supply healthcare professionals with vast volumes of previously inaccessible information. From miniaturized, advanced sensor technology to connectivity solutions enabling a new era of digital medicine, TE Connectivity is proud to be working in partnership with the medical community to usher in a new era in medical technology that leads to better patient outcomes and improves overall patient health.
What does leadership look like to you?  
I have a multi-dimensional view of leadership. To me, a leader is someone who collaborates in creating a clear vision for the organization and motivates people through building trust, excitement, and energy to achieve the vision.
A leader is also someone who cares deeply about people and supports them in achieving their goals, while delivering value to customers and to the organization. Last but not least, a great leader is a coach and mentor who helps people grow in the face of both success and failure. 
What is the best advice you have received in your career? What is the worst?
The best advice I have received is to surround myself with people who are smarter than me. I find it especially important to apply this principle when hiring talent.
The worst advice I have received is about getting ahead because of who you know rather than what you know. I value the tremendous power of networking, but each of my career moves was based on knowledge, experience, and the merit of my achievements. 
What have been the most rewarding moments in your career?
Since joining the medical devices industry after college, the most rewarding experiences of my career have involved helping clinicians to achieve desired clinical outcomes for their patients. I have also found it equally rewarding to work with the great talent in our industry and support them in achieving their career goals and ambitions, while delivering the best solutions to our customers.
What is one personal goal for the upcoming year?
It's always been one of my personal goals to play a musical instrument. I tried violin and piano as a kid but did not pursue either seriously due to other commitments. I recently bought a new piano and plan to devote time to developing my piano playing skills. 
How do you relax/decompress?
I have recently joined Orangetheory Fitness and enjoy their classes. I also take every opportunity to go biking or hiking or play tennis.
What do you enjoy most about the Medical Alley community?
I enjoy the collaboration and networking with the greatest minds in the medical industry and look forward to becoming a more active participant in this community.