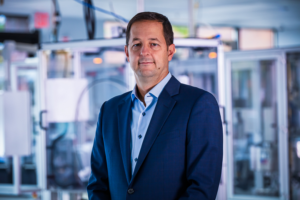 Scott Longval is president and chief executive officer of Intricon. He joined the company in 2005 and has served as the company's chief financial officer, chief operating officer, and corporate controller. Intricon is a Joint Development Manufacturer that integrates components and assemblies to advance micromedical technology across a range of device platforms for global customers. Based in Minnesota, the company has facilities in the U.S., Asia, and Europe. Its common stock trades under the symbol "IIN" on the NASDAQ Global Market.
Give us Intricon's elevator pitch.
Intricon is a joint development manufacturer partner to leading medical device OEMs designing, developing, engineering, and manufacturing micromedical products for high growth markets, such as diabetes, peripheral vascular, interventional pulmonology, electrophysiology, and hearing healthcare.
Intricon offers a wide range of technical capabilities — including microelectronics, microcoils, interventional catheters, specialty extrusions, and precision molding — for manufacturing micromedical components, sub-assemblies, and final assemblies. We work in close collaboration with our customers to seamlessly bring several of these capabilities to bear and streamline the supply chain by performing multiple steps in the manufacturing process. These capabilities can be integrated into an innovative device platform to create new solutions for challenging clinical applications.
What is one thing the Medical Alley community might be unaware of about Intricon that you think would be good to know?
Even though Intricon has been in the Minneapolis/St. Paul community since 1977, we still meet people here who don't know us or aren't aware of all our capabilities. Frequently we have local visitors tour our facilities who are shocked with our breadth of core competencies and capacities. We provide innovative solutions to our med device OEM customers, enabling them to achieve cost targets, accelerate time-to-market, and, importantly, meet the needs of their customers. We are well funded enough to scale, yet small enough to be nimble.
How did the COVID-19 pandemic change Intricon for the long term?
Like many companies, COVID made us reassess the way we operate and manage our business. In two days, we moved half of our Minnesota workforce — nearly 225 employees — to a remote work environment. We were forced to rely on systems and collaboration software much more heavily. And It's clear that we won't be going back to our pre-pandemic work environment. As we eventually move past the pandemic, we will leverage the components of work from home (WFH) that proved to be effective and efficient, and were appreciated by our employees, and design them into a long-term flexible work environment plan. That said, I suspect our plan will be fluid as we navigate the next 12 months.
The pandemic also changed how we engage our customers and potential customers. When our facilities weren't available for customer and prospect visits, our marketing team created virtual tours of our manufacturing operations. This allowed us to showcase our manufacturing capabilities without having people travel to Minnesota or Singapore, which facilitated more meaningful interactions with potential customers.
What are the big milestones to come in the next few years for Intricon?
It's been an eventful last 18 months with an acquisition, restructuring, CEO succession, two new women board members, new CHRO role, and new CFO — all while managing the business through a pandemic.
Looking forward, we have tremendous opportunities in the markets we serve. Within our surgical navigation and interventional catheter business, we're just scratching the surface of what we can do. Our goal is to secure partnerships with large OEMs and begin to diversify our revenue base.
In our hearing health business line, we're anxiously awaiting the pending OTC hearing aid regulation that will significantly change the way hearing healthcare is administered in the U.S. We anticipate this will provide significant growth opportunities for Intricon as the OTC channel emerges.
What does leadership look like to you?
To me, leadership is about having the vision to do what others haven't considered and the courage to do what's required, especially in times of crisis. Great leaders understand that this cannot be achieved without a strong, empowered team. This can only be accomplished by always bringing out the best in others.
What is the best advice you have received in your career? What is the worst?
The best advice was "never too high, never too low." You have to take the highs and lows in stride. When you're riding too high, something is likely lurking around the corner, and when you're too low, others notice. This helps me maintain perspective while managing through the highs and lows of business. Keep a steady perspective of the business and the tasks at hand, especially during times of challenge and crisis, when all eyes are on you. I need to work through situations while remaining calm, collected, and steadfast toward resolution.
Thankfully I haven't received much bad advice, at least that I can remember…
What have been the most rewarding moments in your career?
When we recapitalized the company in August 2018. Our former CEO Mark Gorder and I were in New York, where we raised $95M in a secondary offering. After years of being capital constrained, I knew that moment was the turning point for Intricon. It allowed us to change the way we operated and managed the business. We were able to invest in the infrastructure required to transform the organization and think long-term. Without that event, we wouldn't be the company we are today.
What is one personal goal for the upcoming year?
Reintroduce myself to the Peloton and treadmill.
How do you relax/decompress?
Spending time with my family and friends. My wife and I are blessed with two active boys, ages 10 and seven. When I walk in the door after work, they aren't concerned with what the day has been like, they're just focused on what are we going to play before dinner – basketball, wiffleball, football, or whatever the sport of the day is. My family keeps me grounded and gives me perspective on what's most important in life.
What do you enjoy most about the Medical Alley community?
Our Medical Alley community has worked tirelessly to improve, extend, and save lives worldwide. We live in a very special pocket of innovative medical device companies that are committed to bettering the lives of billions of people. To be associated with such an elite group is humbling and something that makes me proud.