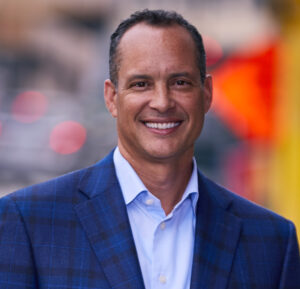 Peter Hager is the CEO of Pointward. Peter's thought leadership, energy, passion, and business acumen have driven Pointward's transformation into a unique customer engagement company. His passion for creating meaningful connections with customers is contagious and his focus on results is what clients love about him. Peter has 25 years in management consulting and 24 years in medtech.
Give us Pointward's elevator pitch.
Pointward has a singular focus of improving healthcare. We help MedTech companies drive adoption at scale by accelerating the pathways to care.
Patient Pathway: Connecting patients with the critical life-changing and life-saving healthcare solutions they desperately need to improve their quality of life.
Procedure Pathway: Accelerating curative, disruptive and preventative products into the standard of care.
Economic Pathway: Aligning the value of the procedure for the patient, provider, and payor.
Established in 1975, Pointward is a global MedTech service provider of the world's leading medical brands focused on modernizing healthcare by accelerating the care pathway of curative, disruptive and preventative products and therapies. Pointward's customers are the Standard of Care in over 100 countries around the world.
Our Vision: help patients gain access to the standard of care and solutions they need to live a better life.
Our Mission: accelerate the time to market and use of curative and disruptive Medtech solutions—at a lower cost and less time to a patient.
As a leader, did your role change during COVID-19?
Everyone experienced changes and significant challenges during the pandemic and we certainly were no exception. True character stands out in the most exacting of times…and we purposely focused our energies on activities that would have an immediate impact on helping people. We kept it simple and became hyper-focused on "how can we help and be of better service" to each other, our employees, our customers, and the communities we serve!
How did Pointward pivot to address the needs that arose during the COVID-19 pandemic?
Two main priorities—employee safety and customer value:
Our main employee priority was safety. On March 12, 2020, we took swift and early action on employee safety by holding a company-wide meeting and having everyone gather their office essentials and begin working from home that day forward. While we were hopeful that things would pass in a few weeks, we made plans for how we could sustain this new model for the long term. As it became apparent that our clients were uncertain about the future (and were suspending projects), we also utilized the Paycheck Protection Program to ensure financial stability for our employees.
Our main customer priority was speed to market with products that could assist during the pandemic.
We focused on assisting our customers in gaining access to the healthcare systems and providers by helping them navigate EUA approval, the new supply chain challenges, and the inability to have sales representatives enter most healthcare facilities.
What are the big milestones to come in the next few years for the Pointward?
To be the premier service provider that produces accelerated results and value for Medtech companies with curative and disruptive products needing to get to approval, enter a market, or grow to become the standard of care.
What does leadership look like to you?
We see it every day. It's the frontline people — healthcare workers and service providers — who went to work each day in the face of fear and uncertainty during the pandemic. What is truly inspiring is that they went to work not out of necessity, but out of devotion to those they serve. Leaders make others around them better!
For Pointward, it means understanding at the end of everything we do…is a patient looking for better health and a path forward. As a leader, my obligation is to align everyone toward that common goal and produce results.
What is the best advice you have received in your career? What is the worst?
BEST: Hire the best and be the lowest common denominator. My personal translation from this is: I don't want to be the smartest in the room…I want to be the most strategic. It's about alignment and mobilization of skilled people and experienced resources to achieve the intended goal.
WORST: Any version of "build it and they will come" (or build what you think they want). On the contrary, never build without the true voice of customer and knowing what they want AND need. Customer perspective and feedback is essential to not just building what is right, but of equal importance, knowing what and who you will displace—to create faster adoption. An echo chamber and never getting outside of the four walls of your office can be very costly.
What have been the most rewarding moments in your career?
The honor of being able to lead such a wonderful team in the truly meaningful cause of helping people. Along this journey, I have been privileged to personally honor and celebrate four of our employees who celebrated their 30th (yes…three decades) of service to our customers. I am also very fortunate to be able to get up every day and go to battle on behalf of a patient who will never know who "we" are, but who greatly benefit from our effort. It's the patients' stories that are incredibly rewarding and keep driving us to succeed.
What is one personal goal for the upcoming year?
Hopefully to travel and see our customers face-to-face. Nothing better than directly seeing their challenges and to be able to assist and provide better results.
How do you relax / decompress?
I'm certainly not the CEO in my house; I'm just a dad and husband. And the kids are great at reminding me who the boss is…mom. So, for me, just spending time with family and enjoying the moments that matter is the best way for me to recharge.
What do you enjoy most about the Medical Alley community?
It's best in class. A community with an amazing infrastructure and a concentration of highly qualified resources that elevate the standard of care for millions of people worldwide. The Medical Alley team is truly dedicated and driven in promoting Minnesota as the epicenter of MedTech. A great example is Frank Jaskulke. His unwavering efforts continue to elevate the conversation around healthcare evolution. He is a fantastic leader for Medical Alley that connects everyone from start-ups to the strategics with the resources needed to succeed…right here in Medical Alley!