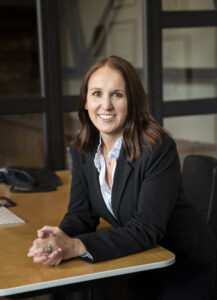 Amanda Johnston, J.D., R.A.C., Managing Attorney at Gardner Law, PLLC, specializes in counseling medical technology and pharmaceutical companies on FDA law, regulatory submissions and strategy, healthcare compliance programs, and fraud and abuse laws. Amanda has worked on 100+ FDA submissions, including PMAs, 510(k)s, HDEs, IDEs, NDAs, Pre-Submissions (Q-Subs), Breakthrough Designations, De Novos, RFDs, EUAs, change control supplements, and annual reports for drugs and devices. Prior to practicing at Gardner Law, she was the Compliance Officer at Coloplast Corp, in Regulatory Affairs at Medtronic, and in Compliance at UnitedHealth Group. Amanda is a council member on the Minnesota State Bar Association – Food, Drug, and Device Law section and is an Adjunct Professor at Mitchell Hamline Law School where she teaches Drug and Device Law.
Give us Gardner Law's elevator pitch.
Gardner Law, PLLC is a law firm focused on providing practical legal and regulatory counsel to makers of medical technologies and pharmaceuticals. The firm is comprised of highly-seasoned and pragmatic attorneys that have worked in-house at medical technology companies — this experience is an asset that sets our firm apart. Our clients, who span several continents, are comprised of manufacturers at various stages of the product life cycle ranging from ideation, R&D, clinical testing and regulatory submission, to manufacturing and commercialization. Our practice areas include FDA regulatory and quality matters, healthcare compliance, government enforcement, advertising and promotional review, clinical research, transparency reporting, and privacy and data security.
As a leader, how has your role changed during COVID-19?
As with most industries, the COVID-19 pandemic drastically impacted the companies that we work with and the healthcare industry as a whole. Our clients have faced many challenges, including loss of revenue, delays in FDA submission review cycles, losing the ability for face-to-face interactions with customers, and navigating compliance issues in new remote work arrangements. As a leader at the firm, it was critical to fully understand the challenges our clients were facing to help them come up with creative, effective, and compliant solutions. The resiliency of the industry in adapting and thriving in the face of such challenges impressed me. In light of the challenges presented to our firm by COVID-19, I took on an active role advising companies looking to help address the crisis. For example, many non-medical device companies (e.g., clothing companies) reached out for help with the FDA's Emergency Use Authorization ("EUA") process. As a result, we enabled them to distribute masks, gloves, and other personal protection equipment ("PPE") to healthcare providers on the front lines. These companies, which were unfamiliar with FDA regulations, sought out guidance to understand the regulatory environment, requirements, and processes involved in brining products to market.
How have you pivoted your company to address the needs that have risen since the onset of COVID-19?
Our existing clients faced new and unprecedented challenges—several more or less ceased sales. Others that continued operations had new questions about virtual interactions with healthcare professionals that the healthcare bar historically had not considered. For example, questions about virtual case support in an operating suite or catheterization laboratory, in addition to questions about how to structure virtual physician speaker and training programs in a compliant fashion.
The firm pivoted by helping many clients seeking to manufacture and sell PPE, diagnostics, sanitizers, and other technologies used to fight COVID-19. Given these new demands, I personally took it upon myself to become an expert on the EUA process and its requirements, which helped many companies commercialize products for distribution to those in need. On a personal level, this experience has been extremely gratifying. Our team was able to help companies step up and enter the healthcare industry which was desperately in need of testing equipment, PPE, and other supplies regulated by the FDA.
What are the big milestones to come in the next few years for Gardner Law?
In just five years, the firm has grown from one lawyer to a team that can take on anything the Agency throws at its clients. We continue to focus on growing our team by bringing on experienced industry experts and by advancing and deepening our areas of practice—all in an effort to provide a full suite of legal and regulatory services demanded by FDA-regulated companies.
What does leadership look like to you?
A strong leader is a mentor and confidant—someone who is supportive, collaborative, and who makes it a priority to build personal connections and trusting relationships with staff, and in our case, clients. Leadership requires clear and consistent communication and shared accountability.
What is the best advice you have received in your career? What is the worst?
The best career advice that I've received is to persist, achieve, and never settle. Set career goals and, if possible, take jobs that align with that trajectory. Remember that career goals aren't set in stone, so don't be afraid to make changes. People have told me that you can't succeed as a professional and a mother — you have to pick one. This is not true. But still, it's not easy. I've learned to set strict boundaries between work and family/home life when I can. I stay organized and focus on priorities. Some things I can let slide (like laundry), but other things are non-negotiable (like meeting a project deadline for a client or attending my son's soccer game).
What have been the most rewarding moments in your career?
Since taking an FDA law course in law school, I knew that I wanted to be an FDA attorney. Watching my career goals come to fruition by joining Gardner Law in 2019 has been the most rewarding moment in my career thus far.
What is one personal goal for the upcoming year?
My focus is on continuing to grow and develop as a leader at the firm and beyond. I have goals to engage in more networking and industry activities (hopefully in-person in the near future) to form stronger connections with other industry professionals.
How do you relax / decompress?
I enjoy going "up north" (like a true Minnesotan), boating, being outdoors, playing with my two young boys, traveling, and spending time with family and friends.
What do you enjoy most about the Medical Alley community?
There is a certain energy that I love in the Medical Alley community. It is invigorating to be in the epicenter of science, technology, and healthcare innovation. There are so many passionate, creative, and intelligent people here. I enjoy meeting new people and companies and learning about their technologies, ideas, and innovative products.