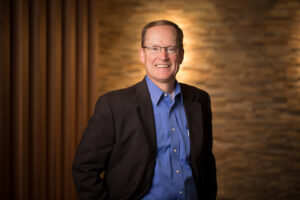 Todd Ellingson is a Life Sciences Consultant at Marsh & McLennan Agency (MMA). Todd draws on his extensive experience in the pharmaceutical and medical device industries every day. His commitment is to find the perfect risk management solution for each client, no matter how specialized the niche. Todd's passion lies in his desire to fulfill the needs of his clients and ensure that they are covered against any potential risk that may arise.
Todd brings a consultative, needs-based approach to his work. His goal is always to learn as much as he can about his clients, their business, their processes and their challenges. He does a thorough needs analysis and offers a customized solution that accommodates all of them. Todd's solutions are designed to create comprehensive, cost effective coverage for the client's current needs while being flexible enough to accommodate future company growth.
Todd is married and has three daughters. He is very involved in his church and children's activities as well as a number of professional organizations. He is an avid traveler and sports fanatic.
Give us Marsh & McLennan Agency's elevator pitch.
Marsh & McLennan Agency (MMA) provides public and private companies with best-in-class risk management. We service and support our clients to mitigate risk and help them reach their growth objectives. We are there for our clients in the moments that matter.
As a leader, how has your role changed during COVID-19?
I've always believed that my focus should be on the well-being of our clients as well as the health and well-being of our colleagues here at MMA. The pandemic, as well as the divisiveness and social unrest in our country, has reminded me of the importance of just checking in with people to make sure they are okay and to see if they need help or support.
How have you pivoted your company to address the needs that have risen since the onset of COVID-19?
We've become more focused on the technology and resources our teams need to work from home and support our clients. We've also become even more supportive of the family and personal needs of our employees while still providing our clients with best-in-class service.
What are the big milestones to come in the next few years for Marsh & McLennan Agency?
For our Life Sciences clients and prospects across the country — from startups to large companies — MMA will continue to grow organically and through acquisitions to meet their needs. We're making those same investments to build our team in the Twin Cities to address the needs of our local Life Science community.
What does leadership look like to you?
Personally, I'm a big believer in leading by example, whether you have a title or not. Everyone at MMA believes in servant leadership — focusing on helping others, including clients and employees, rather than simply benefiting the company. If you practice that approach, everyone wins.
What is the best advice you have received in your career? What is the worst?
The best advice came from my father and other important mentors in my life: Find something you love and always focus on doing the right thing. That's how you gain trust.
The worst advice I ever received was to pursue certain business opportunities or careers because it will lead to a lot of money.
What have been the most rewarding moments in your career?
Building a career, network, and many friendships in the Life Science community.
What is one personal goal for the upcoming year?
Organizing and prioritizing my life for the post-pandemic world.
How do you relax / decompress?
Time on the golf course, time with my wife and family, and time with friends.
What do you enjoy most about the Medical Alley community?
I sincerely appreciate the uniqueness of the companies, products and especially the people who make up the Life Science industry and the Medical Alley community. I've been so impressed by the level of outreach and support Medical Alley has provided to the Twin Cities area Life Science companies.