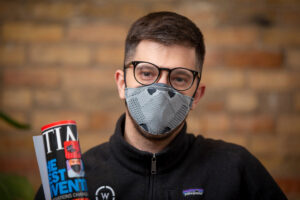 Max Bock-Aronson is a 29-year-old artist, engineer, and entrepreneur from Minneapolis, Minnesota. As a design engineer he has worked with clients such as the Mayo Clinic, Medtronic, and Boston Scientific, and has worked on products ranging from heart implants to industrial tea dispensers. He received his degree in Mechanical Engineering from the University of Wisconsin – Madison, as well as a Certificate of International Engineering for his work study experiences in Chile and Singapore. It was his experiences in Singapore – both living with poor air quality and studying air pollution engineering – that first led Max to take an interest in public health and try to develop a better respirator. 8 long and winding years later, this passion culminated in the launch of the B2 Mask which since launch has generated more than $1M in sales and landed on the cover of TIME Magazine.
Give us Breathe99's elevator pitch.
Breathe99 is building a next-generation platform for respiratory health. We envision an ecosystem of protection, sensing, and reporting solutions that help the public make smarter, more informed health decisions.
What led you to found Breathe99?
The idea for Breathe99 first came about in 2013 while I was living in Singapore and taking air pollution engineering courses. During my five months abroad, there would be days with really poor air quality as a result of slash and burn farming techniques in Malaysia and Indonesia. It was the first time I was confronted with the reality that breathing clean air is a privilege, and as a result of my coursework, I was intimately aware that cloth and surgical masks do little to protect the wearer from airborne contaminants. Being a curious, design-oriented engineer, I started developing a better reusable mask in the winter of 2013-2014.
As a leader, how has your role changed during COVID-19?
COVID-19 has required that I become more comfortable with not being able to control outcomes. The pandemic has introduced a ton of variability into our business, especially on the supply chain side. The whole experience has also been emotionally draining for everyone, which has taught me the importance of leading with calm and care during these turbulent times.
How have you pivoted your company to address the needs that have risen since the onset of COVID-19?
We have, though not as obviously as some other businesses. We were already developing a better lightweight respirator for daily use, but because of our intended use by the general public during spikes in air pollution and wildfire smoke, the mask had exhalation valves. In March of 2020 we removed these features and also re-oriented our brand positioning to be a little more public health and technology focused as opposed to style. These small tweaks allowed us to bring our product to market faster through a successful Kickstarter campaign, but will also require re-evaluation as we work to better understand the post-COVID market.
What did it mean for Breathe99 to have your product named as one of TIME's best inventions of 2020?
I am incredibly grateful for the recognition of our team's work in developing the B2 Mask. As a kid, I was an avid reader of Popular Science and had a particular love for the end-of-year "Best Inventions" issue. So, being featured on the cover of TIME as one of the Best Inventions of 2020 is a dream come true, especially because it has been for a product that helps bring peace of mind to people during this turbulent and stressful year.
What are the big milestones to come in the next few years for Breathe99?
As COVID wanes, a chapter will close in Breathe99's life cycle. As such, the biggest milestones for Breathe99 in the next year include successfully navigating a post-COVID world and staying afloat as we pivot to address other use cases and user segments. We anticipate this will likely involve new product releases and the establishment of new sales channels, such as international distributors.
How do you balance leading a startup with your everyday life?
I meditate, make healthy meals, and go for walks as often as I can. Beyond those simple activities, I make time for friends on Zoom dinner calls and do things like draw for the sake of drawing. Still, startup life is consuming and can be a challenging thing to balance with other obligations and relationships.
What's one thing people get wrong about startup life?
It's not glamorous and life doesn't stop for your startup. Invariably, as difficult business and life moments collide, you'll experience some of the lowest moments in your life in the course of building the business.
What is the best advice you have received in your career? What is the worst?
Best: Embrace the process. Worst: Get in, make as much money as possible, and get out.
What is one personal goal for the upcoming year?
One personal goal for 2021 is to get better sleep.
How do you relax / decompress?
As warmer spring days arrive, I like to drink tea and read on my balcony. The book I'm reading right now is called, "The Art of Noticing" by Rob Walker.
What do you enjoy most about the Medical Alley community?
Startup life, while rewarding, can also be extremely difficult and isolating. I'm incredibly grateful to be a part of the Medical Alley family because it can make this difficult path more manageable. Being a part of MAA means I can rest easier knowing that we are not alone, and that we have a broader network that can help our young business with resources, opportunities, and guidance.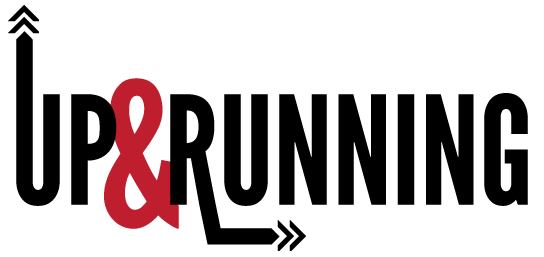 Up & Running is an interview series with Medical Alley's early stage leaders on what they see as the future of healthcare and why their company is well-positioned to be part of it. Medical Alley Association's membership includes leaders in healthcare delivery, payment, technology, and policy, which gives us – and in turn, you – access to diverse perspectives on how healthcare is changing and what lies ahead.
Medical Alley is the global epicenter of health innovation and care; Up & Running, is meant to share insights and spark discussion. If you have a perspective on the future of healthcare, feel free to share it by reaching out to Maddy Kennedy at mkennedy@medicalalley.org
If you're interested in the startup ecosystem or are a startup in need of support, contact Medical Alley Starts at www.medicalalleystarts.com