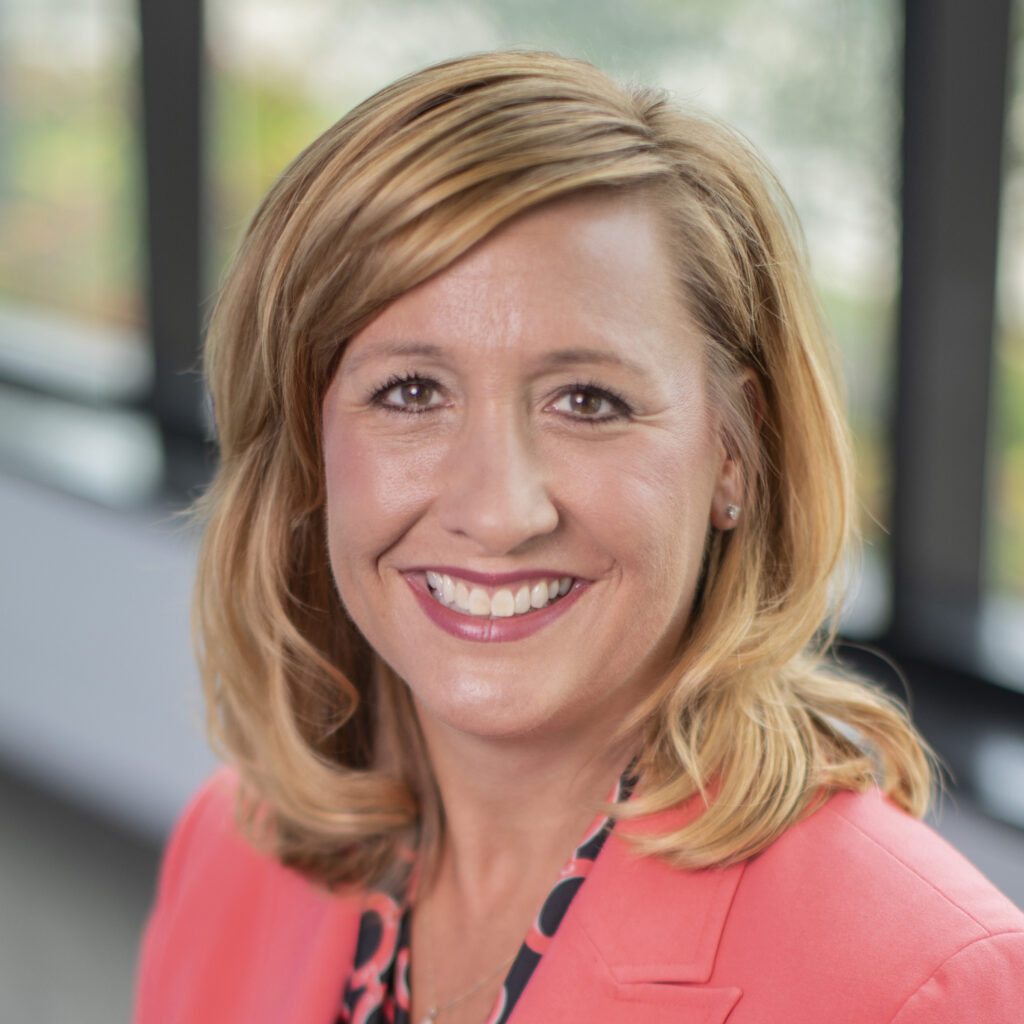 Julie Smolich is the senior vice president of provider services at the National Marrow Donor Program® (NMDP)/Be The Match®. She provides leadership and strategic direction to the teams focused on product and service delivery to transplant center customers and partners, as well as commercial entities leveraging NMDP/Be The Match's vast capabilities.
Julie is responsible for identifying and understanding market and customer needs and translating that into the development and implementation of new and/or improved services and solutions that will ultimately help more patients who may benefit from transplantation or other emerging cell and gene therapies.
Prior to joining Be The Match in 2017, Julie spent 16 years at Capella Education Company where she held several leadership positions. Most recently, she was the vice president and general manager of a multi-million-dollar business unit where she led the innovation of a ground-breaking academic delivery model called FlexPath. Earlier in her career, she worked in the financial services industry at Piper Jaffray and Ernst & Young, earning her CPA along the way (currently inactive).
Julie earned her MBA from Capella University and holds a Bachelor of Science in Accounting from St. Cloud State University.
Give us Be The Match's elevator pitch.
Be The Match's mission is to save lives through cellular therapy. We do that by delivering cures to patients who have been diagnosed with a blood cancer or blood disease like leukemia, lymphoma, and sickle cell anemia.
Seventy percent of the time, patients won't have a perfect match within their family, so they turn to Be The Match®. We match patients with blood stem cell donors and other therapies and then facilitate the entire process. Meaning, we go to wherever the donor is and collect their blood stem cells and deliver those life-saving cellular products wherever in the world the patient needs them.
How have you pivoted your company to address the needs that have risen since the onset of COVID-19?
Blood cancers and disorders didn't stop just because we were in the middle of a global pandemic. Patients still need our help in finding them a match, despite myriad obstacles thrown our way. Border restrictions, countries on lockdown, limited commercial airline options, and a reduction in couriers to hand-carry cellular products made the work we do exponentially more complicated.
This has been a year that has required great agility, creative problem-solving and acting with a high sense of urgency. When you have a mission like ours and patients' lives literally depend on our organization's performance, you have a focus and determination to remove barriers wherever they exist. On that note, I would encourage the Medical Alley community to check out this video about how Be The Match has stepped up during the pandemic to ensure no patient went without their life-saving therapy. I'm so proud of our team!
As a leader, how has your role changed during COVID-19?
My role as a leader during this time required empowering my team, encouraging them to take action with imperfect/incomplete information, and removing barriers for them so they could focus on their important work serving transplant centers and their patients.
Like many of you, we shifted to working remotely on March 12, 2020, so we also had to get creative on staying connected with our teams, providing them the tools to be productive in a remote work environment, and engaging and recognizing them in new and different ways. As an executive team, we discussed team health and engagement at nearly every weekly meeting because it's been so critical during this extended work-from-home period.
The team responded in a big way! Be The Match served more patients in fiscal year 2020 than ever in our history!
What are the big milestones to come in the next few years for Be The Match?
Before I joined the organization, our leaders and board of directors had the foresight to think about cellular therapy beyond just bone marrow and stem cell transplantation. We created Be The Match BioTherapies in 2016 to capitalize on the assets and capabilities we've built in our 30+ year history, allowing us to extend our reach to therapy developers who are going after the same indications with new cell and gene therapies (e.g., CAR-Ts). I see this as a critical part of our future in being able to provide optimal therapies to patients.
Another key area of focus for us is improving our ability to serve more ethnically diverse patients. The odds of finding a perfect donor match for ethnic minority patients range from less than 20% to 50%, creating a lack of equality for access to a potentially life-saving transplant.
We have work to do in engaging communities of color about our mission and explaining why it is so important they join the registry. Because transplantation relies so heavily on HLA matching, it's critical we have a diverse registry to meet the needs of all searching patients.
Additionally, we have some exciting clinical research underway to reduce the reliance on HLA matching in the future, which will take, for example, the odds of an African American patient finding a match from 23% (today) to over 90% in the future! If this is successful – which we have high confidence it will be – we may have to change our name to Be The Mis-Match!
What does leadership look like to you?
I've defined my own brand of leadership, which I call Iron Range Leadership. I grew up in northern Minnesota on the Iron Range, which really shaped me as a person and a leader. It's a blue-collar, working class community and I learned to put your head down, work hard, and do it in a no-BS kind of way. What you see is what you get from me – I lead by example. I am proud of the fact that folks I've led or worked with in the past describe my leadership style as authentic and genuine.
Leadership to me is really about giving your team the tools, resources, and vision and then getting out of their way. A good leader 1) creates and aligns the team around a shared vision for the future; 2) sets expectations and goals to achieve that vision; 3) holds the team accountable for results; and 4) measures and shares progress on a regular frequency. Communication and transparency are the keys for me, and we can't forget to take time to celebrate the wins!
What is the best advice you have received in your career? What is the worst?
I think the best advice was given to me when I was new in a leadership position. Another leader told me, "You don't have to always have all the answers." I think sometimes as leaders we convince ourselves that we need to know everything, or at least more than the folks we lead. That couldn't be further from the truth. If you build a team with individuals from diverse backgrounds, skillsets and personalities, it only makes the team better. Lean on them and their expertise (let them shine), admit when you don't have the answers, and you will go a long way in earning the trust of your team!
I think the worst advice I received was that I needed to have a one-, five-, 10-, and 20-year plan. I had a leader earlier in my career who was baffled that I didn't have my career plotted out with some level of specificity. My career has taken me in some interesting directions, and I don't believe I'd be in the position I'm in now at a company I love, doing really meaningful work if I had followed such a regimented path. The journey for me has been rewarding!
What have been the most rewarding moments in your career?
For me, it's always gratifying when you see those you've led and coached grow professionally and achieve their goals. There's truly no better reward than helping others see and reach their potential!
On a more selfish note, I am very grateful for the opportunities I've had to stretch and try or learn something new. Getting exposure to other business functions, developing new products, and leading strategic initiatives helped to round out my knowledge and made me better at my job and positioned me to be a more effective enterprise leader. If you're ever asked to take on a project – even if it freaks you out a little bit – go for it! You'll be better for it.
What is one personal goal for the upcoming year?
I have a bit of a joke with my family and team that my goal this year is to join Costco. I keep hearing about how great it is. Alas, if I only enjoyed shopping! But, since that is a rather lame goal, my other goal is to focus more on my health – physically and mentally this year. Like many, COVID-19 has taken a toll on me in a few ways, so I want to take more time for me, focus on my health and create an all-around happier, healthier wife, mom, friend and co-worker.
How do you relax / decompress?
For me it depends on the season. During the warmer-weather months, my cabin on Lake Vermilion is my happy place. Being on the water or by the water is what helps me relax and gives me joy.
This winter my family and I have enjoyed getting out to ski. I'm a firm believer that when you live in Minnesota, you just need to embrace the winter!
Other than that, I have two middle-school-aged kids who are very busy, and I really do enjoy watching them and supporting them with their sports and other extra-curriculars.
What do you enjoy most about the Medical Alley community?
When I was looking to change my career path and pursue a leadership position in healthcare, I found the Medical Alley community to be the perfect place to learn more and expand my network. I attended some events that included social hours, and those precious minutes allowed me to learn and make invaluable connections. I continue to regularly visit the web site, review the research and industry reports, and just generally stay abreast of what's happening in our vibrant healthcare community!

Welcome to Medical Alley Association's For The Record interview series! Join us as we sit down with innovators in the delivery, payment, technology, and policy industries, giving us – and in turn, you – access to diverse perspectives on how healthcare is changing and what lies ahead.
Medical Alley is the global epicenter of health innovation and care; For The Record, is meant to share insights and spark discussion. If you have a perspective on the future of healthcare, feel free to share it by reaching out to Jamie Oyen, Marketing Manager at joyen@medicalalley.org