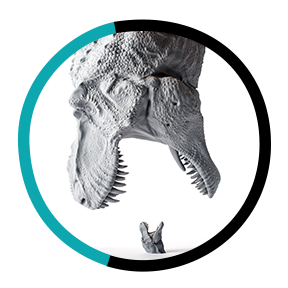 Hampered by Limitations
Many new product designs and innovations have been restricted by the limitations of plastic injection molding and other conventional manufacturing processes. After the design is completed, the part typically requires modifications in addition to prototyping and tooling, which are costly and cause delays.
Available for decades, traditional 3D printing allows engineers to design more complex geometries. However, high-volume end-use part production has not been practical due to slow printing speeds and limited material selection. Additionally, most 3D-printed parts are built in layers that must adhere to one another during the printing process. Under specific thermal stress or part orientation, the layers of some geometries may separate, causing the part to fail.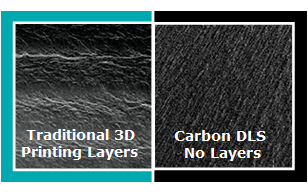 "Most traditional 3D-printed parts are built in layers … Under specific thermal stress or part orientation the layers of some geometries may separate, causing the part to fail."
Manufacturable Design Freedom
Up to 100 times faster than traditional 3D printing, Carbon® Digital Light Synthesis™ (DLS™) additive manufacturing transforms product design and production. Watch it in action. This technology allows manufacturers and engineers to explore what has been impossible to produce through conventional manufacturing, including: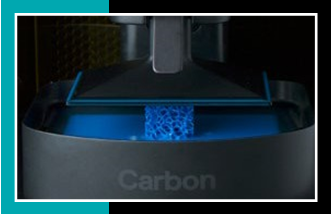 Articulating structures
Complex geometries
Part consolidation
Variable wall thickness
Sharp corners
Complex lattices
Surface textures
And more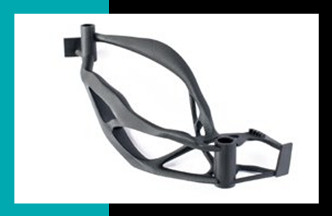 Unlike other traditional 3D-printing technologies, Carbon DLS is not just for prototyping. It delivers small- to large- volume production of end-use parts using a wide range of materials with diverse mechanical properties. Thanks to the design flexibility of Carbon, engineers are also able to boost quality, strength, stiffness, heat dissipation and performance.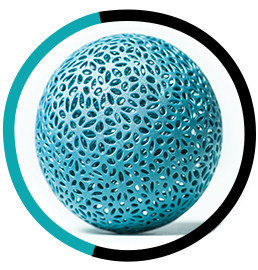 For faster design iterations, concurrent designs can be placed on the same build platform to test the pros and cons of each. Because Carbon DLS technology doesn't require expensive tooling, engineers and manufacturers have more design freedom and production control than ever before at an economical price. Request a sample.
Unleash Your Brilliance
Innovation may be a fresh idea or simply a better solution to meet the same requirements. Regardless of the task at hand, ingenuity is a key to success. Carbon's ability to produce previously unmakeable parts is ideally suited for generative design and topology optimization tools.
Driving more innovation and productivity, generative design tools help engineers transcend the limits of traditional design. Engineers input the goals and constraints of apart such as performance, material type or manufacturing characteristic and multiple CAD-ready solutions are automatically optimized to leverage Carbon DLS technology.
Topology optimization is the digital analysis of a part with the intention of removing material, or optimizing material usage, while maintaining part functionality. The features of a part that will support or resist a load and the forces acting upon the part are specified. The software will deliver CAD geometry that is typically organic in nature but optimized for the purpose for which it was designed.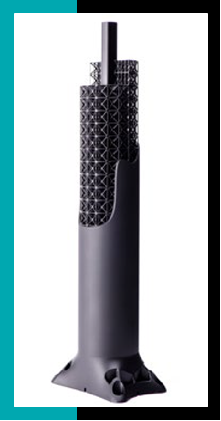 Lose Weight – Stay Strong
The demand for lighter products continues to grow. Optimized geometries, lattices and materials can meet specification for strength and durability, while reducing overall weight.
Dynamic lattice design is one way to achieve performance enhancement. Reducing the weight of a part minimizes material cost and shortens production time. Carbon DLS can achieve structural and non-structural lattice elements. Typically, uniform non-structural lattice removes unnecessary material. Structural lattice, with non-uniform struts and skin of varying thicknesses, removes weight and withstands defined service loads. Based on application requirements, lattices can be printed using Carbon DLS with multiple functional zones that have varying mechanical properties in the same part. Specialized software tools and Carbon's lattice library allows engineers to optimize the ideal lattice parameters, such as unit cell type, shape and structure.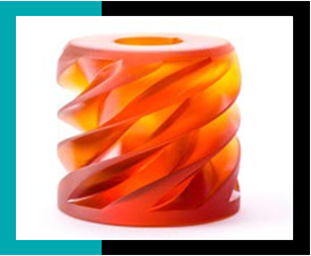 Many Become One
Complex parts that have many separate components can be expensive and difficult to manage. A potential failure point, each component must be designed, tested, validated, sourced, assembled and monitored. Carbon DLS technology allows multiple components to be consolidated into a single design that serves the same function, saving time and cost.
Tactile Experience
Scientists have shown that people can detect nano-scale wrinkles when running their fingers over a seemingly smooth surface. This emphasizes the importance of using texture on products. When injection molding a part, incorporating texture typically requires costly and complex etching treatments to a mold cavity or post-processing. Applying texture on curved injection molding surfaces is exceptionally challenging. Carbon provides the freedom to print textures during manufacturing on final production parts. Carbon's texturing process is inherently tunable and controllable on any surface. This reduces labor costs, post-processing and time to market while improving the aesthetics and tactile nature of a part.
High Customization
Carbon DLS technology does not require molds or other traditional manufacturing, which allows for the customization of each part. In addition to adding serialized numbers, each part manufactured using Carbon technology can be built to user-specific parameters.
Manufacturing as a Service (MaaS)
We've all heard of SaaS (software as a service). Rather than purchasing an expensive printer, Carbon's business model includes production network partners, such as Diversified Plastics, Inc. (DPI) in Minnesota, to provide the Carbon Digital Manufacturing Platform as a service. DPI's Acceleration Station™ offers Carbon DLS manufacturing along with design for additive manufacturing (DfAM) assistance, validation services, cleanroom assembly and more.
Imagine the impossible. Discover what DPI's Acceleration Station, powered by Carbon, can build for you. Submit a part or call +1 763-424.2525
About Diversified Plastics, Inc.
Employee-owned Diversified Plastics, Inc. (DPI) is a custom plastic-injection molder and digital manufacturer of high-precision, close-tolerance parts and components for medical device, filtration, aerospace and a variety of other industrial markets. The company is a full-service contract manufacturer providing design for manufacturing assistance, additive manufacturing, mold construction and intricate molding as well as cleanroom assembly and packaging. At the end of 2018, DPI joined the Carbon® Production Network. Carbon Digital Light Synthesis™ (DLS™) technology became the backbone of its Acceleration Station™ services, which deliver a faster path to market for its customers. That same year, company also purchased Pacific Plastics Injection Molding in Vista, Calif. DPI is ISO 9001:2015 and 13485:2003 certified, FDA registered, ITAR certified and UL registered.