Federal Update
U.S. Representatives Angie Craig (MN-2) and Dean Phillips (MN-5) return to the Medical Alley Association to revisit Value-Based Care with Medical Alley Leaders
On February 20, U.S. Representative Angie Craig (MN-2) and U.S. Representative Dean Phillips (MN-5) joined a group of leaders from the Medical Alley community for a roundtable discussion on the progress toward value-based care in the state. The U.S. Reps. asked probing questions of the group, looking to better understand where progress has been made, where it has lagged, and what is happening on a policy level that could either help or hinder progress. Participants were eager to discuss ways Medical Alley can transform healthcare to better serve patients, while lowering the cost of care.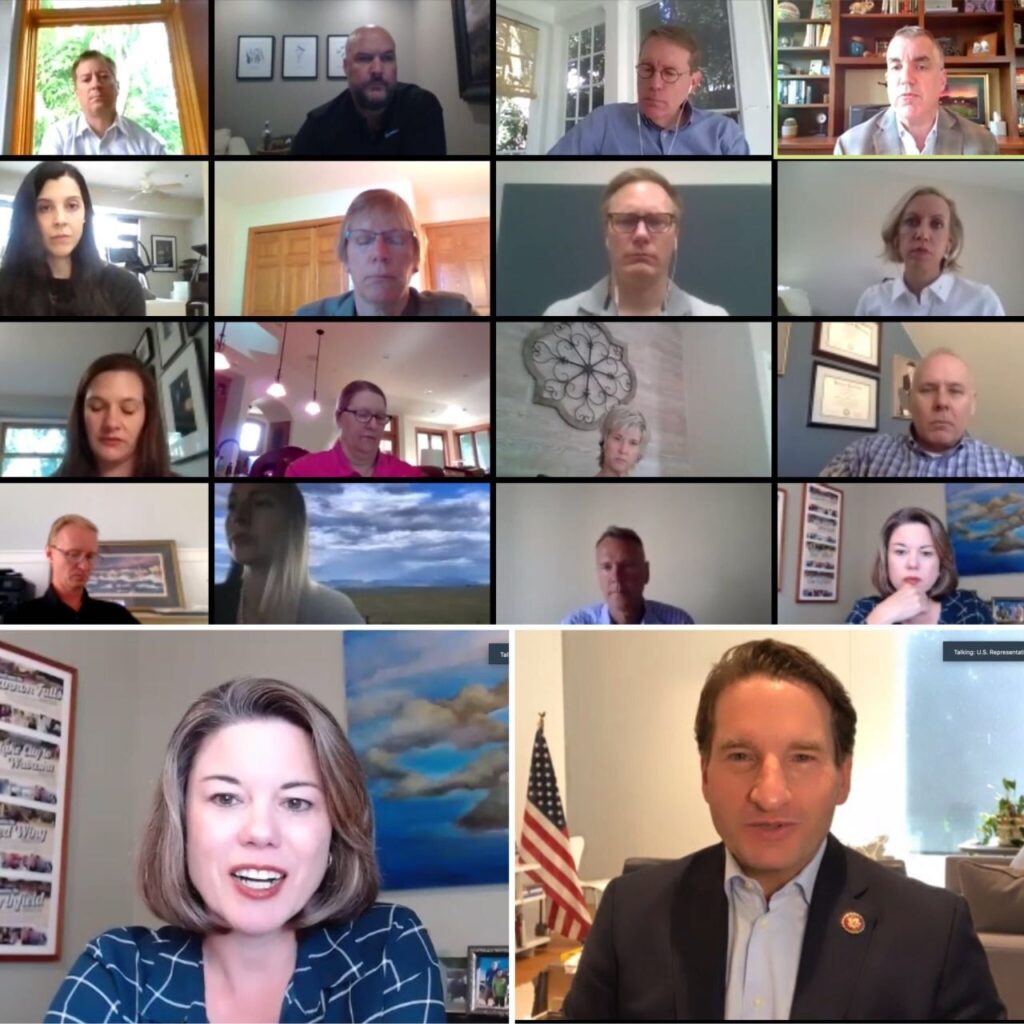 Both U.S. Representatives were deeply engaged and expressed interest in continuing this conversation later in the year. They returned to the Medical Alley Association in mid-September to build on this conversation.
In this second meeting, the group continued to discuss value-based care, now with the pandemic having fundamentally altered the healthcare landscape. Policymakers and Medical Alley members agreed there needs to be an increased focus on advancing telemedicine even after the pandemic, as well as increased consideration of how both industry and government can better engage on social determinants of health. We look forward to continuing to collaborate with Minnesota's Congressional delegation on ways the state can continue to lead the transformation of healthcare.
If you would like to learn more about this event or participate in future events, please reach out to Lilly Melander, Government Relations Manager, at LMelander@MedicalAlley.org.
Medical Alley's comments to CMS about its draft 2021 Physician Fee Schedule/Quality Payment Program rule
The Medical Alley Association signed on to a multi-stakeholder letter to the Centers for Medicare and Medicaid Services regarding the 2021 revisions to payment policies under the Physician Fee Schedule.
The diverse group of stakeholders supports expanded use of connected health technologies in healthcare and proposes a variety of changes to the physician fee schedule related to CMS' proposals affecting the use of digital-health technologies, particularly in light of the priority to advance innovative value-based care solutions. You can review the group's input on the draft rule here.
The Medical Alley Association supports the Non-Opioids Prevent Addiction in the Nation (NOPAIN) Act
The NOPAIN Act is piece of legislation designed to build on recent efforts and further address the opioid epidemic. Under current law, hospitals receive the same payment from Medicare whether they prescribe opioids or something else for pain. Since opioids are typically cheaper than other pain management methods, they are used at a much higher rate. This bipartisan legislation seeks to change that by directing CMS to provide a separate payment for the use of certain non-opioid pain management treatments, such as qualifying medical devices, used in hospital outpatient settings and ambulatory surgery centers.
Data shows that use of these treatments leads to the replacement, or reduction in use, of opioids by patients for post-surgical pain. CMS recognizes the role these treatments play in reducing the opioid epidemic, but direction from Congress is necessary to ensure Medicare patients have access to non-opioid pain management treatments and services and continue addressing the opioid epidemic. This bill can be found here.
Minnesota
House Select Committee on Racial Justice
During the Minnesota Legislature's second special session of the summer, the House approved a resolution (82-40) declaring racism a public health crisis in Minnesota. The resolution created a House Select Committee dedicated to examining the House's legislative efforts through an "intersectional race equity lens," considering the ways that racism "intersects with disabilities, immigration, gender, documentation status, and LGBTQ+ communities."
The Select Committee met for the first time Tuesday to define racism. They also heard testimony on maternal-child health mortality and morbidity from the University of Minnesota's Dr. Rachel Hardeman, Ph. D., M.P.H.
Racial justice and health equity are salient topics at the Legislature. Earlier this month, health experts briefed the House Select Committee on Minnesota's Pandemic Response on the toll the COVID-19 pandemic has taken on communities of color.
In addition to promoting the work members like Carrot Health, M Health Fairview, and the University of Minnesota are doing this space, MAA is working to expand awareness of inequities in healthcare through a series of educational webinars.
Early Voting has started in Minnesota
Minnesota is facing one of its most consequential elections ever. Races with the highest stakes for Minnesota voters include a presidential race, a U.S. Senate seat, a handful of highly competitive U.S. House races, and all 201 seats in the Minnesota Legislature. The battle for control of the Legislature is particularly intense because lawmakers will have a chance to redraw the state's political maps for the next decade.
Medical Alley asked Minnesota Legislative candidates to fill out a questionnaire on Medical Alley's legislative priorities. We will share these responses with our members in advance of election day.
Minnesota's Second Congressional District race delayed after the death of candidate
Minnesota's second congressional district race is postponed after the death of the Legal Marijuana Now Candidate, Adam Charles Weeks. According to state election law, if a major party nominee dies within 79 days of Election Day, a special election will be held for that office on the second Tuesday of February (February 9, 2021). Voters in the Second Congressional District should continue as normal with filling out their November ballots, although their selections for the U.S. House of Representatives will not count and they will have to vote separately for this office in the February special election. Since Congresswoman Angie Craig's term ends January 3, there will likely be a month and a half vacancy for that seat.
Medical Alley's 2020 Legislative Year in Review
The extraordinary nature of this year's events profoundly affected the Minnesota Legislature as it did nearly every industry, organization, and individual across the globe. Any other year, we would see legislators wrap up their business in May with the possibility of a singular special session. This year, however, is proving quite different, as legislators held their fourth special session earlier this month. This special session marked the first time there have been four special session in a calendar year.

Governor Walz is required to call a special legislative session if he extends his 30-day peacetime emergency powers. This is the situation that has triggered all four special sessions so far.
Just like the last three special sessions, the Minnesota House voted against bringing up a concurrent resolution that would end the Governor's emergency powers, the Minnesota Senate again voted against the emergency powers extension.
The Medical Alley Association created the 2020 Legislative Year in Review webpage in order to keep you up to date on the latest news from the Minnesota Legislature. Visit this webpage to learn more about Minnesota Legislature's special sessions.