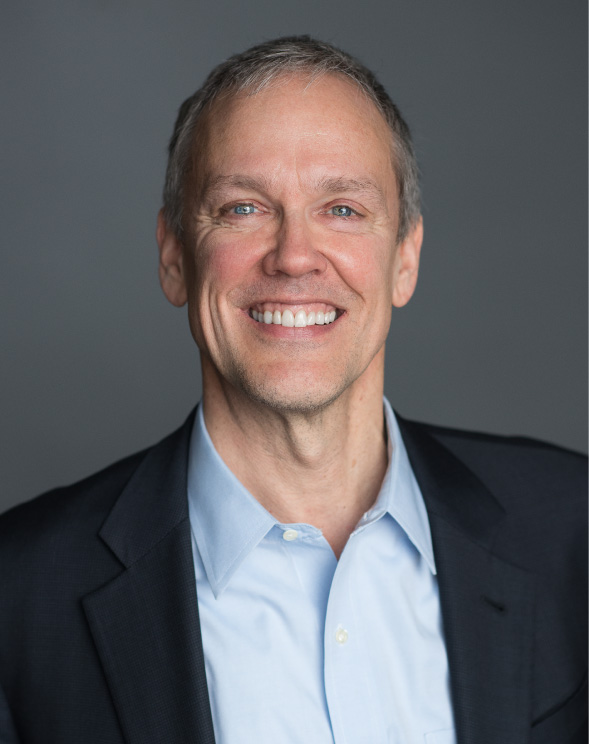 As Chief Innovation Officer, Dave Fabry, Ph.D., leads end-to-end innovations within our clinical audiology department. His collaboration with our engineering and marketing teams allows Starkey to continue to design and provide superior products.
Dave Fabry received his Ph.D. in hearing science from the University of Minnesota. Subsequently, he divided his career between academic/clinical roles at the Mayo Clinic, Walter Reed Army Medical Center, the University of Miami Medical Center, and several industry positions. He served as President and Board Member of the American Academy of Audiology and was recently elected to the Board of Directors of the American Auditory Society.
Additionally, Dave Fabry has served as Editor-in-Chief of Audiology Today since 2008 and is a past Editor of the American Journal of Audiology and Section Editor of Ear and Hearing. He is licensed as an Audiologist in Minnesota, Florida, and Rwanda.
His 30+ years of industry experience and proven ability to implement forward-thinking concepts is instrumental in shaping the future innovations at Starkey.
What is your mission as Chief Innovation Officer at Starkey?
In my role as Chief Innovation Officer at Starkey, my "mission" is to ensure that we develop patient-focused products, features, and services that ensure that they hear better and live better. Although my "home" is in research and development, I work closely with the customer-facing groups (e.g. sales, marketing, education & training) on product launches, market feedback, and clinician/patient education. Starkey was founded in 1967 by William Austin with a singular vision: "hearing is our concern", and despite all the technological advances that have taken place over the past 53 years, it remains our "Job One".
What was your original plan for 2020 and how has that changed?
In January 2020, we launched Livio Edge AI, the industry's first hearing aid that uses embedded sensors, Artificial Intelligence (AI) to monitor physical activity and social engagement, and a Personal Voice Assistant that may be used to access the internet, control hearing aid functionality, and even provide discrete real-time speech translation. Livio Edge AI continues our reinvention of the hearing aid from a single-purpose device to a multi-purpose, multi-function "healthable" hearing aid that provides exemplary sound quality and speech intelligibility plus a gateway to health and wellness. We introduced this technology to nearly 4,000 audiologists and hearing instrument specialists at a face-to-face biennial conference (Hearing Innovation Expo). Over the next month, we began training customers and experienced record sales growth for our company through the first three months of the year.
While the COVID-19 pandemic impacted everyone around the world, it hit our industry particularly hard, for several reasons. First, although hearing loss impacts persons of every age, prevalence increases with age, and many older individuals are among the most vulnerable to the virus. Second, many of our customers are audiologists and hearing instrument specialists who run small businesses, and many states required them to restrict operations or temporarily close to slow the spread of the virus. As a result, our entire industry saw significant reductions in revenue due to concerns for the safety of clinicians, support personnel, and patients.
To help our customers navigate these challenges, we began offering weekly virtual events that featured members of our Executive Team and external experts, initially focusing on health threats posed by COVID-19, regulatory changes, government relief programs, and education regarding personal protective equipment (PPE). In April, we also partnered with Lakeview Industries to use our manufacturing facilities in Eden Prairie and Glencoe to help assemble disposable face shields for the medical community.
Next, due to the fact that most clinicians were unable to participate in planned face-to-face training events, we developed regular virtual training webinars to reach the vast majority of our customers in the United States and continue our global launch of Livio Edge AI.
Finally, we experienced a dramatic increase in the adoption of telehealth by our customers as a means of engaging with their patients. Although telehealth applications have existed in our industry for more than a decade, adoption rates pre-COVID had been quite low. The rapid increases in telehealth allowed us to innovate new and better ways for clinicians and patients to augment their relationships without putting providers, support staff or patients at risk of contracting the virus.
In summary, 2020 began with tremendous optimism, and despite the obstacles presented by the pandemic, we have adapted our strategy to serve our customers, and their patients, by focusing on new ways for engagement. If there is a silver lining, it is that many more individuals have recognized that healthy hearing is essential to effective communication, which is vital during these challenging times.
Have 2020's major events fundamentally changed what you want the organization to focus on going forward?
I believe the pandemic has helped reinforce the fact that hearing loss is a significant global health issue that is often ignored until it is too late. The World Health Organization estimates that 466 million people worldwide (36 million in the U.S.) have a "disabling" degree of hearing loss. In the U.S., only one-third of the people with measurable hearing loss seek treatment, due to a variety of factors including stigma, cost, and lack of focus on hearing as an important public health issue. If anything, we are doubling down on raising awareness for hearing loss as an important condition that has significant comorbidities with other health conditions, including cardiovascular disease, diabetes, falls/balance, cognitive decline, loneliness, and depression. Our challenge continues to be getting the message out to the medical community that when people hear better, they live better – at every stage of life.
What additional risks does COVID-19 pose for those with hearing loss?
Early on, we discovered that, while social distancing and the use of facemasks help prevent the spread of COVID-19, they also make communication more difficult. In addition to reduced speech audibility, facemasks inhibit the use of lipreading cues that can be critical to speech understanding for many people with hearing loss. The use of hearing aids helps to restore speech sounds that are compromised when communicating with someone who is wearing a facemask. Hearing aids also help amplify sound, making it easier to understand someone who is simply standing further away.
Also, although additional research is required, some studies have suggested that many patients recovering from COVID-19 may have lingering hearing difficulties.
What tips do you have for communicating with individuals with hearing loss while wearing a mask?
When you are wearing a mask and communicating with someone who has a hearing loss, speak slightly more slowly and at a little higher volume than typical. Don't shout – that doesn't help. Minimize background noise when possible and rephrase – rather than simply repeat – remarks that are not understood. Employ social distancing, face the person that you are speaking to (when possible), and take turns speaking to optimize their ability to understand what you are saying. If they are concentrating elsewhere when you approach them, say their name prior to speaking, as it allows them to shift their attention to you prior to beginning the conversation. These are subtle, but important, communication reminders that work for everyone – regardless of whether they have normal or impaired hearing, and whether or not they are wearing hearing aids.
What does leadership look like to you?
I have been the beneficiary of many great leaders during my career. The best – in my experience – have hired great people, trusted them to get the job done, let them go to work, and held them accountable for results. I think another trait of a great leader is to "lead from wherever they are". Some situations call for "leadership from the front", others to lead from the middle, and on occasion, it is necessary to lead from behind. Simply put, sometimes you need to be a shepherd, and other times you're a sheep herder. The most important elements include trust, transparency, vulnerability, and effective communication.
What is the best advice you have received in your career? What is the worst?
The worst advice I ever received was to "find my passion", as I find that it is too vague to be useful. Some people are "born" into their careers, but for me, it has been more of a journey, and the "passion" challenge only made me more frustrated.
Conversely, the best advice that I received was to attempt to align my aptitude and attitude through a guided, practical, honest self-assessment. To assist in the process, I used a tool comprising a deck of cards; each card had a single activity listed on it (e.g. "discovering things", "seeing the big picture", "putting the pieces together", "investigating"). Step 1 involved sorting the cards into three piles, based on how much I enjoy doing each one (Love, Neutral, and Hate). Step 2 involved using only the "Love" pile and segmented them further, based on my assessment (Yes, Maybe, No) of whether I excel at them. The remaining pile of "Yes" cards provided a tangible way for me to "find my passion" by helping me discover my unique contribution – what differentiates me from others in the workplace. It has served me well over the years, particularly when I questioned whether I was in the right role on any given team.
What have been the most rewarding moments in your career?
I have been fortunate to have had many rewarding moments in my career. I "grew up" professionally at Mayo Clinic, where I learned the value of their mission statement to "put the needs of the patient first". I have served in a variety of professional roles in the audiology community, serving as an editor numerous times, and on the Board of Directors for several organizations, including as President of the American Academy of Audiology. In my current role, I have the privilege of working in a cross-functional position across Starkey to ensure that we are developing patient-focused hearing aid devices that will provide benefits and reduce stigma. During my career, I have seen hearing aids transition from "have to wear" devices to "want to have" technology, and that's pretty cool. One of my most rewarding opportunities, however, has been to travel the world on my ears. I have traveled to more than 75 countries around the world, and I share the vision of Starkey's Founder and Chair of the Board, William Austin: "So the World May Hear". It has been an amazing journey so far, and I'm not done yet!
What do you enjoy most about the Medical Alley community?
I love the way that the Medical Alley Association supports, advances, and celebrates the global leadership of our region's healthcare industry. Medical Alley's mission to champion and facilitate an environment of innovation in healthcare through collaboration, interaction, education and engagement is impressive and aligns with my core value (borrowed from Helen Keller and William Austin) that "alone we can do so little, but together we can change the world".

Welcome to Medical Alley Association's For The Record interview series! Join us as we sit down with innovators in the delivery, payment, technology, and policy industries, giving us – and in turn, you – access to diverse perspectives on how healthcare is changing and what lies ahead.
Medical Alley is the global epicenter of health innovation and care; For The Record, is meant to share insights and spark discussion. If you have a perspective on the future of healthcare, feel free to share it by reaching out to Jamie Oyen, Marketing Manager at joyen@medicalalley.org