Patients Will Benefit Under New Step Therapy Override
This past legislative session, Medical Alley Association joined several patient groups advocating for establishing a step therapy override and protocol for prescription drugs. A bill doing so was passed unanimously in both the House and Senate and signed by Governor Dayton this past May. To raise awareness of this legislation – which goes into effect on January 1, 2019 – MAA worked with two of our partner patient advocacy groups on this video. Please watch and share!
MAA Members ANI Pharmaceuticals & 3M Host State Legislators
As part of MAA's mission to connect Minnesota's healthcare leaders with elected officials, two MAA members hosted Minnesota State Legislators for tours.
ANI Pharmaceuticals welcomed State Representative Matt Grossell of Clearbrook this past Wednesday for a tour of their facility in Baudette.
ANI executives discussed the company's recent growth and success, as well as their challenge in acquiring the talent they need to fill open positions. Thank you to ANI Pharmaceuticals for the excellent tour and dedication to providing patients with cost effective health care treatments and providing good jobs in northern Minnesota.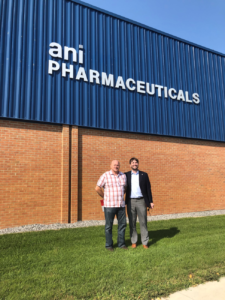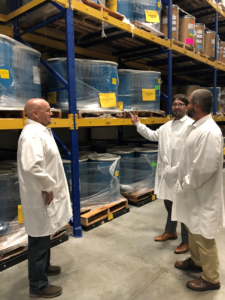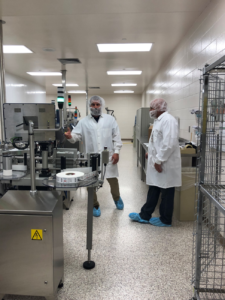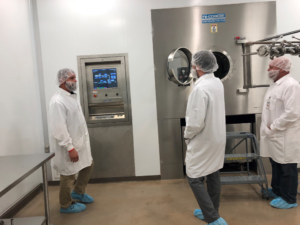 Medical Alley Association also facilitated a member site visit with State Representative Matt Dean at the 3M Innovation Center in Maplewood, MN.
Representative Dean along with House and Senate staff had the opportunity to witness first-hand several technologies that 3M researches and develops right here in Minnesota to improve the lives of individuals all over the world. Thank you to 3M for hosting Rep. Dean & legislative staff!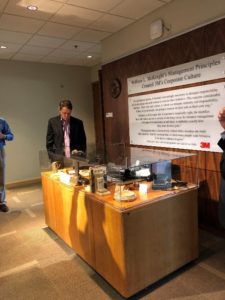 MAA Members Join Congressman Jason Lewis & John Shimkus for Roundtable on Healthcare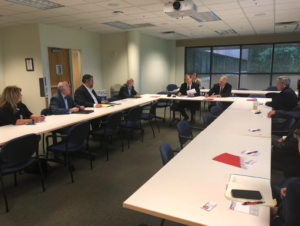 Last Thursday, Medical Alley Association hosted Congressman Jason Lewis and House Energy & Commerce, Environment Subcommittee Chair John Shimkus in Eagan for a roundtable discussion with several Medical Alley Association members. Discussion centered on the great, innovative work being done by Medical Alley companies in several areas – including new & emerging health technology and ways Congress can help the industry continue to develop and advance within their fields.
Medical Alley Association members participating in the roundtable included: EcoLab, Blue Cross Blue Shield of Minnesota, Mayo, Medtronic, POPS! Diabetes Care, B Mogen and Zipnosis.
Thank you Congressman Lewis & Chair Shimkus for taking the time to hear from Medical Alley Association members about issues important to health innovation and care industry!
ICYMI: State Primary Results
Last Tuesday was Primary Election Day in Minnesota. Turnout surged across the state and was the highest for a primary since 1994 (numbers compared to last competitive primary in that race):
GOP Gubernatorial Turnout was up 74.5% (137,104 votes) from 2014;
DFL Gubernatorial Turnout was up 32% (141,598 votes) from 2010;
CD5 DFL Turnout was up 3% (64,943 votes) from 2006;

Ilhan Omar received 65,238 votes – nearly the same amount as the entire field received in 2006;
The City of Minneapolis provided 101,266 of those votes – 43.8% more than the entire district in 2006.
Below is a quick breakdown of a few of the key races. Results for the remainder follow. We will have a more comprehensive election preview in September/October.
GOP Gubernatorial Primary
Jeff Johnson (52.61%) defeated Tim Pawlenty (43.86%)
This was a surprising result. Not only in the outcome itself, but the margin. Former Governor Pawlenty had raised well over $2 million. Hennepin County Commissioner (and 2014 GOP Nominee for Governor) Jeff Johnson raised significantly less. Nevertheless, despite the highest GOP Turnout since 1994 (when Governor Arne Carlson defeated GOP endorsed candidate Allen Quist), Johnson prevailed. The GOP endorsed candidate has not been defeated in a primary since 1994.
DFL Gubernatorial Primary
Tim Walz (41.60%) defeated Erin Murphy (32.03%) and Lori Swanson (24.59%)
The result here was not shocking like its GOP counterpart, but the margins definitely were. Many expected a much closer race. That outcome likely shifted, however, in the last 7-10 days, as the case against Lori Swanson was built (stories broke about how she used her official office for campaign work and then she smeared the staffer who went public). Murphy was expected to dominate the Metro, Swanson the north, and Walz the south and west.
Walz, however, was able to break through in the Metro. Murphy needed large margins there – especially in Hennepin County – to put her over the top. Walz ended up winning Hennepin by 3,737 votes and only lost in Ramsey (Murphy's home county) by 3,720 votes (making the net of the state's two largest counties Walz +17 votes). Swanson did dominate in CD8, by over 10,000 votes, but that was not nearly enough to overcome the huge deficits she racked up in the metro area.
5th Congressional District DFL Primary (Open Seat – Rep. Ellison running for MN Attorney General)
Ilhan Omar (48.21%) defeated Margaret Anderson Kelliher (30.41%) and Patricia Torres-Ray (13.03%)
Ilhan Omar demonstrated her ability to effectively organize and turn out supporters to vote in a clear and decisive way.
Other Results:
Senate Primary 1 (full term, expires in 2025)
DFL
Sen. Amy Klobuchar (95.69%) defeated the field (4.31%)
GOP
Jim Newberger (64.49%) defeated the field (35.51%)
Senate Primary 2 (finish current term; expires in 2021)
DFL
Sen. Tina Smith (76.05%) defeated Richard Painter (13.72%) and field (10.23%)
Some expected that this race would be competitive. It was not.
GOP
Karin Housley (61.96%) defeats Bob Anderson (35.59%) and Nikolay Bey (2.45%)
Minnesota Attorney General
DFL
Rep. Keith Ellison (49.84%) defeated Debra Hilstrom (19.11%), Tom Foley (12.53%), Matt Pelikan (10.62%) and Mike Rothman (7.90%)
GOP
Doug Wardlow (46.28%) defeated Sharon Anderson (32.08%) and Robert Lessard (21.64%)
Neither outcome was surprising, although a recent accusation of domestic abuse against Keith Ellison did add some uncertainty on the DFL side. More details will no doubt come forward in the upcoming weeks and shed more clarity on that situation – which could have a major impact on the outcome of this race and others throughout the state.
1st Congressional District (open – Rep. Walz running for Governor)
GOP (DFL was essentially uncontested)
Jim Hagedorn (60.17%) defeats Carla Nelson (32.12%)
Hagedorn was the endorsed GOP candidate and has strong name ID after being on the ballot – and nearly defeating Congressman Walz – in 2016.
There were also several state legislature primaries. A few of them are highlighted here.
House District 34A (GOP Rep. Peppin – retiring)
GOP only
Kristen Robbins defeated endorsed candidate Brad Ganzer.
House District 47B (GOP Rep. Hoppe – retiring)
GOP only
Greg Boe defeated endorsed candidate Vince Beaudette.
House District 55A
GOP only
Endorsed candidate Erik Mortensen defeated current State Rep. Bob Loonan.
House District 60B (DFL Rep. Omar running for Congress)
DFL only
Mohamud Noor defeated a crowded field and will be the first Somali-American male in the Minnesota legislature (very heavy DFL district for general election).
House District 62A (DFL Rep. Clark – retiring)
Hodan Hassan defeated a strong field and will become the second Somali-American female to serve in the Minnesota legislature (very heavy DFL district for general election).
SAVE THE DATE: Healthcare Startup Day Minnesota
Medical Alley Association & the University of Minnesota Venture Center are excited to host Healthcare Startup Day Minnesota featuring speakers from HHS, NIH, and more! This FREE, all-day event will convene entrepreneurs, healthcare leaders, and public officials from across Minnesota.
HHS is appearing at several of these events across the country with one goal in mind: demystify HHS by making its vision, priorities, processes, and ways to engage with the department very simple and immediately actionable. Attendees will hear not only from HHS officials, but from other healthcare leaders in Minnesota and will walk away with ideas and connections enabling further healthcare innovation.
Registration Opens Soon
Please contact Bobby Patrick at bpatrick@medicalalley.org or 952-746-3825 with any questions.